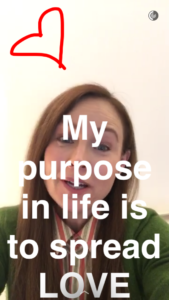 Once upon a time there was a Yankee Doodle Paddy whose purpose it was to spread some LOVE in this world.  Though she was much older than most when she started into social media, she decided to share love there as well.  So while visiting California, she stopped by the headquarters of Snapchat, her favorite social media platform.  She brought custom made donuts (that spelled out the name SNAPCHAT) for all the good people who worked there. It was her way to thank them for creating a space where folks could have fun and interact, use their creativity, be challenged and yet nurtured, and make the world a better place.  Snapchat HQ is kinda of like a momma to all of us "Snap Sistas".
What Yankee Doodle Paddy (who was snapping this whole scenario and adding it to her story, username:  blissbakery)  didn't expect was that upon dropping off the gorge and delish donuts that she too would also receive something. Yes, she was given a pair of sunnies with a Snapchat logo and also an adorable stuffed #snappy!  What a lovely surprise!  Her first impulse was to put it up for a free random draw competition for all those who were watching the escapades.  She often does give aways, one of her fav things to do on Snapchat.  So anyone watching could screenshot and then be entered into the draw to win either the sunnies or #snappy, their choice.  However, because she was traveling she missed some of the screenshots.  And so to be fair she decided to redo the competition once she returned to her soul land, Ireland.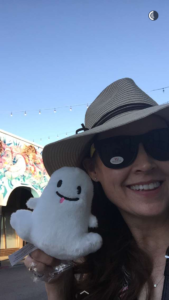 However, something happen along the way that was unexpected and utterly amazing. Yankee Doodle Paddy and #snappy were crossing the Irish Sea on a ferry and though the seas were rough, there was another storm brewing inside #snappy's heart. A love storm!  He spotted a beautiful rose pink colored Hello Kitty inside a vending machine that was filled with other stuffed animals.  He thought she was the most beautiful creature in the world. Though separated by a piece of glass, he knew they had to be together. When the Yankee Doodle Paddy realized what was going on, she asked a young boy to help by giving him money to play the vending machine game in hopes of winning Rose Kitty's heart for #snappy. It took a couple of tries, but the boy succeeded and it was the most amazing sight ever to see the two of them touch for the first time!
It was a rough and treacherous crossing from the U.K and YDP was concerned it would be another Titanic disaster!  But #snappy and Rose were two young lovers without a care in the world, having fun and feeling like the King and Queen of the world!  When they finally docked in Wexford they were busting to explore some new scenery together.
All around Ireland the two of them were inseparable!  They went on a Foodie Fieldtrip Friday, built a snowman with the few flakes that fell in Dublin one frosty morning, and even helped bake some Snapchat cookies. They enjoyed the Emerald Isle immensely. Their burgeoning love story was making news in Snapland and even @SweetLivingK designed a wedding favor for the two of them should they get married:  Chocolate Bars with their own logo!
But Yankee Doodle Paddy had to do the random draw as promised. With over a hundred entries, a lovely woman was chosen by an online random number generator.  She had the choice of taking #snappy or the sunnies as per the contest rules.  But guess what?  The lovely winner decided to take the sunnies as she didn't want to separate the love birds!!!  It was a miracle!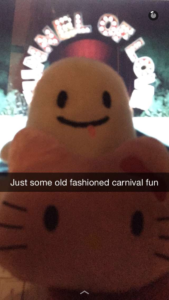 So that means they are going to be together forever!  Because of that they have been able to enjoy so many wonderful outings with Yankee Doodle Paddy, such as the Greenwich Observatory,  more Foodie Fieldtrip Friday adventures ( click here and here) and they were even involved in the Snapchetiquette presentation.  They got to meet some of the other Snappers out in Snapland and they took another trip back to Ireland for Easter. As well they took a transatlantic trip to the U.S (Nashville and Chicago) . One of the most exciting things though was climbing the O2 (for the full story, click here).  However, Rose doesn't like heights so she opted out of that activity and the climb up to the top of The Monument for the 1666 Great Fire of London.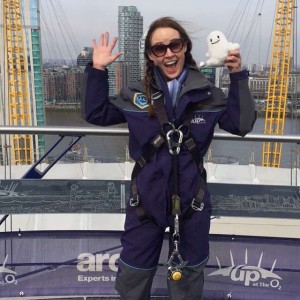 But still Yankee Doodle Paddy realized that #snappy is a global personality and indeed liked being a traveling man meeting different people.  He is sociable and wants to be an ambassador of peace in the world!  So as a family they decided that he would do a summer tour and stay with different foster families to experience the diversity of lives of all kinds of people from Snapland.
Therefore, this week #snappy will make his first foray into the foster family world.  He is traveling back to the U.S.A to visit a Snap Sista named Katy Kay (@ktktoo) and is looking forward to his time in South Carolina and going on many GeoCaching explorations with her. And Rose will be going to California to meet some special family.  So stay tuned to see more of the adventures of #snappy and Rose! As they say, absence makes the heart grow fonder!
This is a true "Romance Novel-ty",
YDP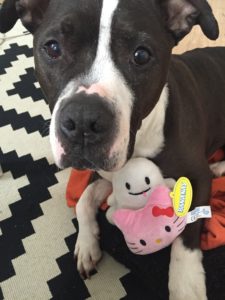 P.S. The most incredible part of this tale is the fact that Stella the pretty pit has honored their  love story. She is notorious for ripping apart anything that looks remotely like a dog toy, stuffed animal or even a house slipper. But she knows the bond between #snappy and Rose is for real because she too had one with her Man, the Soul Dog!