Each Friday I take my Snapchat friends (my username is blissbakery) on an adventure in search of new foodie destinations.  Last Friday I was able to go to a place I've been dreaming about for ages!  It is owned and operated by a fellow "Snap Sista" (as I call the Snapchat family) and is located in my soul home! Yipee that meant a trip to the Emerald Isle was in order! It was actually a perfect scenario because I was going anyway to attend the IBA Bloggers Conference and Awards. I'll write more about that in another post, because I have so much to share about this specific and oh so scrumptious sojourn!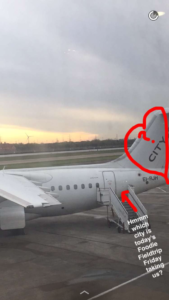 The Foodie Cafe, located on Major Square at the IFSC in Dublin 1, was started by the amazing Chloe Harris. While I didn't get to meet her because she had another commitment that day, I did get to meet another Snap Sista (@jenser01) who is also a massive lover of food. While food experiences can be personal, it is also fun to share with a like minded person. Jennifer Byrne is a health and fitness nut living in Ireland.  Her blog Jen's Gym Life is a great inspiration!  It was she who actually turned me on to Foodie Cafe several months ago.  I have really enjoyed watching Chloe's food snaps so it was very exciting to be going there and tasting it in person! And sharing it with the lovely Jen.
We met up at lunchtime and no joke the place was teeming with people.  It is situated right between the Luas and the River Liffey in a very convenient and open spot with outdoor tables and chairs. As well there is a long bar with stools by the big window which is where we sat.  There was so much to take in what with meeting Jennifer and perusing all the eye catching foodie pics on the walls.  And of course the incredible display of food.  Wow!  The colors and variety of the salads, desserts and breads looked amazing.  And the extensive menu ticked all the right boxes without being overwhelming.
Chloe had given me the heads up that the Hipster Veggie Burger was super popular, so I opted for that even though I don't usually get veggie burgers.  I love all things vegetables, but I find them to be quite dry and also I am left feeling hungry like I need some actual protein. Well, I took her suggestion and no joke, I have been craving it ever since.  It was the best veggie burger I have ever tasted.  And I ate every single bit down to the last crumb!  It was moist and flavorful with a beautiful piece of grilled pineapple and avocado on top as garnish.  It was served on this incredibly soft and slightly sweet brioche bun.  As I write this, I am having a Pavlovian response, my mouth is watering!  YUM!
Jennifer ordered the Sunshine Superfood Salad with cous cous and chicken.  I had a little taste and it was also very delish!  We are both sweets eaters and Chloe's Chocolate Tart was literally to die for, oh my goodness.  Especially for a chocoholic like me.  I also bought a healthy "Bounty Bar" which is a chocolate/coconut slice of heaven.  Jen had a coffee (with her famous protein powder mixed in as she is in body building training) and I tried a Matcha Green Tea Latte for the first time, made with almond milk.   Foodie Cafe definitely knows how to make a proper barista coffee with perfectly foamed milk, the secret to success!
I just loved everything about my visit to the Foodie Cafe.  They just recently celebrated their first birthday, and from my experience it's just the first of many.  The cafe was packed when I arrived and for good reason, it is delicious, healthy, conveniently located and the staff were exceptionally lovely!  Even with a line out the door, they stayed calm, friendly and professional.  There was Bossa Nova music playing and the customers were chilled out. Some busy lunch cafes have stress levels high on both sides of the counter and patrons could be having their "hangry" moments.  But not here!  I sense that many were returning customers as they were showing their loyalty cards.  Always a good sign.  However, even for newbies like me, I felt the love permeating the whole situation.  I am literally beyond eager to return!
Well done Chloe on such a smashing success, I am absolutely thrilled for you!  I'm also delighted Dublin has such a quality food establishment in its midst.  I hope to see more Foodie Cafes cropping up so when I move back home I'll have them at my hungry finger tips!
Feeling the Foodie Love,
YDP
P.S. I just have to say it was such a joy to meet Jennifer in person and it meant the world that she went out of her way to join me on my Foodie Fieldtrip Friday adventure.  She is such a wonderful person and beautiful inside and out.  What a journey she is on herself and I wish her all the best!  LOVE!  Here she is with #snappy who was loving the attention so he was!