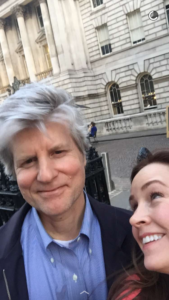 On the prettiest day of the year in London I had a special guest join me for Foodie Fieldtrip Friday!  My Hubby and I met for an early dinner at Spring.  This stunningly beautiful restaurant from chef Skye Gyngell on the Somerset House Museum property is a designer's dream. It is light, bright, airy, and every aspect of the experience appears effortless, though surely must be thought out to a tee.  You just feel transported to inner calmness the minute you walk through the doors and allow the draping of pastel colors onto your soul.
It actually took my breath away when I walked into the lobby as the reception area is so large and the restaurant has such high ceilings.  However, we came for a "Foodie Fieldtrip" not an architectural one.  Because we arrived so early, Spring wasn't that crowded, but by the time we left there wasn't an empty seat.  And since we were there before 6:30 we were able to avail of the pre-theater set menu, even though we weren't going to the theater. Not only price wise, but portion size, this worked better for us.
The pre-theater menu is broken down into a two course or a three course choice, with two options in each category of starter, main and dessert.  While we perused the regular food menu (just in case we changed our minds and went a la carte), we had a lovely refreshing Nespole and Mint Bellini (nespole is like a kumquat).  As well we thoroughly enjoyed the basket of breads.  My  Hubby is of Swedish ancestry so he really enjoyed the brown bread made with added rye flour and a generous sprinkling of seeds.  Of course being the butter fan in the family, I loved the beautiful hand churned butter.
For the first course Hubby got the Nettle Risotto which was the most vibrant color I have ever seen.  I had a taste and it was perfectly cooked and the taste was bursting with flavor!  I loved my Goat's Cheese Curd as well, it was very mild and the olive and fresh salad were the perfect accompaniment. The starters weren't too heavy, but of course we kept at the bread so we didn't do ourselves any favors by filling up! Carb lovers confessional!
Since I am not the biggest game meat fan (unlike Hubby) I chose the Lamb Meatballs as the second course. When our main meals were brought to the table, I must admit the quail looked very appetizing.  They even served a bowl of warm lemon water on the side in case Hubby chose to eat the bird with his fingers.  Very elegant.  There was just one little problem.  When I cut into my meatballs they were nearly raw they were so undercooked.  I have had a bad experience with undercooked meat before and didn't want to risk it.  So I politely asked the waiter if he could have the chefs just cook them a bit more.  When he saw the meat I think he was a bit shocked too.  He said he would sort it out with the kitchen straight away.
The only thing is, the waiter wanted to take away Hubby's dinner too as this is the restaurant's policy.  I didn't want them to make two new plates of food but that is what was about to happen.  I tried insisting as I didn't mind waiting while Hubby ate his meal.  But alas the food was gone before I could blink.  Oh well, we ordered some nice red wine and continued to admire the decor and the staff uniforms. After a long wait the dinners were served again and they were perfect. I really enjoyed my dinner, the lamb was perfectly cooked and the sauce quite fragrant and delicious.  Loads of different herbs and spices to make your mouth jump with delight.  And the quail was equally tasty and quite moist as well.
We were so full after eating the main we almost passed on dessert.  But I am such a fan of sweets, I decided to order the rhubarb tart made with rye flour in the crust.  It was served with candied rose petals and rose ice cream.  This is from the main menu's dessert options so we paid a bit more.  But the waiter also brought a trio of ice cream on the house.  He said they felt badly about what happened with the meatballs.  It was a lovely gesture on their part.  Hubby loved the mint ice cream, the strawberry was also delicious, but of course the chocolate one was my fav.
And just when we thought we were in full blown food coma mode, they brought us two delectable handmade chocolate truffles with a dusting of cocoa powder on top.  What a way to end the meal!
I really hope to go back to Spring again some day.  Not only because we had such a great experience, but because their menu changes all the time.  They are known for using seasonal ingredients with an emphasis on produce.  And our menu was a perfect example of that, using what is available right now in the markets.  Their unforced elegance and their attention to detail is impeccable.  And though nothing is perfect, if there is a glitch (like what happened with my lamb meatballs) they rectify the situation and move on from that.
Skye Gyngell the acclaimed executive chef has outdone herself with this venture.  In a couple of weeks she will be a guest chef at the Ballymaloe Lit Fest in County Cork, Ireland.  Though I am going to the event, tickets for her session have been sold out for ages.  I hope I do get to meet her down there though and let her know first hand how much we enjoyed our dinner at her wonderful creation, Spring.
Blossoming Love,
YDP
P.S. Unbeknownst to either of us at the time, Hubby and I took quirky photos of one another while at Spring. He took one of a mirror which shows my reflection, and I took one of a flower arrangement.  Only it looks like its coming out of his head!  Inspiration and creativity was clearly flowing, lol!