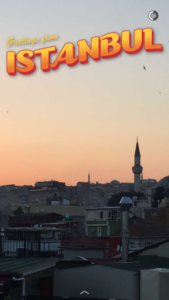 Istanbul I LOVE you! Though our time was short, I enjoyed every single aspect.  But of course, since I am a chef, I was most partial to the Foodie Fieldtrip Friday. One of the best ones since I first started doing them!  I can hardly wait for my return to your culturally rich culinary world!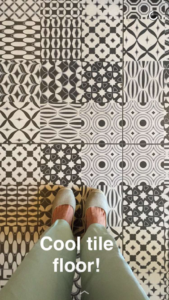 Until then I am going to savor my memory of the adventures that I am lovingly calling Double (Turkish) Delight .  Starting with our tour of the Spice Bazaar and ending with dinner at the Ottoman cuisine restaurant called Deraliye, it was all deliciously dreamy!
For those of you wanting in on my little love letter, here is what you need to know. The Spice Bazaar dates back to the 18th century and is still a bustling center of shopping for spices and various foods, located in the heart of Istanbul. It is the second largest covered shopping complex in the city and is teaming with locals and tourists alike.  In fact I discovered that none other than the guru of foodie publishing, Martha Stewart, likes to purchase her coveted Iranian Saffron there.  We went with our guide (Muhammad) and were welcomed with a lovely iced tea and tastings of their famous Turkish Delight when we arrived at Hayat.
After going on a shopping splurge the owners treated us to a traditional Turkish Coffee right in the middle of the shop.  It was lovely to sip the thick sweet indigenous drink and soak up all the stunning smells of the nuts, dried fruits, and of course spices!  The hospitality was wonderful and our hosts continued to ply us with an array of tastings.
Besides the sweet Turkish Delights, we also bought some lemon roasted pistachios, a box of the pomegranate tea (which can be served hot or iced), a very special crate of organic honey comb, and of course a few threads of the uber expensive saffron.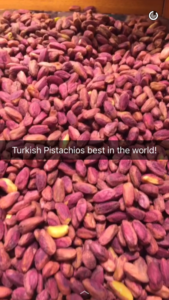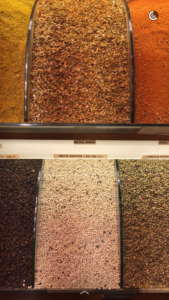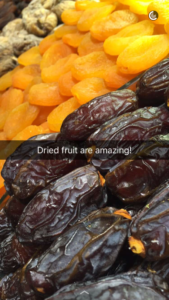 The honey was pretty darn spectacular. And I learned there are so many health benefits from eating the whole honey comb. including the wax. As well, the staff shared that many of the fruits and nuts are used to boost vitality and indeed virility in people! Wow!
After a cruise around the city by boat and bus, we had a well deserved rest before heading to part two of our gourmet galavanting. And Deraliye was just what we had hoped it would be. After visiting the Topkapi Palace the day prior, we learned all about the lineage of the Sultans and also about the importance of the Ottoman cuisine.  Because the Sultans entertained people from all over the world, the chefs were able to create dishes reflective of that, yet, retaining the Turkish traditions. There were many mouths to feed besides the Sultans, as along with their harem, the Palace chefs cooked for approximately 500 people a day.  While there weren't 500 in our restaurant it was getting packed just as we were leaving.  With it being Ramadan, many diners must wait until sundown to break their fast. We didn't wait and dove into the many fab dishes such as these below.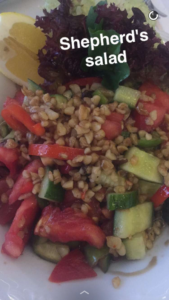 Each plate of food was as delicious as the next.  I love my desserts, but we were so full after dinner we had to pass them up this time.  But I did get something sweet!  A lovely gift from the owner of the restaurant.  It is a tradition during Ramadan to bestow gifts, and I was the lucky one. Wow, I really felt so at home here and very welcomed.  They teach cookery classes at the restaurant, so I must return and learn how to re-create these amazing dishes!
Thanks Istanbul for sharing a slice of yourself with us.  I know food is only part of your personality, but it sure fits with this Yankee Doodle Paddy. We can hardly wait to visit you again!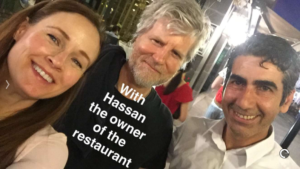 Craving Love,
YDP
P.S. As I have shared on the ABC of YDP, I am not a photographer. These pics were taken from my phone through my Snapchat. They aren't the best, I realize that. But I hope they convey the joy that Hubby and I experienced on this amazing Foodie Fieldtrip Friday. While the Snapchat story has disappeared (they only last 24 hours) the memories will last a lifetime.  And if you'd like to join me on another Snapchat foodie adventure my username is @blissbakery