July 1, 1985 was a day I'll never forget.  It was my second baby's due date and one of the hottest summers in the history of Los Angeles.  With a toddler still on my hip we tried our best to stay cool.  Between dips in the backyard swimming pool and watching Wimbledon Tennis on the television in the least "sauna- like" space in the downstairs family room, we made it through.  The best was being in an air-conditioned hospital five days later watching the final match while my son was born.  It helped me get through the labor without any drugs whatsoever, and deliver a 10 1/2 pound baby!  And every year since I've fondly watched the Wimbledon Tennis matches with these vivid memories.  But I never imagined I'd actually get to attend this prestigious event in person!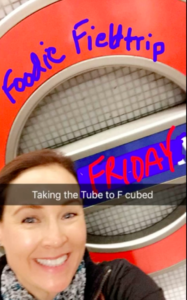 My Hubby has enrolled in the Wimbledon ticket lottery on many occasions and we have never won.  So for my Foodie Fieldtrip Friday this week, I just thought since I'm in London why not venture over by train and see what all the fuss is about.  I figured I could always have a peek in the museum and enjoy the hub bub of the crowds.  And maybe, just maybe, luck out and find a ticket for sale.  Though an optimistic person I didn't have too high expectations, but I have been wanting to check out a very cool restaurant in that area anyway.  So it was going to be a win-win no matter what.
With my son's birthday coming up in a few days I really wanted to document this and send a few pics to him as a surprise.  Since he is in the military and in the middle of a deployment I won't be able to talk to him on his special day.  So this was a way to feel connected to him.  And I made the most of it.  I got stuck in and waited with the thousands, and I mean thousands of other folks in the "queue" and posted pics on my snapchat (my username is blissbakery).  And I entertained myself with people watching and making friends.  In fact two Irish ladies stood right beside me!  And to keep with a foodie theme for the day I enjoyed a few tasty treats along the way.  First was the whipped flake cone from the Mr. Whippy ice cream truck.   Next was a healthier choice of granola bar and coffee.
As the line weaved its way along there was a fantastic  Haagan Dazs display.  An entire area was fitted out with an Airstream silver camper van!   The awesome branding was everywhere, and they were even giving out complimentary tasters of the affogato (vanilla ice cream with fresh espresso poured on top).  The lovely ladies working there most certainly made their company proud.  Vanessa confidently described their special edition ice cream bar called "Smashed Strawberries and Cream" in honor of the biggest and oldest tennis tournament in the world!  With a lovely chocolate coating, I was in heaven, though carrying a bit of guilt as this was the third dairy treat in a short span of time!  But I had to admire the taste, and the cool snapchat filter!
Finally after three plus hours I made it through the gates.  I nearly got myself immediately ejected as I screamed for joy!  Not appropriate in such a proper English setting.   I was just so happy to have gotten in with an all day grounds ticket for only 25 British sterling pounds. With this pass I had access to not only the museum, but any of the grass courts where I could find an empty seat to watch tennis. As well there were numerous food and drink areas and souvenir shopping.  The weather was on and off sunny and rainy.  Which was an advantage for me as some decided to ditch their seats for a drink inside the clubhouse.
In the end I really only watched two matches.  One on court 18 between American Isner and Aussie Barton.  And later after a rain delay I watched two Frenchmen Herbert vs Mahut play on court 17.  I was struck with the number of people inside the tennis facility not watching tennis.  So many were just enjoying the experience. The ambiance, the vibe, whatever you want to call it, simply having fun chatting with friends.  Watching center court action projected on the big screen while picnicking on the grass was a popular activity.  There were people young and old, and most people were quite dressed up, it was super fancy!
I went to the food court, of course, but it was a dual purpose trip.  I needed to charge my phone and heard through the grapevine there were some electrical outlets there. Which there were indeed.  I must say, they could make a fortune by having mobile device charging stations!  Anyway, there I was able to enjoy some British fish and chips.  A wander around and I found a large kiosk selling the compulsory strawberries and cream!
I wanted to enjoy them with champagne, but the smallest amount you could buy was a half bottle.  And while it looked cute in its tennis ball cosy, I opted for a Pimms, also VERY British and very in keeping with the day that was in it!
Everything was beautiful at the Wimbledon grounds. The buildings, the flowers, the people, even the security guards and ball boys/girls.  And the green of the grass was nearly as pretty as the rolling Irish hills I love so much.  The whole place oozes with professionalism and decorum.  I found a lovely pressie for my son's birthday in one of the many shops and even a little treat for my next snapchat give away competition.  As well, the museum itself is worth a visit any time of year.  It has a plethora of information and artifacts about the history of tennis.  I actually found foodie tennis themed items on display.  Of course they have loads of details about Wimbledon through the years.  They also have the women's and men's singles trophies, famous around the globe.  One can always call to mind an image of them being hoisted up by the winners for thousands of photographers every year whom capture the joy of the victory.
One element of the day I will always remember is the sound.  The sound of the tennis ball being hit, the sound of the fans clapping, the sound of the rain, the sound of the helicopter above making periodic surveillance fly-overs, and finally the sound of the accents.  I know I AM the one with the "accent" cuz I am over here in their territory.  But walking around hearing people chat, or the referees announce the scores on the courts it was just a reminder that yes I am in London!  None of these sounds are as palpable viewing it on television.  So I am so grateful I was able to watch and hear in person and reminisce on July 1, 2016 about all the years of "Wimbo" (as it is called) I have seen that have gotten me to this day.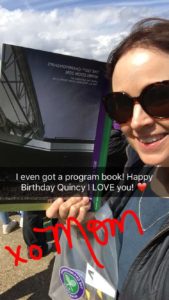 Game, Set, LOVE
YDP