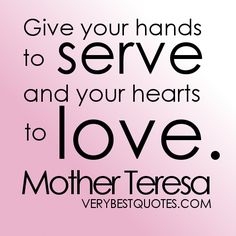 Welcome back to day five of "Tripidation" as I share with you my recent trip to Kenya, Africa.  Luckily, even with so much trepidation about going, I am glad I trusted my Hubby as he encouraged me to go.  He had been ten years before and it had such a profound impact on him that when the ten year anniversary of that trip was nearing we decided to go together.  It was one of the best decisions ever!   Today, I am going to share a story Hubby wrote for a group blog on which those that traveled together to Dandora contributed.  However, the blog is still unfinished and this post never went on it.  So today, I'll let his insight and his photos tell the story through one word as inspiration.  That word is SERVE!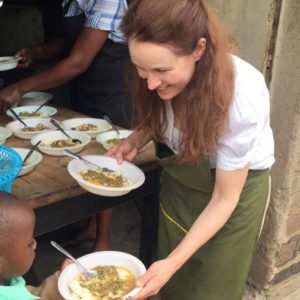 From Doug:
Ten years ago I had the privilege to accompany St Monica's on the annual pilgrimage to Kenya. It was a life changing experience in so many ways. I documented it on film and shared it with the St. Monica community (click on the link here to view). I always knew I wanted to come back to this beautiful country. I encouraged my wife to visit as I knew the children would touch her heart.
Yesterday she spent time working in the kitchen at St. James Primary School (she just so happens to be a trained chef). When I went to see how she was doing I witnessed something that made me realize why I kept urging her to visit here. I saw how happy she was serving lunch to the precious children and playing with them and simply sharing the LOVE. One of the scriptures she reads every day is from John 21:15-17 when Jesus asks Simon Peter "Do you love me? Feed my sheep!"
It was so wonderful of him to write those words and take these pictures!  I am actually overwhelmed feeling so blessed to have had this opportunity to serve. I feel like I didn't do enough, yet it has infused me with passion to continue to do more.  My inspiration is the amazing woman Julia who does it everyday as I shared in the "trepidation" post called grateful.  She is the head chef at the school and "feeds the sheep" day in and out using what make shift conditions she has, and she does it all with a smile.  Health and Safety regulations over in the Western world would not look too highly upon that I am sure.  While they are looking for the errant spark from the stove, they are missing that spark in her eyes that comes from being able to serve her community.  And I got a bit of that spark to ignite my soul for years to come!
To serve and to LOVE,
YDP
P.S. I saw this sign up at the Brother Andre Dispensary (the onsite medical clinic there) and it is a wonderful reflection on offering service to others.