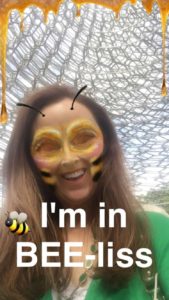 No surprise announcement here folks, I think you know I enjoy my Snapchat app.  And one of the ways I use it is with my weekly Foodie Fieldtrip Friday.  While I write about it on here, I take my phone and post live pics and video to Snapchat (my username is blissbakery) while I am out exploring. Those watching live can respond immediately to the food I am tasting or places I am visiting.  Those who watch within 24 hours before the story expires can still interact and enjoy the fun too.  One aspect of the app that I haven't used often is the filter option.  But a couple of weeks ago this bee filter (which changes your face and voice) was being used by many I watch and I thought it was cute.  I tried it and loved it.  So much so that it inspired an entire theme day for my Foodie Fieldtrip Friday this week.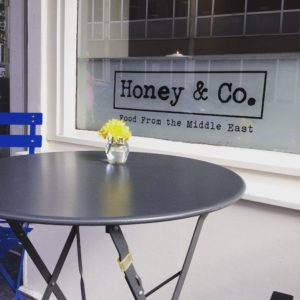 The first stop of course had to involve food. But not just any food. Yes it had to be related to bees to fit the theme, but I wanted to share with Snapchat what I feel is one of the best food experiences in all of London. I have such respect and admiration for the chefs and owners of  this little gem aptly called Honey and Co.  In fact I included them in places to eat in my YDPs Best Of short list for London in a post back in December.  Hubby and I had the most wonderful dinner there last year for our anniversary.  I can still taste the gorgeous Pomegranate Molasses Chicken, it was literally LOVE on a plate!  Sarit Packer and husband Itamar Srulovich are the heart and soul of the symphony of flavors in this wildly successful restaurant. They have two best selling cookery books and a new deli literally across the road from Honey and Co, which they have named Honey and Spice.
I went for breakfast and indulged in the most delicious Green Shakshuka. Sauteed spinach with two perfectly cooked eggs on top, it is a variation of the tradition one which has a tomato based sauce.  Served with lovely bread to dip to my heart's content and a side of goat's yogurt I was in heaven.  I also had the delicious orange blossom iced tea. Of course I had to have dessert and opted for their famous gluten free Chocolate Cookie Tahini Ice Cream Sandwich and some Cooked Coffee, Turkish style. Both were presented beautifully in a very homey way.  The Ice Cream Sandwich was wrapped in parchment and tied with lovely blue baker's twine.
All of the desserts, breads, cakes, bags of granola and preserves looked amazing. The staff was so friendly and they make the customers feel like you are in their home. Claire served me my food and was so lovely and helpful.  And the best surprise was when one of the owners Sarit came to say hello!  I almost fell on the floor.  I didn't post it on Snapchat as I know she was in the middle of service in her chef's clothes.  But I gave her a big hug and thanked her for all her inspiration. We chatted about Ballymaloe Cookery School (my alma mater) as she and her husband spent time there at the LitFest doing a cookery demonstration.  I only wish I could have been there for that.  But it was such a kind gesture that she would come visit (thanks to one of the team members who mentioned it to her) and I will never forget it! Thank YOU!!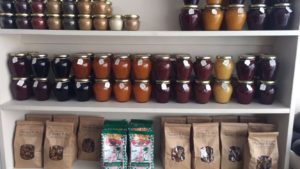 While I could have stayed all day, I wanted to go on to part two of my adventures.  But I popped in and saw the new deli which is fabulous.  I must eat there very soon. The line was out the door as customers were getting freshly made sandwiches, salads and baked treats. There is a lovely casual vibe and places to sit and eat. They also sell Middle Eastern foodie items such as spices and cookery bits and pieces. I can see this is going to be a massive success!
I took the train out to Kew Gardens and it was a lovely sunny summer's day for it. The place was packed with families,  lovers on picnics, and mature folks enjoying a calming day on one of the many benches lining the lake.  The physical space is massive and it is an explosion of color, with flowers of every type.  Of course I was interested to see all the ones with bees buzzing around as I was headed to The Hive.
The Hive is a new installation at Kew Gardens designed by Wolfgang Buttress and is a multi sensory journey. It is an opportunity to gain understanding into the sights and sounds of a bee's life. It was such a powerful experience for me and I actually felt quite emotional.  Somehow the sound of the bees' communication can have that affect on people.  The speakers project various bee language that is beyond what we know of as simple bumble bee buzzing.  And the large 40 ton honeycomb like multi level structure had both young and old intrigued.
The Hive was the centerpiece at the UK pavilion for the 2015 Milan Expo.  It will be open at Kew Gardens until November 2017.  After that the future is uncertain.  But I would highly recommend a visit to learn more about the importance of the bees and how they affect our environment.  They also offer evening visits and I for one want to return for that.  There are a thousand LED lights in The Hive that are difficult to see during the day.  And these late night events include inspiring talks from scientists along with some cocktails!
All of my photos are taken with my iPhone and don't really do justice to the enormity and awesomeness of this structure.  But suffice it to say it was fascinating and fun!  Some people were in a zen like state stretched out allowing the vibrations of the bees to penetrate their bodies.
I love taking these trips out and about whether here in London or my soul home Ireland or my birth home America.  In fact I feel like an explorer wherever I am when I search out not only food, but other intriguing places.  I try my best to soak up all I can of our incredible world and impart it to you as best as possible.  If you have any places you'd like to see, please don't hesitate to let me know by leaving a message in the comments section.  Thank you so much for taking these journeys with me.  I really appreciate it!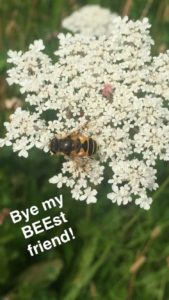 With sweet HONEY love,
YDP