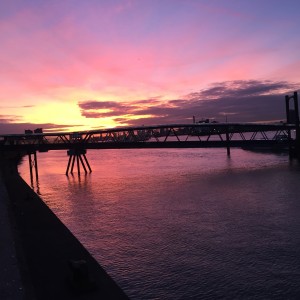 Last Saturday in lieu of a recipe or a story, I decided to start a ongoing series with my 'best of' short list from various cities I have experienced.  I figured it is only fair to first cover places I've actually lived, before going on about places I have holidayed.  So I started with Los Angeles since it was my last port of call before moving abroad.  Now that I am currently living in London, an interesting mix of old and new, I thought I would share my tips and secrets about this incredible city I now call home.
It sounds strange to me to actually say London is my home.  I guess I still haven't gotten used to it.  I have always loved London and enjoyed numerous visits here dating back to 1981.  In fact I was here when Charles and Diana got married.  Wow, so long ago and so much has happened since then!  But I actually never thought I would live here.  It is such a great place to explore and lots to soak up because it has much to offer.  But even the many times we came for a long weekend while living in Dublin (handy that it is only an hour plane ride across the Irish Sea), I figured, sure I'll come again for another whirlwind stay.  And now the stay is more than 48 hours!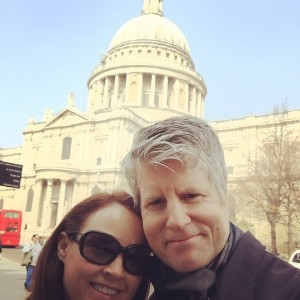 While Hubby and I are still finding our way, and likely will for a long time to come given the expanse and diversity of London, I have a current great 'best of' short list for you.   Where to sleep would be the first order of business I suppose, unless you have a friend or rele living here (which helps with the pocketbook since London is so expensive).  Mind you, this list is by no means comprehensive.  But I am only giving advice on places I've been and things I have done (unless otherwise noted). I am not getting paid or compensated by anything I say here.   I just happened to feel passionately about each of these items for various reasons.  And as I mentioned in the first 'best of' list, I won't be going anywhere near negatives, or downers, as I am not gonna rain on anyone's parade.  This is a happy, carefree piece for anyone interested in traveling here, or simply going on a virtual tour of this cool and complex city.
Places to stay:
Though the place to stay at the moment is the amazing architectural achievement called The Shard, since I haven't stayed there, I can't tell you what it is like.  Sure I have seen it (it is very visible no matter where you are in the city), but haven't yet taken the journey up top.  One could always go to the viewing tower (for which you need to pre-book and pay upwards of 30 GBP) if so inclined.  The building is home to offices and the Shangri-La Hotel and its service is meant to be impeccable.  However the most pricey place to stay is none other than The Lanesborough.  Also, hasn't made my short list, because for one night at this price, I could fly back to the States and see my family!  But for a special occasion like a wedding night, I suppose it would be a total splurge.  Here are my recommendations:
Pricey:  The Mayfair is not only a beautifully decorated hotel, it is beautifully located!  Very convenient to the Green Park Tube station and walking distance to Buckingham Palace.  It is also close to some very posh boutiques in Mayfair for those of you who like to shop.  As you already know if you've been reading this, I am not a shopper. But I did wear a Jenny Packham dress for my wedding and so I just had to have a pic taken out in front when Hubby and I stayed at the Mayfair back in 2011.  A little Hollywood trivia, the hotel was featured in the film Hereafter starring Matt Damon.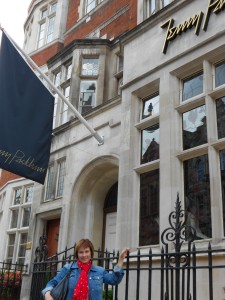 Mid: The Arch or The Dorset Square are equally amazing boutique hotels and with their occasional special deals, you might luck out and get something even more affordable than mid-range.  Hubby loves The Arch so much that he says it is on his 'best of' short list of all time places we've stayed.  What is great about both these hotels is the special care that the staff take towards the guests.  You don't get lost in the shuffle of a big hotel chain, and they treat you like one of the family.  Special amenities such as a Nespresso coffee maker or thick bathrobes add a touch of an at home feeling when you are away from your creature comforts.  Speaking of which, a stay at The Arch over the Bank Holiday weekend in May 2014 led to a funny robe situation. I couldn't find the robes in the room and called the front desk.  They sent up two robes, and the attendant politely showed me where the other two were located in the room.  Oops I missed that!  But he was so kind about it. Anyway, Hubby joked that maybe I should wear all four robes so that none would go to waste. And me being me, I took him up on his challenge. Michelin (Wo)Man London style!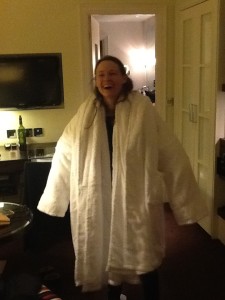 Budget hotels do exist here despite London's reputation for being outlandishly expensive.  But I have to admit we haven't stayed in any of them.  To be quite frank, accommodations on holidays was an issue Hubby and I worked on early in our relationship, as we are both avid travelers.  But since he likes to spend as little time in the room as possible because of the great sightseeing in a new place, he would normally go budget.  But I like my creature comforts such as a nice bathroom and comfy bed.  So the sweet guy that he is, he has adapted.  And the mid range/boutique is usually our go to compromise.  But I do see his point, and so the list here looks darn good. Cheap and cheerful, yet still leaving money in your pocket to spend on a nice meal out or some epic shopping.
To Eat:
If you read yesterday's sad face, poor me I'm hungry post, then you will know, food is my world.  So of course I could go on and on with this category of 'best of'.  Especially since London is one of the most amazing foodie destinations in the world.  While some people might be snickering under their breath thinking of the fish and chips, bangers and mash British food reputation, let me tell you something, it is far more than that.  What has greatly influenced the revolution are Brits such as Gordon Ramsey, Heston Blumenthal, Jamie Oliver, and the female foodies behind The River Cafe.  As well, The Great British Bake Off has seen enormous success and proves that there is more to English pastries than the humble scone.  And fabulous supper clubs and pop up restaurants are cropping up everywhere giving diners alternatives to posh establishments yet still having delicious food prepared by hand. One of our favs of course is Sabrina Gayhour whose Persian food fest is out of this world!  And of course the fab Nigella Lawson brought a whole new dimension to British food with her best selling cookery books and wildly popular food shows.  Though we have been lucky enough to dine at some out of this world, highly rated restaurants,  here is my 'best of' short list of foodie places I absolutely adore and share with anyone that comes visiting me.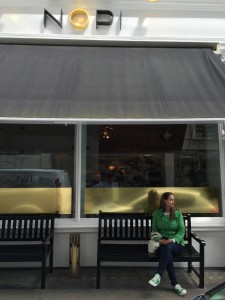 Ottolenghi is a food goal in life for anyone who appreciates a good meal.  It is fresh, wholesome, delicious and made with the utmost love and integrity. These group of gourmet delis and restaurants are some of the best food dining experiences I have ever had in my life. Started by chefs Yotam Ottolenghi and  Sami Tamimi, they combined their Middle Eastern background and styles of cooking to bring a whole new genre of food.  I was lucky enough to meet them last year at the Ballymaloe Lit Fest and they are as nice in person as you could ever imagine.  Their cookbooks are literally a feast for the eyes and make you want to lock yourself in the kitchen for days recreating all their fabulous recipes.  I especially love their restaurant NOPI as the 'small plates' style of eating is right up my alley.  I love to taste a lot of different things and share my food with Hubby or with whomever I am dining.  As well, they recently opened a healthy "fast food" restaurant in Covent Garden called Sesame.  It is an amalgam of various street foods from the Mediterranean region and has items such as Hummus, Chicken in Pita, Cauliflower salads etc… Much better for you than chain restaurants.  Upshot, please go to one or all of their establishments if you are ever in London, you will thank me for it!
Honey and Co is also in the Middle Eastern food family. It is a trend that I hope never ends as the food is much better for our bodies than heavily fried or processed foods. This place was my choice of restaurants when Hubby and I celebrated our wedding anniversary in June.  It is owned and operated by a husband and wife team.  They are gloriously cute, and while I didn't meet them when we went (as they were at The Ballymaloe Cookery School, my alma mater, doing a demonstration) I could feel their essence in every bite of food I tasted.  I ordered the Pomegranate Molasses Chicken and let's just say that  Hubby wished he had ordered it too when he had a bite.  OMG so amazing!  The place is quite small, and not real fancy, but I love the coziness as it feels you are in someone's home.  Bottom line, the food does the talking and it says, "You will love your honey when he/she brings you here!"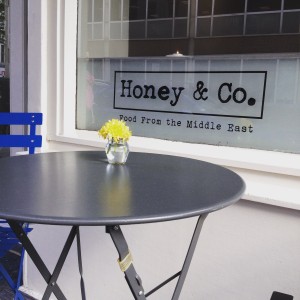 Eating London Foodie Tour might seem to fall under the "to do" list and yes, I suppose you could say that.  But since you are getting a tour of the city,  loads of history AND also getting the most amazing food experience of your life, I had to put it on this list.   I have been on two of their tours now and each is as good as the other.  The first one, which you can read about here, was in the East End part of London near the Old Spitalfields Market.  The tour was professional, fun and informative with our outstanding guide Harry. The second one I went on was in the Soho area of London led by the talented Joe and you can read about my experience here.  Just make sure to go hungry cuz there is a lot of eating on these tours.  It is well worth the price, and all the walking makes you feel less guilty about all the calories. I for one am so eager to go on another tour I am busting!
To Do: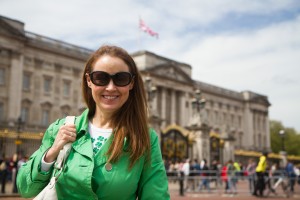 The Queen and The Royal Family are really what makes London so unique in my opinion. Maybe because I am from America or lived in Ireland, but since there are so few royals left in this world I find it quite intriguing.  You'd think that by the 21st century it might not be a necessity for a country to have such a thing when there are so many other priorities the national treasury could spend money on, but yet it is still part of society.  I suppose that it offers tradition and comfort.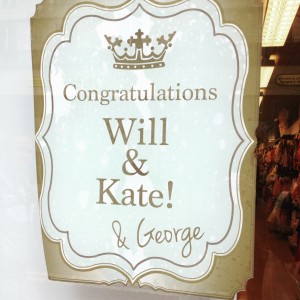 When you see the outpouring of love that happened this Spring when The Duke and Duchess of Cambridge welcomed their baby Charlotte, you gain better insight into the British mentality towards the Royal Family.  So I think a trip to London wouldn't be complete without a visit to Buckingham Palace or even the Tower of London, where the Royal Crown Jewels are kept.  However, if you aren't inclined to support the House of Windsor, may I suggest visiting the former home of some literary royalty?  The Charles Dickens Museum which Hubby and I visited on one of our trips while living in Dublin, was such a wonderful experience!  It was fascinating to learn more about the history of one of the great British literary treasures and someone whom we both admire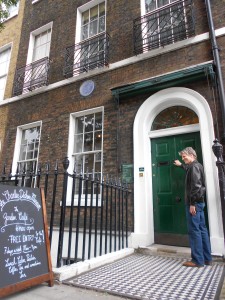 .
Greenwich's Royal Observatory is by far my best tourist experience here in London. Yet I never went until I actually moved here.  It is a bit out of city center so many people overlook it.  But it is so worth the trip and very easy to get to by train, bus or the river boat called the Thames Clipper.  The ride out to Greenwich by boat is more fun and scenic, and then when you dock you see none other than the infamous Cutty Sark.  A lovely walk through the village and up the hill to the top is actually breathtaking, and I'm not talking about OUT of breath.  I mean the park is stunning, and the view from the top will make your heart skip a beat. You can see London in the distance and Canary Warf in the foreground.
Then the tour in the Observatory will literally stop you in your tracks. You will learn how and why we have the time keeping capacity we do now.  It is because of the incredibly intelligent and diligent British men who spent years designing a way to record time using the stars and navigation along with specially designed clocks that would work on boats.  So when you see GMT (Greenwich Mean Time) after having stood atop the Prime Meridian, you will have a greater appreciation for the old clock!
The West End is the original Broadway.  It is theater that is considered popular and accessible.  Hubby and I love our Shakespeare but I know it isn't for anyone.  Case in point when my cousin recently came to visit us from Ireland and I pointed out Shakespeare's Old Globe Theater not far from Hubby's work.  I asked if she'd like to see a play there and she politely said no.  But she said she'd love to see a West End play.  So Hubby booked three tickets to see The Audience with Kristen Scott Thomas (one of my fav actresses and whom we have seen perform before).  It was a fantastic play and my cousin was over the moon!  Before we moved to London, we never came for a visit without attending at least one West End show.  Sometimes we saw three or more.   In fact, on one occasion we even saw two in a day!  And now that we live here we still attend, having seen four so far.  As fate would have it, tonight we were in the West End to see Hangmen, Martin McDonagh's new play.  Years ago we saw his play here called The Lieutenant of Inishmore, a dark yet delightful comedy.  I expected more of that tonight and wasn't disappointed.  This is the same guy who wrote In Bruges and Seven Psychopaths. Prolific and talented!  We were lucky enough to chat with him tonight during intermission.  What a coincidence as Hubby and I were just talking about how we first met him at a private screening of In Bruges at the Director's Guild in L.A. just before we moved to Dublin.  It was a great surprise to see him again!  Though it appeared that most everyone else was ogling the actor Jude Law who happened to be in the audience as well.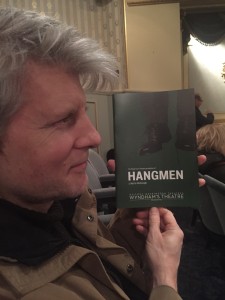 Admittedly though it took me a while to warm up to it, I am really settling into life here in London.  I know it isn't forever, so I am trying to enjoy it as much as possible.  I might have been reluctant to move here, as I have shared before, since I didn't want to leave Ireland.  But I can see so many benefits to living here that I hadn't appreciated in the beginning.  Someday we will leave, but we will continue to come back for visits because there will always be so much to do and see here as it is a constantly changing environment. Yet what I really love about London is that it retains all the rich history.  If you haven't been, all I can say is, what are you waiting for people?
Lovin' London,
YDP