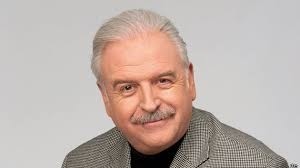 Today is the first time, and most likely last, that I will be posting a Mancrush Monday. Though I've been doing the super popular Woman Crush Wednesdays giving props to my female foodie infatuations, I have no inclination of doing one for the men in the culinary world.  No offense, it is just that they get enough attention as it is.  Besides, I am so in love with my Hubby that I literally don't notice other men in general so there wasn't a need to talk about any other males, be it in the food business or otherwise.  However, today, we are making an exception.  Because quite literally I have always had and always will have a massive crush on my man Marty Whelan.  I'm not talking about the romantic or frivolous type of crush, but a genuine admiration and respectful kind of crush.  And truth be told,  my Hubby feels the same way.  Even after moving from Dublin to London, we still listen to Marty's program everyday.  Along with his great musical selections, he effortlessly brings sunshine into the world through his humor and wit.  And he is by far the most accessible media personality out there.  He takes time to read out birthday messages, tweets from fans, and email comments from listeners across the globe (yep we aren't the only ones who stream his show live).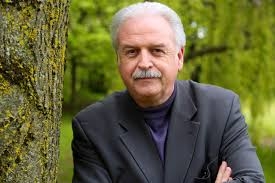 For those of you not familiar with Marty, HELLO people!  Where have you been?  He is a national treasure in Ireland.  His morning radio program on RTE is the jolly jolt one needs for the cold and rainy Irish mornings.  He combines a wonderful musical selection of classical, jazz and popular standards and interjects his wealth of knowledge about each.  His 7-10 am five day a week slot is coveted in the ratings and it isn't any wonder.  This man is an institution!  Not only a radio personality, he also hosts the popular television show Winning Streak.  And our dear friend is also a best selling author.  His book, That's Life was recently short listed as one of the best books of 2015 in the Irish Book Awards. If you too want to live stream in the morning you can click here.  Sometimes, Hubby and I even listen back in the evening while we are eating dinner.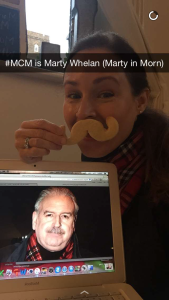 Okay, so how do we do a crush on Marty?  For our #womancrushwednesdays (which we have showered love on the fabulous Irish chefs Susan Jane White, Rachel Allen and Trish Deseine among others)  we take a recipe by our honoree and recreate it for snapchat (username: blissbakery) as well as post on instagram, twitter and indeed this blog.  Since Marty is a radio and television personality we have a dilemma.  But I do know Marty loves his food and is very enthusiastic when he hosts the great Irish chef Neven Maguire every Friday. Furthermore, I want to make something in the kitchen that I can send him in the post. A little Christmas pressie.  A small token of thanks for all the goodness he brings to the lives of others.  So what is Marty most known for besides his great talent?  Why that classic mustache!  Yes folks!  I have it!  I will make mustache cookies!  Step by step!  With some musical accompaniment of course. Take it away Mart!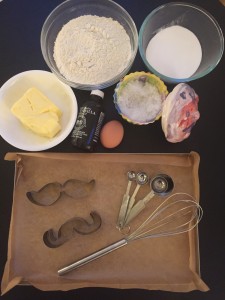 Marty's Mustache Cookies
Ingredients:
2 cups (310 g) plain flour
¼ tsp salt
3/4 cup ( 172 g) salted butter, softened
3/4 cup caster sugar (160g)
1 egg
1 tps vanilla extract
sprinkles and other decorations
Preheat oven to 170 C/325F/Gas mark 3. In a medium bowl combine flour, and salt. Set aside.
In a large bowl of an electric mixer, beat butter and the sugar until creamy, light and fluffy, about 3 mins. Add the eggs and vanilla, beating until well incorporated. Scrape the sides of the bowl, then add the flour mixture. Beat on low to combine but do not overmix.
Gather the dough into a ball. Flatten the ball into a disk and wrap tightly in plastic wrap (cling film). Refrigerate for one hour until firm.
On a floured surface, roll out dough to a ¼ in thickness. With mustache cookie cutters, cut dough and place on a parchment lined baking tray. Bake for 13-15 mins, until slightly golden at the edges. Remove from the oven and immediately transfer with a spatula to a cool flat surface.
Decorate the cookies with icing and sprinkles and enjoy while listening to Marty in the Morn!
Hubby and I became acquainted with Marty even before we got hooked on his morning radio program. Marty is a commentator for the infamous EuroVision Song Contest.  While we didn't know a thing about it before we moved to Ireland, you can't help but get swept up in the kitsch of it all.  And the fact that Ireland has won it more than any other country (seven times) helps with the hoopla around the big event in May.  However, it is Marty's sharp tongue in cheek quips during the show that literally have us glued to the tele.  He says what we are all thinking!  For sheer entertainment, I could just listen to his commentary and skip the often bizarre performances and ludicrous voting blocks.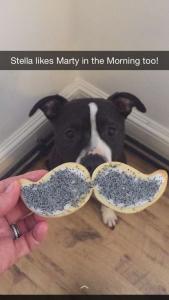 While living in Dublin and working for a gourmet fresh food company I would listen to Marty  in the morning while setting up the shop each day.  I would often send Marty emails/texts/cards and indeed treats over to his office at RTE.  And he would kindly read out a thing or two and make mention of the freshly baked goodie that arrived.  But one time, which had me endeared to him for life,  I sent him a copy of my daughter's CD.  She teaches music to children and made a CD with kids' songs.  One song in particular on it has a symbolic significance:  The Rainbow Connection.  Since she lives in America, I would often think that all the rainbows in Ireland are a metaphoric link to her since we are living so far apart and dearly miss each other . The song highlights that.  I had no idea he would do this, but Marty played the song on the air one day.  I was not only shocked but in tears of joy.  And that my folks is the essence of Marty Whelan.  As great as his accomplishments are and the notoriety he has achieved,  he is really a man of the people. He engages, connects, encourages and uplifts all of us who follow him.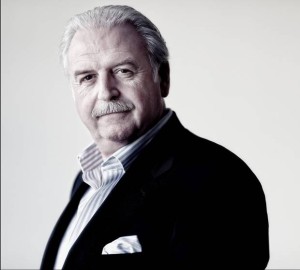 A wonderful husband, father and ambassador for Ireland itself, I can't think of a better man to take the humble honor of one and only Mancrush Monday than the incredible Marty Whelan. I do hope someday to meet him in person. I feel somehow as though I have, even though I have never even so much as spoken to him on the phone.  But maybe when we do eventually move back to Dublin, perchance we will meet.  And it will likely be one of those moments when you meet someone and you feel like you've known them your whole life.  As I suspect any of you might feel if you met him.  He just has that gift of making people feel so comfortable and at ease and welcomed.
One thing besides a love of music that Marty and I share, is the fact that we were both photographed by the amazingly talented Barry McCall.  Mine wasn't for a book cover as was Marty's, but nevertheless, it is a funny coincidence indeed.  It was back in 2011 for myself, ah but feels like yesterday!
God love you Marty. Thank you for being not only our Mancrush Monday, but Mancrush everyday. You've helped this Yankee Doodle Paddy survive a move away from her Soul Land by bringing me a bit of the Emerald Isle each day.  Wishing you and your beautiful family a most wonderful Christmas time and all the best in the New Year!
Mustache Love,
YDP
aka Karen, the American lady
ps. Marty I also wanted to share this photo from 2012 out in Los Angeles. I took Barry McCall and Tony Fenton (God rest his soul) to meet my dear friend Quincy Jones.  How precious this is to me now that Tony has left us.  It is just a reminder that we need to keep spreading the LOVE. So thank you for always doing that!