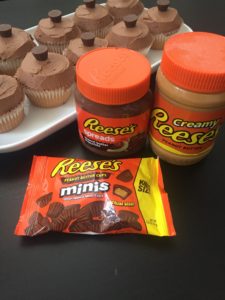 As much as I love living abroad and feel grateful Hubby and I get to travel all over the world, there are many things I miss about America.  Of course number one is family and friends. But I also miss some good old fashioned 'Merica style food items.  And nothing says red, white and blue more than peanut butter.  In my opinion anyway.  I've openly shared about my peanut butter obsession on a regular basis and have made numerous peanut butter inspired treats on here before:  Peanut Butter Cookies with pretzels and chocolate, Peanut Butter and Jelly Bars, Peanut Butter Chocolate Bars.  But this recipe today might take the blue ribbon!
I found the last two packs of mini Reese's peanut butter cups in the Tesco world foods America section. When I say last, I mean LAST!  They are discontinuing their world foods section all together. So the next time I see these lovelies will be when I am back on U.S. soil in September. Therefore, I had to honor them well with this recipe creation.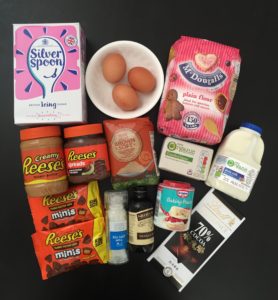 Reese's Chocolate Peanut Butter Cupcakes
Ingredients for the Cupcakes:
6 Tbsp (85 g) unsalted butter, room temp
1 cup (250 g) smooth peanut butter
1 1/3 cups (270 g) firmly packed brown sugar
3 Large Eggs, room temp
1Tbsp vanilla
3 cups (406 g) flour
1 Tbsp baking powder
1 tsp salt
1 cup (8 oz or 225 ml) milk
Ingredients for Frosting
1 ½ sticks (170 g or 5.9 oz) unsalted butter, room temp
pinch of salt
2 ½ cups (250 g) powdered sugar (icing sugar) sifted
¼ tsp vanilla
3 oz (85 g) dark chocolate melted and cooled
Reese's Chocolate Peanut Butter Spread for filling (or Nutella)
Mini Reese's Peanut Butter Cups for topping
To make the cupcakes:
Preheat the oven to 350F/180c. Line a cupcake pan with paper liners.
In a large bowl of stand mixer with the paddle attachment, cream the butter, peanut butter and brown sugar until fluffy about 3-5 minutes. Add the eggs one at a time and beat well. Scrape in between each addition. Add the vanilla and beat until incorporated
In a separate bowl combine the flour, baking powder and salt.
Add the dry ingredients to the creamed mixture, alternating with the milk. Mix well.
Fill the cupcake liners with the batter using an ice cream scooper.
Bake for 15-20 minutes until a toothpick inserted in the center of cupcakes comes out clean.
Cool cupcakes in the pan. When fully cooled then pipe the inside with the Reese's chocolate butter. Then top with the frosting and garnish with the mini Reese's Peanut Butter Cups
To make the frosting:
In a bowl of a stand mixer with the paddle attachment, beat the butter and salt on medium speed until light and fluffy, about 2 mins.
Reduce the speed to low and gradually add the powdered sugar and mix until it is all incorporated.
Add the vanilla and beat until smooth and creamy. Stop the mixer, scrape down the sides and then add the chocolate. Beat just until incorporated.
As you can see if you've gotten this far, I also found some Reese's Peanut Butter and Reese's Chocolate Peanut Butter Spread. Seriously you probably think I am doing a commercial for them but I am not. I just decide to go full out and use these complimentary finds and I must say the cupcakes turned out amazing!  The cake is very peanut butter-y but still light and spongy not stodgy at all.  And the filling is the surprise bonus that makes it all worth while. Like having a pureed Reese's inside!
Of course the creamy chocolate buttercream frosting and the mini Reese's on top really is the "icing on the cake" as the saying goes.  I am delighted with these and am feeling less homesick.  Plus tomorrow is Hubby's birthday so we will have our fill of cupcakes that is for sure.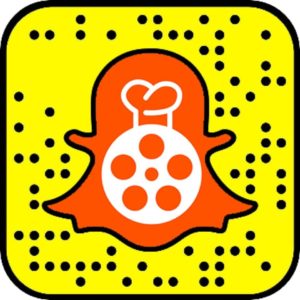 I made these cupcakes for a Snapchat tutorial. However not for my own (blissbakery) account but for Cook Reel TV (their Snapchat username is: cookreel)!  They kindly asked me to come back and do another take over.  I had a blast, and while last time I made a full menu, this time because we went on a little gastronomic excursion for the first half of the takeover, I only had time to make these cupcakes.  In saying that, this might be the only recipe one needs for a night of pure bliss!
Cupcake LOVE!
YDP