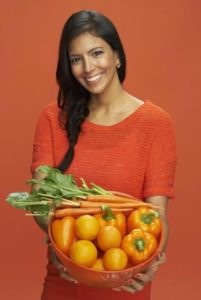 As the calendar rolls on to November and Autumn is in full swing, today brings with it the joy of Woman Crush Wednesday.  Since we are in that period post Halloween sugar coma and pre Thanksgiving turkey triptophan sleepiness, this week's honoree is a perfect panacea. Vani Hari, better known around the world as The Food Babe is ready to get us all on track through healthy eating. Vani may be one of the most controversial WCW chefs as she has been known to shake a few food conglomerate trees.  But she has a passion for wanting people to have the best possible options for their food.  But first we need to be not only informed, but have access to the information!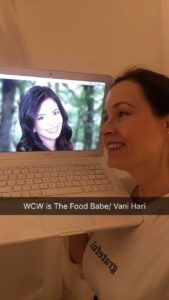 And I am happy to fill you in on what I know about this gorgeous gourmet gal. She was born in North Carolina and got her university degree in computer science. But after an illness found her in the hospital, she decided to change her life for the better. It didn't happen over night.  But today, Vani is the picture of health. Yet she isn't modeling bathing suits.  She is pounding the pavement trying to encourage food businesses to improve their food so we can all benefit from toxic free meals!   Thank goodness for me, a massive sweets eater, that she hasn't cut out treats!   And for my WCW cooking tutorial live on Snapchat (username:  blissbakery) I will be demonstrating her amazing Chocolate Goji Sea Salt Drops!
Ingredients:
2 bags or 20 ounces (569 g) of organic chocolate chips
4 (114 g) of goji berries
8 ounces (228 g) of almonds chopped in half
¼ tsp sea salt + additional for sprinkling
Instructions
Fill a small pot with ¼ water and heat to simmer
Place large bowl on top of pot (creating a double boiler)
Fill bowl with chocolate chips and slowly melt
Once all chocolate is melted, stir in sea salt, goji berries and almonds
Use a 1 tablespoon sized ice cream scooper or spoon to drop mixture onto wax paper
Top each drop with a small sprinkle of sea salt
Refrigerate to allow chocolate drops to cool
This is quite possibly the easiest recipe I have ever demonstrated.  Literally all you have to know how to do is boil water.  But don't let that fool you.  It is the most delicious little treat you'll ever taste.  It is sweet and salty, crunchy and chewy.  All the textures and flavors you want in a goodie!  It would make a wonderful gift for the holidays or for the hostess of a dinner party you attend.  Besides the fact that chocolate tastes good, high quality chocolate is good for you!  And goji berries are proven to have many health benefits.   As well as the fact that almonds are packed with nutrients.  So this is like a multivitamin dessert!  Okay maybe I've gone a bit over the top on that description but you won't regret making these yummy delights!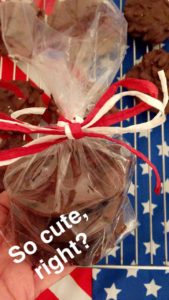 I first heard about "The Food Babe" from my daughter.  She is always on the look out for Woman Crush Wednesday chefs for me.  And while some might be a bit skeptical because of Vani's media exposure, I love that she speaks her mind.  We don't have to agree with everything a person says to respect them.  She is thinking about the common good and is willing to risk personal opinions of some, for the service she is doing for public at large.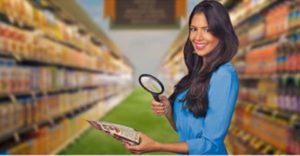 So I take my chef's hat off to you Vani!  I wish you continued success on your quest to investigate what is in the food we eat!  After five years of blogging and sharing your journey I am sure there are more discoveries to be revealed from under your microscope!
Magnified LOVE,
YDP