The last couple of months Yankee Doodle Paddy has been blessed with travel.  Though I have posted it on social media, I am finally getting around to sharing here on the blog. A little Tuesday Travel Treat for you!   And the country I want to tell you about first is Sweden.  While Hubby and I were in Stockholm once before for two nights back in 2009, I've always wanted to return. It is such a fascinating city!  And since my Hubby is an American of Swedish ancestry it is fun to see him light up in his "motherland"!  Recently he had to be there for work and I decided to tag along. And boy was I glad I did!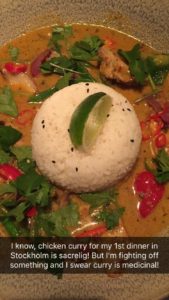 We flew Norwegian Airlines, which is very basic and affordable, but efficient, clean and hey there is free wifi on board.  From London it only took 2 1/4 hours to fly to Arlanda Airport, however it is another 45 minutes by car to Stockholm city center. We stayed at the Radisson Blu Waterfront which is super convenient.   By the time we got to the hotel it was late and we weren't feeling very adventurous.  Our first meal was far from Nordic, we went to the famous chain Wagamama next door. But I made sure to taste some real Scandinavian foodie treats the rest of the week because, hey, that's the best way to learn about a culture. My favs were the hallongrotta (jam cookies) and Glogg with Lussekatt (mulled wine and saffron buns).
The next day while Hubby was at the office, I ventured around the city. This time of year the days are short, and it was quite cold.  But I studied the local map,  bundled up and went walking around downtown posting all the sights on my Snapchat account (username blissbakery).  While perusing the the posh area for window shopping and admiring all the Christmas decorations, I happened upon a cool store called My Museli. Over 88 kinds of organic muesli combinations inside and of course I had to have a taster.   I passed the beautiful outdoor iceskating rink and then went on a hop on hop off bus tour. It was a great way to get my bearings again, and admire the pretty Royal Palace, Vasa Museum and other places I had visited before. And see some notable sights for the first time, such as the famous Kreditbanken which became the impetus for the phrase "Stockholm Syndrome".
But I was especially excited to go to the Abba Museum. It didn't disappoint. In fact it is probably in the top five most fun times I have ever had, period. This museum has an extensive collection of Abba memorabilia and it's also an interactive venue. You can sing karaoke with the band in a re-creation of their recording studio. There is also a stage where you can perform with the Abba band hologram images. The room that is filled to the brim with their gold records, costumes and awards is awe inspiring as well.
There is a Swedish Music Hall of Fame attached that showcases all the other Swedish musical talent that has graced the world such as the band Roxette, singer Robyn, pop star Zara Larsson and the group Swedish House Mafia. A massive surprise was the Eurovision exhibit. For my American friends, this is a song contest that is held each year in May. Countries enter one song and they are performed and then voted on in a two day televised event.  The contest travels by following the location of the winners. Since Sweden has won several times (including once by Abba for their song Waterloo) Stockholm is well equipped for the arrival of the Eurovisionfiles. This exhibit had costumes of previous winners and videos of the performances. There was also a stage and the ability to do a karaoko sing off. This has to be tops on your must see places for your trip to Stockholm.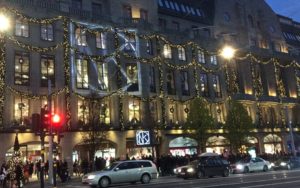 Wednesday was another day of sightseeing around town. Because of the Christmas season, the whole city is decorated to the hilt. The Christmas window displays at the famous department store NK were unbelievable. There were six windows each with a different theme, all so magical and enchanting. Throngs of people travel to Stockholm just to get a glimpse.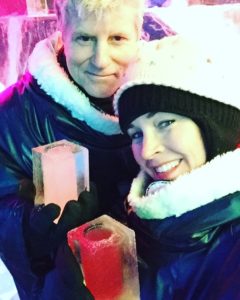 Then Hubby and I went to the famous Ice Bar. Wow it was so cool (pun intended) to have a drink from a glass made of pure ice while sitting at a bar carved out of ice. No joke it was literally 7 below celsius in there!  Luckily they give everyone special warm panchos with built in gloves. Afterwards we had a nice dinner at a restaurant called The Market.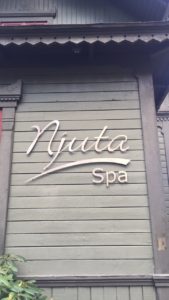 On Thursday, Hubby treated me to a trip to a spa for an authentic Swedish massage. As I have shared before I am not a fan of getting pampering beauty treaments. But Njuta was so amazing. The spa is about 10 mins outside of downtown. It is on a cliff overlooking the water which is ever present in Stockholm.  It is in a restored historic home (from the early 1800s) and decorated so beautifully and cozy. I felt beyond comfortable and I could have stayed all day.  I was well looked after by Sophie and even got to have a cup of their delish signature tea. But I had to break from the tranquility to get showered and ready for the awesome Food Tours Stockholm (which I wrote about on here already).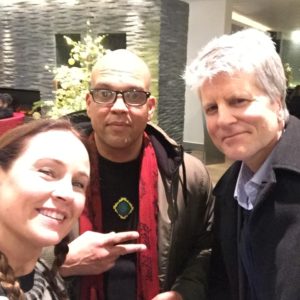 After the food tour, though I was so stuffed, we met up for dinner with Quincy Delight Jones III (QD3) who is the son of my dear friend Quincy Jones.   QD3 is a judge on Swedish Idol so we were lucky to see him as it was the night before the final show.  He is half Swedish and the three of us were comparing notes about the positives of living in Sweden compared to America!  His six month stint in Sweden was nearing an end and he wasn't looking forward to leaving.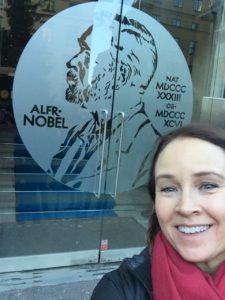 Our last day, which was the 9th of December, I visited the Nobel Museum. It was an emotional experience for me as I have such admiration for all the winners in the six categories (economics, literature, medicine, chemistry, physics, peace) but my particular favorite is the Peace Prize. I even shed a few tears on my weekly Snapchat's #telltheturththursday episode as I shared my answer to my last final exam question from my time at university:  If you could win an award or prize what would it be?  Not that I want the one million dollars or the medal around my neck, but winning the Peace Prize symbolizes an achievement in making the world a better place. Certainly part of my life's purpose.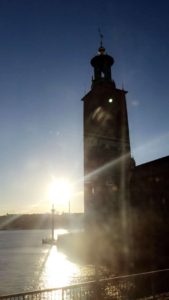 The museum was packed.  It was great to see all the artifacts donated by previous winners and learn historical facts about them and indeed Alfred Nobel himself.  We were told on the tour that there have been 911 recipients of Nobel Prizes and only 48 have been women. On December 10th each year the awards take place at the Concert Hall in Stockholm. Then afterwards there is the awards banquet which takes place at the City Hall.  It was literally just outside our hotel window.  But because the awards were happening the very next day the City Hall tours were cancelled to prepare for the banquet.  I definitely want to go visit next time we are there.
Sweden is part of the EU but they still use Swedish Krona for their currency. Yes some things can be pricey.   However, despite the cost, I would still highly recommend a trip.  The Swedish people are so welcoming and everyone we met spoke English.  Stockholm is such a clean and safe city with great public transport, a fabulous food scene and loads of fun things to do.  It is rich in history and culture.   It is like a Smorgasboard of LIFE!
Kärlek,
YDP