Well guys we made it! It is post Valentine's Day and there is actually still loads of LOVE to be celebrated!  For many who aren't a fan of the holiday they are just as happy it and the hype are over.  While many are nursing a hangover (chocolate or otherwise), I for one am so happy to have this Guest Blogger series to look forward to each day.  While LOVE is indeed my purpose in life, it is key for me that it is interactive.  Meaning that it must flow like a river.  Part of the hydrological cycle, with a source and mouth and lots of places to nourish in between. 
Today's author is Katie from Ireland.  Being a teacher she probably knows a thing or two about rivers and geography.  But one thing she is flying at right now is being a mommy to her 5 month old baby Cara.  I've gotten to know Katie through Snapchat as she has joined in the commUNITY of sharing and support.  She is a regular on the #tellthethruththursday weekly episode I host and has made friends with other Snapchat moms as they share tips and baby gear.  She is absolutely beautiful inside and out, and has a great sense of humor!  I love having the chats with her.  Katie enjoys cooking and baking and that often comes up in conversation, but a recent more serious chat was about her writing a piece for this series on LOVE.
It can be daunting to place the moniker "writing" over your head when putting thoughts on a computer screen as a guest blogger. Besides our own self critique, we often pre censor each word as we know it is going on someone else's virtual home. But I told Katie, who is super smart, to replace the word writing with "sharing".  And eventually she decided that sharing this piece, which she had recently written as a diary entry,  would be her LOVE story!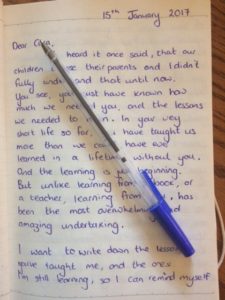 Lessons From My Daughter
Dear Cara,
I heard it once said, that our children choose their parents and I didn't fully understand it until now. You see, you must have known how much we needed you and the lessons we needed to learn. In your very short life so far you have already taught us more than we could have ever learned in a lifetime without you. And the learning is just beginning. But unlike learning from a book, or a teacher, learning from you, has been the most overwhelming and amazing undertaking.
I want to write down the lessons you've taught me, and the ones I'm still learning, so I can remind myself, of how much I've grown and how much you've turned our world upside down. Maybe someday I'll share these lessons with you, or maybe I'll just let you figure it out on your own. Because nothing could have prepared me for this journey and I'm so glad to be learning from you.
Lessons in Strength.
You taught your mama that she is strong. So much stronger than I ever thought I could be. You taught me to trust my instincts and gave me the courage of my convictions. I've learnt that mama actually does know best. Right from the beginning, when the midwife on the phone told me to take my time coming in, something told me you were on the way. My instincts were right even when the professionals were wrong. (We arrived at the hospital, with only 21 minutes to spare).
You're teaching me to be your voice when someone does something you don't like or something that we don't think is best for you. This is sometimes really hard, because I'm afraid of upsetting other people, but you haven't found your voice yet, so I have to speak for you sometimes. I'm standing up for you now, so that one day, you can stand up for yourself.
I'm learning that even when I think I can't, I can for you. Even when I'm running on coffee and not much else, when my tank is on empty, there's always a reserve, because you need me, and I can!
Lessons in Love.
You've taught us to love like we've never loved before. That love grows and grows and is only strengthened when it is stretched. I worried when you came along, that I might not be enough, that I would somehow run out of love, because the moment you were placed in my arms, I felt a love like I've never felt before. An instant, all consuming powerful love. But you've shown me what it feels like to love another with every fibre of my being and still have more to give.
I have loved your daddy for longer than you could believe. I never imagined I could love him any more than I already did, until I saw him with you and I fell in love with him all over again, more deeply than ever before.
You helped me to know how much your mamó and your grandad love me. This might seem strange to you, but someday, a long time from now, you'll understand what it feels like to love a daughter, or a son and you'll know how much I have loved you and you'll love me even more then too.
You gave us Auntie Jessie! You can't understand this yet, but seeing my little sister, loving my little girl is a gift like no other. It strengthens our bond as sisters and fills the space that's sometimes there when she travels away.
Lessons in Teaching.
You've made me a better teacher. I haven't yet been back in the classroom and I know that already. I always thought I was a kind teacher but you've made me really reflect on how I've treated other people's precious little boys and girls before. How I've sometimes been impatient in the way I spoke to them, or in how I've hurriedly ushered them into their seats, when they clearly had something to say.
You've helped me to put myself into that worried mam's shoes, and instead of inwardly rolling my eyes because it seems trivial to me, next time I'll hear her and help her, instead of dismissing her, because that's what I would need, if I was worried about you.
Lessons in Patience.
This is one that you're going to have to keep teaching us. Probably for our whole lives. But this is what I've learnt so far:
A deep breath goes a long way.
That your daddy is the most patient person I know (He has spent hours and hours walking up and down our tiny house with you in his arms, or on his arm, and he always does it gently and lovingly.)
Being patient with myself is just as important as being patient with you. I can't do it all and still give you everything you need, and that's ok.
Lessons in Life.
Some other things I've learnt since you came along:
A sling is a mama's best friend. (I'm writing this whilst bouncing on a yoga ball with you tucked into your sling)
Your smile is everything.
Self care isn't selfish- it's necessary.
Beans on toast is dinner.
You've taught us to slow down, enjoy the moment and cherish each and every day. Even the bad ones. Because the tough days, are when we learn our toughest lessons. They're the days when we find our strength and our patience. When we have nothing left to give and give a bit more anyway. They're the days where we cling to each other, ride the wave, and come out the other side, just a little bit wiser than we were before.
Snapchat: katieducks90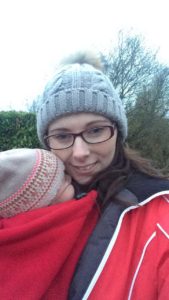 Thank you Katie for sharing that beautiful LOVE story. Not only is it lovely for us to read but what a legacy to leave for Cara!  Your hubby, parents and sister must be so proud of you and the mommy you've become through your precious blessing.  And I for one am so happy to know you and watch the love unfold!
LOVE lessons,
YDP
P.S. It's not too late for you reading this to submit a LOVE story for this guest blogger series. Just leave a comment on here or email me at  imayan[email protected] to let me know you want to participate.