I've said it before and I'll say it again, just because I'm a LOVE Enthusiast doesn't mean I am not still learning more about the subject every moment of every day. The thing is, I am deeply passionate about the topic of LOVE.  So much so that not only is it my purpose in life, but I have dedicated this whole month to sharing my virtual home with guest bloggers.  Since the beginning of the month we've read a range of posts, the only caveat I gave for those contributing was that it had to tie into the theme of LOVE!  Some are used to writing and others like today's author admit they haven't written anything since school days. But every person has a right for their story to be told. 
And that includes Claire's heroic story of self LOVE. You see, this past year Claire has suffered from Alopecia. I met her through Snapchat, and while the subject matter of a gorgeous woman going bald might seem more than a tad serious, Claire's snaps are actually the funniest ever!  I can't express to you how much I have enjoyed getting to know her and experience her journey.  Sure there have been tears along the way too.  She admitted there were even some when she sat down to write her love story.  But Claire is so real, honest and brave that I knew she could do it. Because as I've said to her and many others, often "our highest purpose comes from our deepest pain."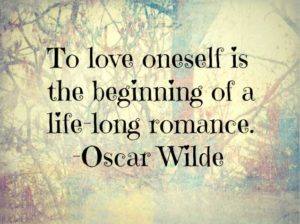 "Ugh, she loves herself"
That was singularly the worst thing anyone could ever say to me when I was growing up. The thoughts of someone thinking I'd ever get above my station embarrassed me.
That I'd have notions, dreams or a will to do well. I hid all of those things.
And God forbid if someone thought "she thinks her dress/eyes/creation are beautiful." I hid that too.
Sometimes I'd mute my singing, because I could actually hold a note. I'd be afraid that someone would hear me and think "she's showing off, she loves herself".
I didn't love myself.
Was I an insecure girl? Was it an Irish thing?
"My shoes are nice?! € 10.00, Penney's, state of them…" Or was I very normal?
I won't pretend I don't think that there is a fine line between self-love and narcissism.  In some people that line is thinner than in others.  Sometimes I think narcissism is dressed up as self-esteem, self-love.  I do believe there are narcissistic people out there pretending to be swimming in a pool of self-esteem. When in fact they are drowning in insecurity.
But what I have learned this year is that self-love is the greatest most valuable love of all.
I have learned that I can love myself without being arrogant, vain, pompous, pretentious and mean.
When you love yourself, you become calm, strong, empathic, considerate and kind.
When did I fall in love with this bald girl?
When she was at rock bottom, in a dark, bald place.  It took almost every strand of her beautiful hair to fall, from her terrified head and then and only then she realised how beautiful she was.
She realised she must care about herself. Her inner hairy voice would say "Why do you keep picking this bald chick up?!" It was then I started feeling the butterflies. "She's a bit of alright, that bald one".
The first day she stepped outside her house in a wig, I was so unbelievably proud of this bald girl. She really, really impressed me. The butterflies got stronger, I had an appreciation of her strength.
When she decided to bravely tell the world she was wearing a wig, that she was in a frightened state and that she needed help. Her vulnerability intrigued me and I started to fall in love.
It took months, some happy, some sad. The day I saw her accept herself for who she was, hair or no hair, that is the day, one of the most contented days of my life, I was head over heels in love. With myself.
I am a mother. Am I the greatest mother I can be? No. But I'm a hell of a lot closer than I was a year ago.
Do I want my children to go to college? Yes.
Do I want them to have a successful career? Yes.
Do I want them to have good taste in music? Yes.
But above all else, I want them to love themselves. Free from arrogance, vanity and pretentiousness. I want them bursting with strength, empathy, consideration and a love for others.
Love is all we need, let's start with ourselves.
Xxxx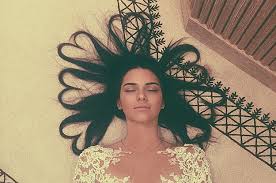 Claire is a beautiful ginger haired Irish wife and mommy of two who works in Dublin.  And while her hair is indeed growing back, I can hardly wait for the day that she recreates this famous Kendall Jenner look (above).   Not because so many others have restaged the hearts with hair photo, but because Claire's heart is bigger than the combined hearts of the 3.6 million people who "liked" this  on Instagram. And Claire's LOVE story is something we all need to hear, as self love, as opposed to narcissism, is the first love one should have.  Since Claire has a wicked sense of humor I wonder if she might come up with another interesting heart hair look..hmmm?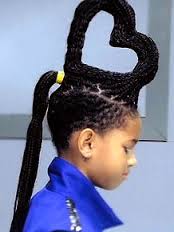 Thanks Claire for sharing your LOVE story and for just being YOU! I admire your courage and love your spirit! I hope everyone reading this sends some support your way and to the other guest bloggers. Being part of a commUNITY is how we get through the ups and downs along our journeys!
Facebook: @claire.balding
Snapchat: claire.balding
Brave LOVE,
YDP