During February, the Guest Blogger Month, I only published five new posts of my own. I figured there was enough to read and with 33 awesome authors contributing to the month of LOVE series, that took precedence. But I  have a stockpile of topics in my draft folder waiting to share with you, and some travel posts are top of the list!
I must to say 2016 was the year for bucket list destinations. And our trip to Iceland in November for my birthday might have been one of the best trips ever. We loved it so much we want to return. Three days seemed like enough when we booked it, but there was so much more we'd loved to have done. But the good news we now have a better lay of the land when go back.
It occurred to me when I flew through Reykjavik on my way to America (where I am at the moment) that I actually hadn't posted anything about our trip to Iceland. In fact, I had to check back over the blog as it seemed I talked about it so much on Snapchat and Instagram that I must have done a whole post on it. But to my surprise I hadn't. I must admit things have been pretty busy so I've excused myself. But I am using the travel time to reminisce and share some thoughts and photos with you.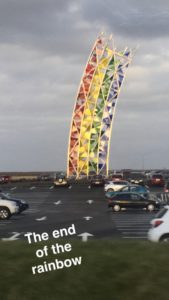 Getting there and transport- We flew WOW airlines (they are Icelandic) from London to Rekyavik and they are very reasonably priced. To and from the airport we took a bus which stopped right in front of our hotel. During our stay we either walked, took a taxi, or took a prebooked tour bus for the day trips we enjoyed.
We stayed at the Nordurey Boutique Hotel– My Hubby is by far the best traveler I've ever known. He loves to research each trip in detail. And finding the best hotel is always top of the list. When I say best I don't mean most expensive. We enjoy sightseeing wherever we go, so spending a fortune on a hotel that we are only using to sleep at night is a waste. However, he is a smart man and knows his wife likes a nice bed and clean bathroom!  So small boutique hotels seem to fit the bill for us. The Nordurey is a brand new one in fact on the outskirts of Reykjavik just walking distance into the city center. Also on a main road so accessable for buses and taxis. The whole décor was very streamline and cool and the breakfast (included in the price) was delish. All the bedding and towels were very plush too! He found it on Trip Advisor, one of his fav websites!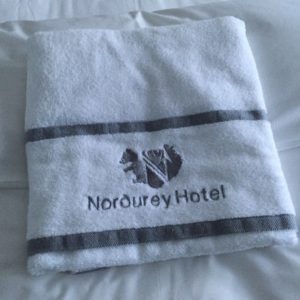 Dinner at Fish Company– Iceland is part of the hot trend of Nordic cuisine. Most noted for the use of fish, game and foraged foods. So we had our one and only "nice night out" at this amazing restaurant. Not only was the food delicious (sorry it was so dark inside the pics didn't turn out well) but the ambiance was very cozy! Things are pricey in Iceland, but this was worth the splurge. Oh and here is a little secret. The other two nights we had a cheap and cheerful picnic in our hotel room!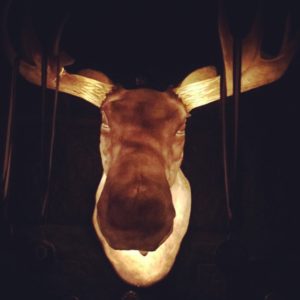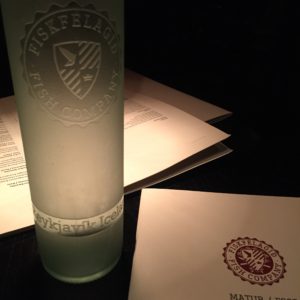 Golden Circle Tour– we were picked up at our hotel by a small coach bus and were taken out for a full day of sightseeing of the most amazing natural wonders, called "The land of Fire and Ice".  First we visited an area high in earthquakes and volcanos.  The thermal geysers, especially exciting was the 30 meter high Strokhur Geyser, the Gullfoss water fall and finally the UNESCO Thingvellir National Park were like almost from a movie. In fact many films have been made in Iceland for it's unique landscape. Though it was getting dark at that stage (in winter the days are very short), we traversed the natural separation of the North American and Eurasian the techtonic plates.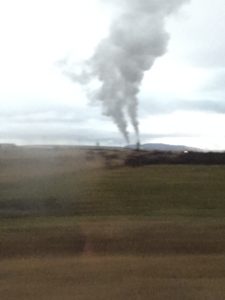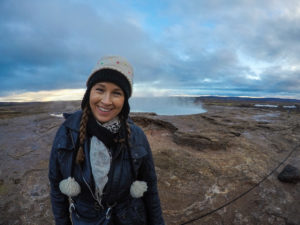 One morning we walked from our hotel into Reykjavik city center to enjoy the unique personality, history and architecture of the capital city of Iceland. Some of the sights we enjoyed were:
Hallgrimskirkja Church– This is one of the most unique and gorgeous churches I have ever seen. A Lutheran denomination church it was opened in 1986 after a 41 year construction time, it is visible from most of downtown. But the best thing is going to the top which is stories high and taking in the view of the famous colored roof tops of the neighborhood homes. There was even a home with a grass roof!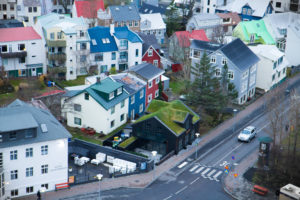 Hofdi House– While it was too early to go inside we enjoyed just walking by, taking photos and reading the plaques outside. This was the place of a monumentous time in world history. In 1986 U.S. President Ronald Reagan and U.S.S.R. President Mikhail Gorbachev met here for a summit as part of the end of the Cold War.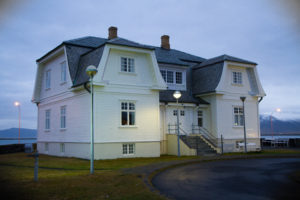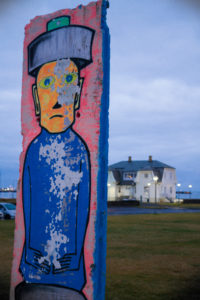 Shopping, street art- Because things are so expenisve we didn't buy too much, but since liquorice is one of the most famous things in Iceland we had to have a few for tasting. Nordic knitwear is very famous and  Hubby got a hand knitted hat! And we enjoyed all the cool street art.
Tattoos- One of the biggest pastimes for locals and a must stop for tourists for a permanent souvenir, is to a tattoo parlor to get inked. So we joined in the fun. Though ours was the temporary type!
The Blue Lagoon– Possibly the highlight of the tour. We were collected by bus coach and taken to the amazing Disneyland like spa. We rented bathing suits and towels and after showering in the locker rooms, hubby and I met in the lagoon. It was the bluest blue ever. It was cold out so the naturally warm water was bubbling and the steam rising from the water. We swam around and tested the natural lava mud masks and had a drink of wine. After our amazingly relaxing and therapeutic dip we showered,dressed and ate a delicious late lunch in the restaurant before our coach trip back to the hotel.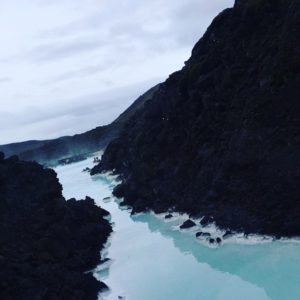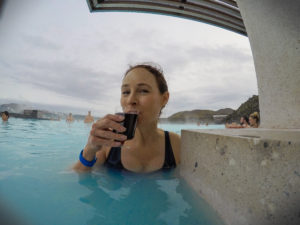 We had planned to see the Northern Lights, but unfortunately that wasn't possible while we were there due to the weather. It is important that three conditions exist in order to see the lights. One is pure darkness.  Which is why you need to take transportation away from the city lights, and NOT go in summer when it is daylight nearly 24 hours! Two you need solar activity, and three you need clear skies. We had two out of the three, but there were low clouds and rain when we were there so Mother Nature didn't cooperate fully.
But that's okay we had the best trip, and next time we'd like to go in summer and rent a car to drive around the country.  The Icelandic people are very proud of their nation. They have a wonderful connection to their Nordic roots and we discovered that genetically the are nearly 25% Irish!  The other 75% is a combo of Norwegian and other Nordic countries.
While we may or may not repeat the awesome outings of this trip when we return, trust me you won't want to miss any of these if you make a visit to Iceland.
With a population of only 332,529  and the majority of the Icelandic people living near the capital, you'll have a chance to meet some of the nicest people on the planet!  They are friendly, smart, artistic and gorgeous!  And everyone we met speaks English!  So what are you waiting for? GO to Ice, Ice, Iceland Baby!
Elska (LOVE),
YDP
P.S. Just to prove we indeed had our little penny pinching picnic in our room, here is the photo memory!