As the Lenten season winds down all those desperate chocolate lovers can rejoice!  Easter time often means those who've given it up for 40 days can have a binge fest. Which by the way, technically the 40 days are over on Palm Sunday right? ! But anyway, back to the chocolate…most people think of chocolate eggs or Easter baskets busting with chocolate candy as the perfect way to break their fast. But I have a recipe that will blow those out of the water!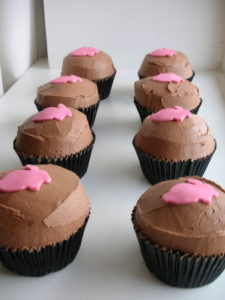 Ingredients:
3/4 cup (120 g) all purpose plain flour
3/4 cup (156 g) caster (fine granulated) sugar
1 tsp baking powder
1/2 tsp baking soda
1/4 tsp salt
6 Tbsp (35 g) unsweetened cocoa powder
3 Tbsp hot water
3 Tbsp unsalted butter melted and cooled a bit
6 Tbsp (100 ml) buttermilk (room temp)
1 large egg plus 1 large egg white (room temp)
1/4 tsp vanilla extract
Instructions:
Preheat oven to 350 F/180 c
Combine the sifted flour, sugar, baking powder, baking soda and salt in a bowl and stir to mix through.
In another bowl (or a stand mixer with the paddle attachment), combine the cocoa powder with the hot water until a thick paste forms. Then add the melted butter, buttermilk, egg and egg white and vanilla extract, stir to combine. Then fold in the flour mixture.
Using an ice-cream scooper or a spoon, put cupcake batter into paper lined cupcake trays. Bake for 17-20 mins or until a toothpick poked in the center of the cupcakes comes out clean without any batter or crumbs stuck to it.  Each oven can be different so make sure to check! Let cool in the pan for a few minutes.
Remove from the pan and cool the rest of the way on a rack. Top with the chocolate frosting recipe:
Ingredients:
1 1/2 sticks (170 g) unsalted butter
pinch of salt
2 1/2 cups (250 g) icing sugar (called confectioners powdered sugar in the US). Make sure to sift before using to get all the clumps out!
1/4 tsp vanilla extract
3 oz (85 g) dark chocolate, melted and cooled to room temperature
Instructions:
In an electric stand mixer use the paddle attachment on medium high to beat the butter and salt for 2-3 minutes until nice and fluffy. Then turn down to low and gradually add all the sugar until it is incorporated. You'll want to stop the mixer periodically and use a rubber spatula to scrap down the edges of the bowl. Add the vanilla and beat until creamy. Then stop and pour the melted chocolate in and return to medium speed. Once it is all incorporated only mix for a bit longer or it will get too much air. If it is too stiff you could mix in a tiny bit of milk so that it is spreadable.
To decorate Easter-y use pink fondant icing and a rabbit cutter, or you could just use speckled eggs on top!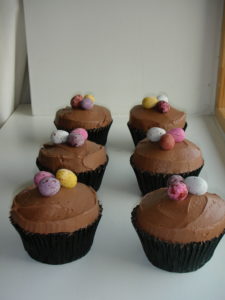 If you double the recipe it makes a fabulous layer cake as well! It is my dear friend Ali's favorite in fact!
And you don't have to wait for a special occasion to make this recipe. Because any day is a good day for chocolate cake in my book!
Chocolate dreamy LOVE,
YDP