Bucket Lists are important in our household that is for sure. I've written about it on here before. And this weekend we were able to tick off another biggie from the list. Believe it or not Hubby and I succeeded in climbing Croagh Patrick the Holy Mountain in the West of Ireland. It was years in the making but we finally did it and have lived to tell the tale!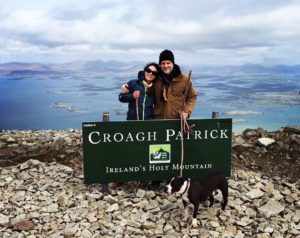 It was so powerful (physically and emotionally) that I feel like I've just eaten the biggest meal of my life and my stomach is still digesting it. Warning, this post may not be my last word on "The Reek" as it is called by locals.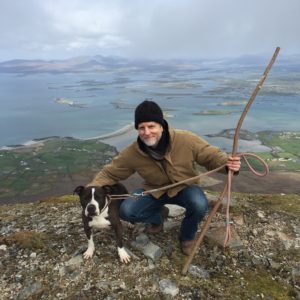 Suffice it to say, it was so worth the long journey over land and sea from London. A special thanks to my Hubby for organizing it and literally driving every mile across the U.K and Ireland.  I captured the climb  (well as best I could) on Snapchat. But it tends to be windy up on the mountain, so for the sake of the viewers' ears getting blown out from the sound, I actually kept many of the video snaps on silent. However that was in keeping with the thoughtful reflective mode we were in during the time up there.
Each year roughly 1 million people make the climb. Some are tourists, others go for the sheer physical fitness challenge, some to commune with nature and enjoy the amazing views, and others for religious reasons. The last Sunday in July is the famous "Reek Sunday" where 25,000 people make the ascent and celebrate mass on the summit. There have even been charity benefit climbs and a recent human pink ribbon to the top for breast cancer research. Is it just because St. Patrick was here fasting for 40 days of lent in 441 AD?  Well partly, but also because it has been thought of as hollowed ground for 5000 years! The pagans even knew the significance of this 750 meter conical shape holy mountain!
We have wanted to make the pilgrimage since we moved to Dublin in early 2008.  But work, family, time and health limitations always took precedent. Then in November 2104 we had actually set up the weekend for the big adventure, but had to cancel at the last minute.  The weather was dreadful but most importantly our Soul Dog wasn't well. Even our move here to London didn't dampen our desire to go, but it was always "one day" until that day became our Easter 2017 event!
Thanks to my dear friend and Snap Sista for life Geraldine for sharing her hubby and twin daughters Zoe and Meghan for the day. They were part of our crew and Kevin provided us with the most necessary equipment of all, the sticks!  Though St. Patrick is thought to have made the climb barefoot, we opted for footwear, but the traditional stick was our lifesaver.
We took our time going up and even more so going down as it is very steep and slippery. And we encountered every kind of terrain you could think of from grass, dirt, mud, moss, rocks, pebbles, shale etc.  Thanks be to God no accidents occurred and apart from sore muscles we are A-OK. Our 12 year old doggie Stella made it in flying form and the official Snapchat mascot Snappy came along too!
And the luck of the Irish was with us as we had wonderful weather and clear views. The photos don't nearly do justice to the vibrancy of the colors.  Blues, greens, purples, greys, no joke my eyeballs were being tickled by Mother Nature herself! Only a bit of rain came when we were heading back down the mountain, which lent a very Celtic feeling to the atmosphere!
The best part of the whole experience for me was of course the time for prayer and reflection. During the ascent and descent I was thinking of my gratitudes and of the world and each person's needs. It was an opportunity to offer up petitions for family, friends, loved ones and yes even strangers. And most especially the time on top of the summit allowed for a tangible moment.  Born out of an offer I posted on my snaps for anyone watching to send me special intentions. I was pleasantly overwhelmed with the amount of prayer requests I received. It was an honor to leave a rock for each prayer, which for me was an earthly physical reminder of an invisible spiritual act.  And of course I had to do it in the shape of a heart. I love to pray and send positive vibes on a daily basis, but this was a most surreal experience.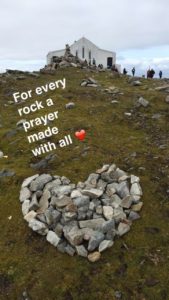 Finally this was the completion of my promise to our friend Father Michael. When he led our group of 12 on a pilgrimage to the Holy Land in 2012 (see pic below with my Hubby) we gave him a "spiritual bouquet" as a thank you gift. We each wrote in the card what we would do for him. I said I would climb Croagh Patrick.
It took nearly 5 years but I kept my word. And truth be told, I would go again in a heartbeat if I could. Only this time I would train a bit harder! As you can see in the pre and post climb pic collage below, I could have used a bit more stamina lol!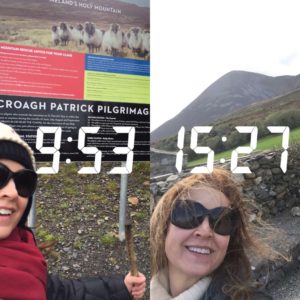 Climbing for LOVE,
YDP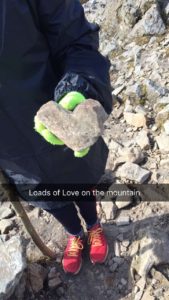 P.S. I had a little task for the crew to see if anyone could find heart shaped rocks. And they didn't disappoint.  Here is only one example but there are lots out there!  I would encourage you to make your own pilgrimage to Croagh Patrick whatever your purpose for doing so, I am sure you won't be disappointed!