Today is the 63rd Woman Crush Wednesday episode. It is hard to believe how many amazing female chefs I have honored and how many delicious recipes we have all gotten to try. As always, it is a recipe I have never made, and I recreate it live on Snapchat (username blissbakery). Today's honoree is April Bloomfield. She was born in the U.K but now makes New York City her home. With several of the most successful restaurants in town, it is no wonder she has two Michelin Stars!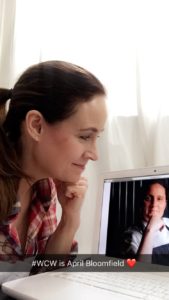 So you think it might be daunting to take on one of her recipes? Well, her recipes are very approachable. She was indoctrinated into the simple eloquence of great ingredients while working at The River Cafe in London. Ruth Rogers, one of its owners, was also a WCW. The philosophy is that when you have the best raw materials you can effortlessly create a wonderful dish. Well there is some effort always, the prep etc. But always worth it! And today I thought April's Spring Egg Drop Soup looked like a healthy, light perfect mid week dinner!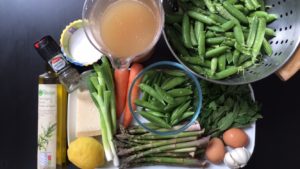 Ingredients
1/4 cup (59 ml) olive oil
2 medium carrots, peeled, chopped
6 small spring onions, bulbs only, coarsely chopped
2 garlic cloves, thinly sliced
Kosher salt
4 cups (946 ml) low-sodium chicken stock (broth in USA)
1/2 lb (229g) asparagus, sliced on a diagonal 1/2″ thick
1/4 lb (114 g) sugar snap peas, sliced on a diagonal 1/4″ thick
2/3 cup (104 g) shelled fresh peas
2 large eggs
1 tablespoon grated Parmesan plus more for serving
1/4 cup torn fresh basil leaves
1/4 cup torn fresh mint leaves
1 1/2 teaspoons (or more) fresh lemon juice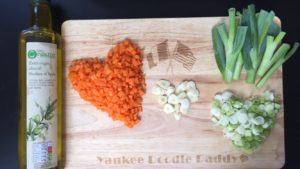 Instructions
Heat oil in a large heavy pot over medium heat. Add carrots, spring onions, and garlic and season with salt. Reduce heat to medium-low, cover, and cook, stirring occasionally, until vegetables are soft, 15-20 minutes.
Add stock/broth and bring to a boil. Add asparagus, sugar snap peas, and peas and cook until vegetables are crisp-tender, about 3 minutes.
Meanwhile, beat eggs in a small bowl with 1 tablespoon Parmesan, a pinch of salt, and 1 tablespoon water.
Reduce heat to low and stir basil and mint into soup. Drizzle in egg mixture in 4 or 5 spots around pot. Let stand for 1 minute so egg can set, then gently stir in 1 1/2 teaspoons lemon juice. Season soup with salt and more lemon juice, if desired. Serve soup topped with more Parmesan.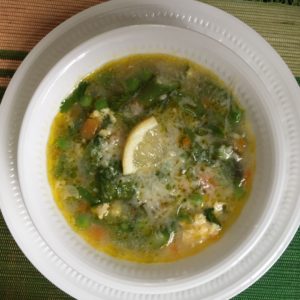 Wow, this soup turned out so delicious. It felt like I was eating a warm salad. The vegetables were bursting with flavor and the brightness of the lemon was fabulous. I loved the salty nuttiness of the Parmesan cheese too. Most people don't think of eating a soup in Spring or Summer, but often we still have chilly grey days here in London. So it is nice to have this as an option for a satisfying but still waist friendly meal!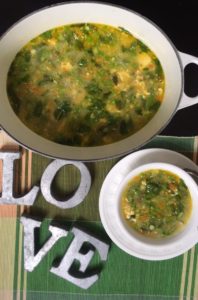 Because one of April's restaurants is called The Spotted Pig, and her first cookbook is called A Girl and Her Pig people might think she is all about meat. But her second book A Girl and Her Greens proves she is more than a protein pusher!  Having worked with Alice Waters in Berkley, California, she would have loads of contact with fresh produce. In fact there is even the innovative Edible Schoolyard Project a stone's throw away from Alice's restaurant Chez Panisse.
April may have worked with giants in the culinary world, but she has digested all that knowledge and synthesized it into her own unique welcoming dishes. And the cool thing is she still retains her British roots. In fact The Spotted Pig, which she co owns with Ken Friedman, is New York City's first gastro pub. Which must be a nod to the great pub life in England! With James Beard awards and a never ending queue of customers, this gorgeous gourmet gal just keeps soaring!
Thanks April for being such a great inspiration and I hope to eat at your restaurant soon when I am in NYC!
 Super LOVE drop,
YDP
P.S. While my tutorials are always about sharing the love and liberally littered with hearts, today's had special meaning. It was dedicated in the memory of my friend Leona Henry who passed away yesterday at 32 years of age. Cystic Fibrosis kept her often unwell, so she always enjoyed my wacky tutorials.  May she rest in peace, soar with the angels, and finally breath effortlessly! xoxo