Yep the future's so Brighton, I gotta wear shades!  A little take on an oldie but a goodie, but that song was in my head when I hit the laptop to share my latest gastronomic expedition with you.  It is hard to believe I have lived in London this long and never made the one hour train journey to Brighton on England's south coast!  It's been on my mind to do for ages, but various reasons have always circumvented the plans.  So I was delighted that this week's Foodie Fieldtrip Friday allowed me to soak up some sun, listen to the crashing waves and indulge in total iconic Brighton Beach eats!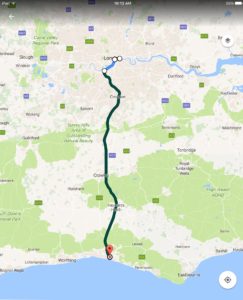 Since I took the off peak train, I didn't arrived until 12:30.  I wasted no time and made the 8 minute walk straight down to the beach.  It was like breathing fresh air for the first time.  We live near the River Thames, but it just isn't the same as taking in what looks like an endless horizon of water.
It was a perfect summer's day and the place was crowded.  I was hungry and picked up a delicious fish and chips basket straight away.  I couldn't think of a more relaxing thing to do then sit on the shore watching the sea gulls while enjoying my delicious lunch.  It isn't a sandy beach which I would have been used to living in Los Angeles for so many years.  This is a shingle (pebbles) beach like the kind I experienced in Nice, France.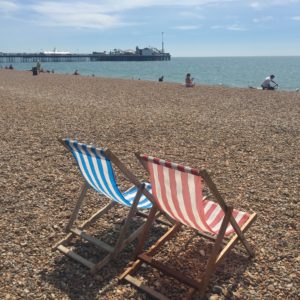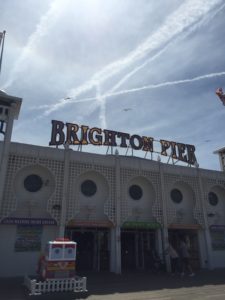 I walked the famous Palace Pier which is lined with food stalls and photo cut out boards.  I enjoyed people watching and the views of the promenade below.  Though I didn't partake myself, I can imagine the pier arcade and carnival rides would be packed on the weekends. Even Snappy had some fun!
I made sure to walk to the Royal Pavilion and was blown away at how lush the gardens are.  Loads of people were on the lawn having lunch, taking in the beauty and listening to the live music.  Even though there are nearly 400 bars and restaurants, on a day like this, who wouldn't want to pack a lunch and savor the scenery?  The Pavilion was designed by John Nash and built in the early 19th century using a unique Indo Saracenic style architecture.  It made me feel like I had traveled into another place and time all together.
I also took a walk up and down the Laines which has the most amazing shops and boutiques. Everything you could think of from vintage clothes, tattoo and piercing parlours, spice shops and gift stores. It was really warm, so I tucked into the highly rated Gelato Gusto for a refreshing treat. I ordered a double scoop of Forest Fruit and Lychee & Rose on top of a chocolate dipped sprinkled cone! Divine!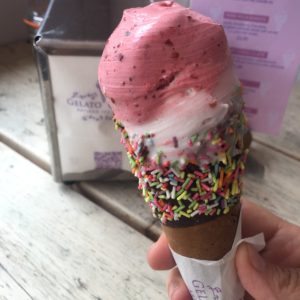 The time flew by too quickly, but since I wanted to catch the 4:30pm off peak train back to London I had to get going.  Four hours in this super fun town wasn't enough. But for a quick day out, it hit the spot. I would highly recommend it for a family outing as well. Whether beach bums or not, there is something for everyone!  Even if you simply want some stimulation for your eye balls it is worth a visit, everything is so colorful!
As fate would have it, I bumped into Alex the Social Media manager for the Brighton Palace Pier.  He mentioned that there are always events and activities going on in Brighton.  So who knows I could be back there again before you know it.  Since I posted the story on my Snapchat account (username blissbakery) I am sure Snappy would love more photo opps at one of the United Kingdom's most beautiful locations!
Bright LOVE,
YDP