Hello Wednesday!  After a taking a break from my fav day of the week due to traveling this past month, I am back and ready to share an amazing female chef with you!  Woman Crush Wednesday recipient #72 front and center!  And truth be told, since it has been so long, I decided to bring you a very special WCW!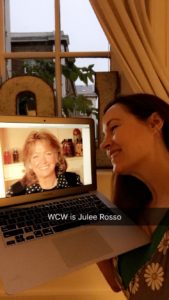 This one is in honor of the 35th anniversary of The Silver Palate cookbook!  Which by the way has been inducted into the James Beard cookbook hall of fame!  Written by today's honoree Julee Rosso and Sheila Lukins (who sadly passed away in 2009).  These two women changed the culinary scene back in the late seventies with their wildly famous Silver Palate store in Manhattan, New York.
It seems in every home kitchen I visit, I see a copy of one of the Silver Palate books. The style of cooking revolutionized entertaining in the 80's. The Silver Palate company was sold, and while the shop has now closed the company is still running strong with a wide selection of food products. Julee Rosso has written her own cookery books besides the four Silver Palate cookbooks she wrote with Sheila. And now she enjoys life running the Wickwood Inn located in Saugatuck, Michigan. Definitely on my bucket list to visit!
I've made so many recipes from the Silver Palate cookbooks, but one recipe I haven't tried is the Outrageous Granola!  I've always believed granola makes the perfect breakfast, or just a little snack…even wrapped up and given away as a holiday gift!  So lets get cooking!  I will of course be doing a live Snapchat cooking tutorial (username blissbakery) so try to catch it before it expires in 24 hours!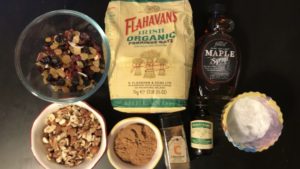 Ingredients:
3 cups ( 255 g) Silver Palate Thick and Rough Oatmeal (I can't source this so just used ordinary oats)
1 cup (120 g) chopped almonds, pecans or any combination of your favorite (I add pine nuts to mine)
1 cup (150 g)  or any combo dried fruit (cranberries, golden raisins, apricots, dates, cherries, blueberries)
1 Tablespoon Vanilla
1 Tablespoon Cinnamon
1/2 teaspoon salt
1/3 cup (73 g) packed Brown Sugar
1 cup (237 ml) Pure Maple Syrup
Directions:
Mix together in a large bowl. Transfer onto a large baking sheet sprayed with non-stick butter flavored spray (I used a silicon baking pad so didn't need the spray). Bake at 325F/170c for 35-45 minutes stirring once in-between. Allow to cool completely on tray. Store in airtight jars or containers.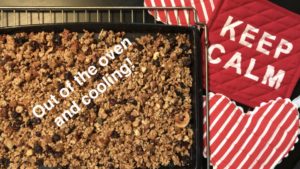 How easy is this recipe? A great rainy day activity to do with the kids. I love granola on top of yogurt or ice cream or just a handful to keep me going if I am peckish. Granola is such an adaptable recipe depending on what nuts and dried fruit is on hand, and this one is fab for that. I love the cinnamon and vanilla addition. Also, many granola recipes have some sort of fat or oil, and this one doesn't. It has brown sugar, but I bet it could be reduced if you're concerned. I love the added sweetness. You know me and my sweet tooth! But in this recipe I replaced the brown sugar with Coconut Blossom Nectar. It looks just like brown sugar but not as sweet.
Since I did this tutorial very early in the morning I waited to eat breakfast. I'm glad I saved myself! It was so delicious and I ate every scrumptious bite!  I added some fresh fruit and almond milk to complete the perfect Woman Crush Wednesday!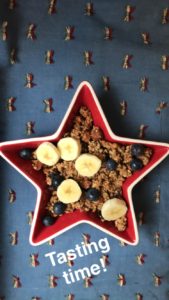 Thanks to Julie Rosso for being such a fabulous inspiration for home cooks and professional chefs.  And thanks to you YDPeeps reading this, for your support and patience during the time I wasn't able to post my favorite weekly episode!  Let me know if you give this amazing recipe a whirl yourself!
Crunchy Granola LOVE,
YDP