I'm back to share more of our recent Italian adventures with you!  If you've read the first two posts about our edible escapades (here and here) you'll know we were on a foodie fantasy.  Hubby booked us in for a couple more days of R & R before we had to be at the Venice Film Festival.  Guardastelle was the perfect place to soak in the warmth of the Tuscany region. And I don't mean just the sunny weather!  We were shown incredibly warm hospitality by the owners of Guardastelle, Susanna and Fausto.  In fact we arrived a bit earlier than we thought and while we waited for our room they brought us each a glass of their own tasty wine and sumptuous bruschetta. Cue heart swell!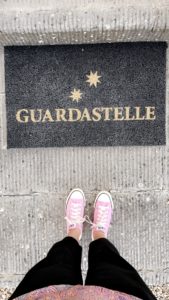 Guardastelle is a family owned B&B which is on a working farm. They grow their own grapes and have a winery on site, Sovestro in Poggio. While we didn't avail of the guided tour of the winery or a wine tasting class (which they offer) we did take a little trek over to the historic town of San Gimignano located nearby. In fact you could see the town in the distance from our room. One of the prettiest views ever!   Apparently the most famous Gelateria in all of Italy is located inside the walled city.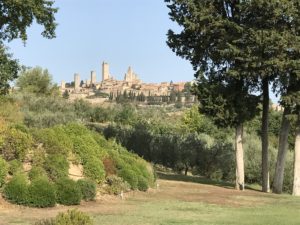 We drove there in our rental car but the town is also accessible by a walking path from Guardastelle. It was worth the trip. You feel like you've been transported back in time. The narrow streets are like a maze, the stone buildings are impressive and all the little shops are so quaint.
The town is so picturesque and the gelato lived up to the hype. I had to control the urge as I wanted to have more than one! Gelateria Dondoli has won many world gelato championship trophies!  It is hard to see from the screenshot pics of my Snapchat story, but Hubby had a melon and mango cone and I had chocolate and chocolate chip. Pretty darn epic!
After a peaceful rest in our comfy room we enjoyed a fabulous breakfast.  Imagine the serenity of a morning cuppa with a view over the rolling hills of the Tuscany vineyards!  The price of our room included a breakfast buffet.  It is also possible to order a cooked breakfast. Everything is done with care, and while it is in the countryside, there is a casual sophistication to each detail.
The highlight of our two night stay at Gaurdastelle had to be our cooking class with Fausto. He guided us through several traditional Italian recipes that have been passed down in their family.
We made fresh fettuccini pasta, potato gnocchi and my Hubby's fav, tiramisu.  While I posted photos to my Snapchat account (username blissbakery) he was in charge of whipping and assembling this yummy dessert!  And sure a little tasting along the way didn't hurt anyone!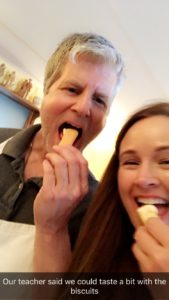 There were approximately a dozen or so other people participating in the cookery class.  We ended the day by eating not only what we had made, but also some other surprises.  I loved it all but my fav was the delicious Guardastelle wine (Sovestro in Poggio)  and a local Pecorino cheese and fresh fig board.
While it was hard to say goodbye to this satisfying experience, I have a feeling we will be seeing Susanna, Fausto and the Guardastelle team again one day.  It is a perfect holiday spot for couples or families.  While we didn't have our bathing suits with us, the pool would be a wonderful place to cool off from the warm Tuscan sun!  Next time, bathing suits get packed first!
Swelling LOVE,
YDP
P.S. Have you heard the quote "eyes are the windows to the soul'? Well this pic taken from our bedroom at Guardastelle made me think that maybe "windows are they eyes from the soul". Certainly a soulful view!