Pasta is one of the best things ever invented. While historians argue about who can take claim for the honor, I am grateful Hubby booked us into a private pasta making class while we were in Italy. We made penne, my Hubby's fav, as well as fettuccini and the most gorgeous spinach and ricotta tortellini and ravioli.  Not only did we get to learn from the pasta queen herself, Wilma then served us a delicious lunch of the pasta we helped make.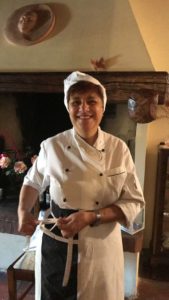 I shared with you two posts (here and here) of our recent Italian adventures. But today is all about the food!  I've always believed that delving into the local culinary realm while traveling helps to understand the culture.  It is also a great way to have fun and stay fed!  Two of my pillars in life!  But spending the day with Wilma, owner of Pasta Fresca,  was like being at the home of a dear relative. She made us feel welcome the moment we spotted her outside of her home as she guided us into our parking spot. We were not alone on the course as there was one other couple (from the Netherlands) who were taking the class.  I captured it all on Snapchat (username blissbakery) though the snaps have since expired.  However, I do have some screenshots from the story.
Wilma made sure we had suited up in our aprons and washed our hands before starting.  She explained all about her ingredients and equipment and we dove straight in!  Wilma learned her pasta making artistry from her mother and grandmother.  It is basic, only a few ingredients necessary, but it was more about the care and love put into it that made it so special. We each took turns kneading the pasta dough and putting it through the pasta machine. Then we cut the pasta into fettuccini noodles, assembled the tortellini and ravioli and rolled the penne.
Wilma showed us how to cook the pasta and make two simple sauces to accompany them. The spinach and ricotta ravioli and tortellini were served with a sauce made with butter and fresh sage (just picked from her garden). The fettuccini and penne were served with a sauce made from ripe tomatoes, garlic and freshly picked basil.  Hubby is a not only a pasta fan, but an avid connoisseur and would eat it every day if he could.  With his expert palette even he said Wilma's pasta was the best.
If you happen to be traveling through Tuscany do yourself a favor and book in to make pasta with Wilma, you won't regret it. When we left Wilma's on route to our next Italian adventure we had full bellies, and an even fuller heart. Truly the warmest hospitality ever! And now for some of the recipes straight from the pasta queen herself!
The recipe for the pasta 
500 g flour
2 eggs
Salt
half glass water
and you mix very well
Recipe for filling:
300 g of ricotta cheese
250 g of spinach (cooked, chopped and cooled)
50g parmesan
salt
pepper
and combine
The recipe for tomato sauce:
500g cherry tomato
2 spoons olive oil
basil
2 cloves of garlic
salt
pepper
Cook in a pan for a few minutes
Until the next Italian post, ciao!
LOVE,
YDP