Back in January Hubby and I shared a fun movie episode called Cuppa Critics on my Snapchat (username blissbakery). We reviewed 11 flims that I received as Awards Season Screeners. We had a blast and I also posted a story on here as well if you'd like a peek (click here for link)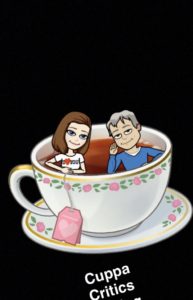 Well after our recent fab trip to Italy to attend the Venice Film Festival where we gorged on films, we resurrected our Cuppa Critics Monday night with our top 10 picks. The Snapchat story has since expired, but I'll recap them on here as well. In total Hubby was responsible to view 21 films in competition for his jury's prize. We also saw a couple films outside of the competition. It was hard not to do so, as the Venice Film Festival (the oldest film festival in the world) has thousands of films available to see during the eleven days. From dramas, comedies, documentaries, short films and this year for the first time, a whole section of virtual reality films.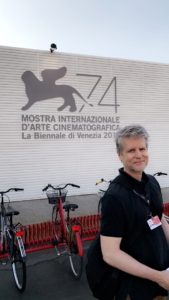 But before I share our reviews, I just want to say that Hubby has been asked to be on juries at 15 film festivals since 2008. I've written about it on here before (here is the link) as I am very proud of him.   I was blessed enough to attend 11 of those. But this is the first time since I have been Snapchat that I have been able to join him. And it was a blast to share all of the behind the scenes, the up close press conferences with the stars, the jury awards presentations and closing ceremonies and after party. The highlight was walking the red carpet with the photographer lights flashing and Snappy the Snapchat HQ mascot coming along!
Last time we did Cuppa Critics we each took turns reviewing a movie which we chose at random.   Then we both gave either a thumbs up or down. This time after taking turns with film reviews we lifted our cups (or not) to show our support of the film, like this: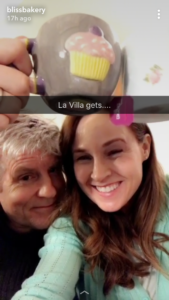 So here are the Cuppa Critics reviews: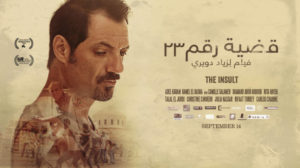 The Insult: Set in Beirut, this powerful film deals with issues of racism and how the personal and historical experiences of a Palestinian and a Lebanese Christian have formed their views. The story climaxes in a courtroom drama, with some surprise plot twists, as the two men at odds come to grips with the outcome. Excellent acting and the main character won the best actor award in the film festival. We gave it two cups up!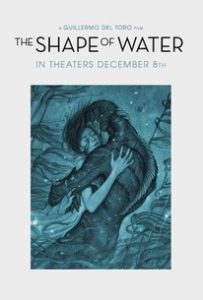 The Shape of Water: A mashup between well known movies Splash and Amelie, this film was the only one that made me cry. Sally Hawkins and Octavia Spencer do a wonderful job in their roles and this film won the grand prize at the festival, the Golden Lion award. The director Guillermo Del Toro when accepting the award said he "believes in life, in love and in cinema." I think he is a genius!  We gave it two cups up!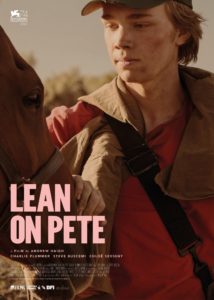 Lean On Pete: Based on a book of the same name, this film is a heartbreaking tale of a teenage boy who is orphaned and befriends a horse named Lean on Pete to help him heal. The main character is played by Charlie Plummer and wow he is one to watch. Hubby calls him a young River Phoenix. He won the newcomers acting award at the festival. We gave it two cups up!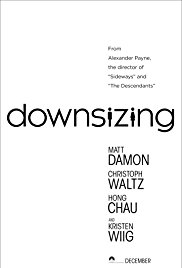 Downsizing: Directed by Alexander Payne (a Nebraska native like Hubby) starring Matt Damon, this film is a grown up version of  "Honey I Shrunk the Kids".   It is part comedy and part drama with some social commentary thrown in regarding world overpopulation, resources and the environment. It started strong but sadly it seemed to veer off towards the end. Therefore I didn't give it a cups up, but Hubby did. Split vote!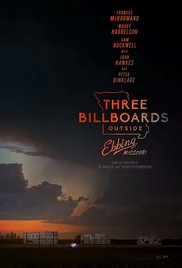 Three Billboards Outside Ebbing, Missouri: This film was expertly written and directed by Martin McDonagh and has an excellent cast with Francis Mc Dormand, Woodie Harrelson and my fav performance by Sam Rockwell. It is a griping tale of one mother's drive to find retribution for the murder of her daughter. We gave it two cups up!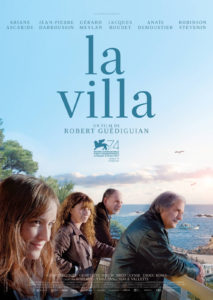 La Villa: A French film about three adult children who gather at the family home in Marseille after their father has had a stroke. This film emphasizes the importance of family and deals with issues of aging. It won the top prize in the jury of which my Hubby was the president. We gave it two cups up!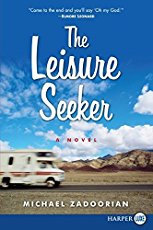 The Leisure Seeker: Another great film with a perspective from the more mature members of our society. This is a road trip, in particular a trip in a Winnebago camper van, which is named Leisure Seeker. Helen Mirren and Donald Sutherland star in this touching film about aging, illness and ultimately LOVE! Two big cups up from us!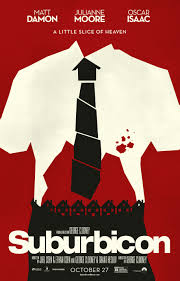 Suburbicon: Directed by George Clooney, starring Matt Damon and Julianne Moore, this film reminds me of a mash up of Pleasantville and Pulp Fiction. It is bloody, gorey and absurd. It deals with themes of racism without showing a way out of it. Besides the two young children who are neighbors, it is hard to see any good guys. We both gave it a cups down.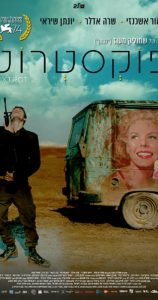 Foxtrot: Set in Israel this is a film about grief. It revolves around a young man in the Israeli military and his parents. It is a beautifully shot film and shares themes that are very prescient in today's life. This won the silver lion (2nd prize) at the Venice Film Festival and my husband's jury also gave this film an accomadation (2nd prize). We gave it two cups up!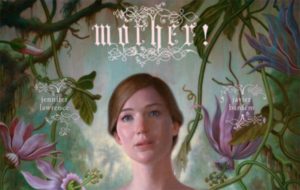 Mother! If you measure a film by how much one thinks of it after seeing it then this film would win a million dollar prize. A week later and it still haunts me. It is so disturbing I've had nightmares. Writer/Director Darren Aronofsky has created a visually surreal film. It is being called a horror film but it isn't the typical Texas Chainsaw Massacre type. This film brings in metaphors from the Bible such as creation and Armageddon. Jennifer Lawerence and Javier Bardem star alongslide supporting actors Michelle Phiffer and Ed Harris. Whether or not you like this film, it will definitely get you thinking! But we gave it two cups down!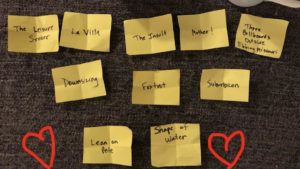 Finally at the end of our critiques, we each chose our top films. Hubby's fav was Lean on Pete and my fav was The Shape of Water! Hope you might make time to see them as we feel these two will both continue to win awards beyond the Venice Film Festivals!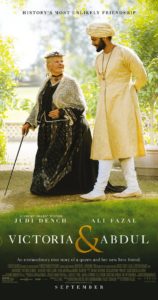 While we only reviewed ten films I also want to share one film that was outside of the competition that deserves a mention. Victoria and Abdul starring Judi Dench was one of the best films I have seen in a long time. It was directed by the Academy Award winning Stephen Frears who received a special life time achievement award at the Venice Film Festival. Not only was it directed, filmed and acted beautifully, but the story itself was mesmerizing. This is based on a real life story of Queen Victoria befriending a Muslim man who became her confidant. I feel it should have been in the official competition selection. But Hubby felt maybe people are sick of films about the royal family. This one, however, deals with issues of racism and is so human and touching. Definitely go see it if it comes to a theater near you. Especially since Dame Judi Dench has said because of a degenerative eye disease she may not be able to act again. A true legend she is!
So there you have it folks! Thanks again for watching and/or reading our Cuppa Critics! Let me know if you'd like to see more of this fun episode! I might be able to twist Hubby's arm to do it again, if I have a nice cuppa ready for him!
Cups filled with LOVE,
YDP
P.S. I'll be back on here again soon with a round up of our two week trip to Italy, with the first four days in Tuscany and of course activities in Venice beyond just the Film Festival. Here is a little taste for you…Aperol Spritz toasts were a regular occurring activity! I mean, Venice is where this refreshing drink was invented!