It is exactly two weeks since Hubby and I returned from our amazing trip to Italy.  You may be asking yourself why it took so long to publish a blog post about our adventures.  Well the answer is two fold.  First, just a couple of days after we landed in London I boarded a plane again to come over to the USA to visit family, where I am now.  And secondly, when you literally eat your way around the culinary Mecca of Italy, it takes time for it all to digest (literally and figuratively) before putting thoughts into words.  There is so much to share I decided to break the glorious task up into several posts.  I already shared our Cuppa Critics reviews of the films we saw at the Venice Film Festival in the last post.  While the time in Venice took up eleven nights of our two week trip, we packed in loads of fabulous foodie experiences the first few days.  So if you plan to go to the Tuscany region of Italy, you may want to take notes. 
When you love to travel as much as Hubby and I do, it is always a question of balance.  We enjoy scheduling in as much as we can, but sometimes we remind ourselves we need to have some R&R too.  Since we knew the time at the Venice Film Festival would be jammers, Hubby wisely booked us in for some proper low key, reconnecting and rebooting time at the amazing Badia a Coltibuono.  A former Abbey some 1000 years old in the heart of Tuscany this spot is so quiet, restorative and spiritual.  A total ZEN zone which allowed us to recharge our batteries.
Surrounding the ancient stone buildings are fields of wine vineyards and olive orchards. Both of which provide a fabulous source of commerce. In fact at the little on site store, we purchased both as they are absolutely delicious.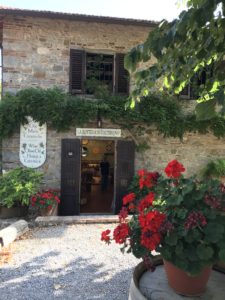 We stayed two nights and had the most amazing meals during our time. The breakfast room is stunning and packed with a gorgeous display of foods on the buffet table. My favorite was the freshly baked foccacia drizzled with the house olive oil.
The dinners in the open air restaurant with breathtaking views were beyond delicious.  Even a simple starter of fresh tomatoes and zucchini with mozzarella crostini was full of flavor.  I believe the rich flavor comes from the intensity of the sun in the Tuscany region.
If I could sum up our stay at Badia a Coltibuono in one word I'd have to say it was magical. Especially the sunrises which were visible straight from our second floor room.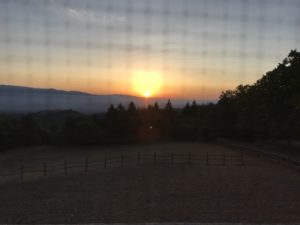 While we didn't avail of the swimming pool we loved walking around the property taking in the incredible gardens.  We got to have some "pet time" with the cute resident dogs and there is even a koi fish pond!  We also lucked out as we were able to attend mass while we were there. They have a small church attached to the abbey and while the liturgy was entirely in Italian, we felt like the other few locals in attendance.
The gorgeous property, the helpful staff, fabulous food, winery and adjoining church would make this a wonderful destination wedding spot. Or a much needed romantic get away for a busy couple willing to unplug from the rest of the world.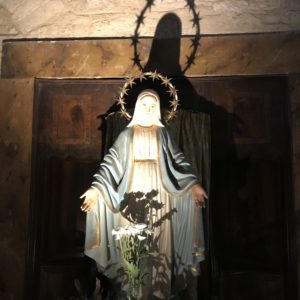 Two days of zzz's and zen living flew by but we had to leave for the next part of the adventure. So check back again for more insight into our fun in the Tuscan sun!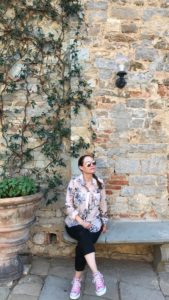 Arrivederci amore mio,
YDP