I couldn't help the play on words when I came up with the title for this blog post about our trip to Havana.  I could have titled this "Havana a Laugh" but to be honest our trip wasn't all fun and games.  But bottom line we did have a ball in Havana.  While we were there for the Havana Film Festival, seeing on average three films per day, we did squeeze in some sightseeing. It really is a fascinating place, with a rich history and culture.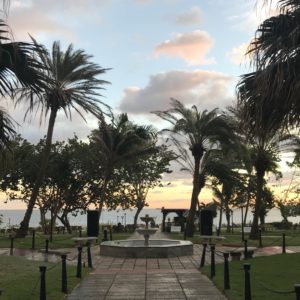 While only 90 miles away from the USA most Americans wouldn't have had the opportunity to travel to Cuba.  After the Revolution in Cuba in 1959 led by Fidel Castro, relations between America and the beautiful Caribbean Island deteriorated.  The most challenging moments were in October 1962 during the Missiles Crisis.  In fact the hotel where we stayed, Hotel Nacional de Cuba has an underground museum dedicated to this period in history.  I learned so much during the guided tour I took at the hotel. One sobering fact is that it was a spot of military recognizance and held some of the 1200 Russian missiles pointed at the the U.S.
And you still see Communist propaganda around the country.
While relations with the U.S have improved since the worst of times, there is a ways to go.  But what I found more interesting than the awesome films at the festival (there will be a separate blog post with our Cuppa Critics reviews) and the fascinating sense of being in a 1950s time warp, were the conversations  I had with local people.  I guess I assumed they hated Americans but it's quite the contrary.  Yes the Cubans are a Communist country.  But they have an affection towards America and democracy.  The ones I spoke with devoured what Westernized culture they could get their hands on, and longed to one day be able to travel to other places to experience those freedoms.
Even though I am a chef and foodie, I didn't get the sense of a great culinary culture in Havana.  It could just be that I didn't go to the right places.  We were generously treated to this trip by the Festival and we are forever grateful.  But I also have to be honest as I've been asked often about the food experience in Cuba.  The Hotel Nacional is considered the nicest hotel in Havana and is registered as a 5 star hotel.  One step inside to the eye popping grand lobby with the mahogany reception desk and enormous floral designs and you know you are somewhere special.
However, from a food perspective it was only fine, not extraordinary.  We had a nice buffet breakfast and dinner every night (and had our fav table by the window overlooking one of the two swimming pools) but I didn't photograph a single dish of food.  However the hotel itself is a living museum with so much history in each nook and cranny.  Since 1930 it has hosted world leaders, celebrities and even the Italian American mafia!   For us, just having a drink outside on the terrace listening to the amazing live Cuban music was sublime.  I enjoyed the Mafia Mojito (it has an extra splash of rum on top) and Hubby indulged in a hand rolled Cuban cigar made on site.
However our lunches at the state run restaurant Atlelier were very lovely indeed.  Typical Cuban food served in a homey environment with mix and match crockery.  The Cuban coffee was a real treat, the homemade lemonade divine and I tried Cuban beer for the first time and loved it.  And I am not even a beer drinker.  I adored the decorative touches such as the collections of various antiquities. You wouldn't know it was a restaurant at all as it is located on a residential street and there is no signage .  But it is worth a visit.  If you travel to Havana you must go experience this for yourself. You won't be disappointed.
We were shuttled to and fro in a van with the other Film Festival jurors.  When we weren't trying to catch a film screening, our kindly driver showed us some other must see locations in Havana such as Morro Castle, Plaza de la Revolucion, the Malecon and coastline, lush green parks and some interesting architectural sites such as a building with a safety pin.  We didn't get outside of Havana, but I would love to return to see more of the country.
I did take a Foodie Fieldtrip Friday and explored old town Havana. I walked the alley ways and absorbed the colorful sights and sounds of a bustling colonial city. While it is worn, it is charming and the people very friendly.
The Cathedral is beautiful but my fav thing actually was admiring the old cars, Havana's trademark. I even traveled back and forth to Old Town from the hotel in two different convertibles!  I went for the full effect!  It cost ten Cuban dollars each way, but was well worth it. Especially since I was able to enjoy a nice Cuban BBQ chicken with rice and beans and a mojito (of course) !
We savored the closing night gala of the Film Festival.  Everyone was so kind and welcoming to us. The time on this unique island passed so quickly.  At one stage in the evening, Hubby and I found ourselves alone in a banquet room and we had a fun filming moment (click here) simply HAVANA a ball!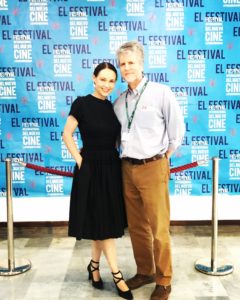 Loved our visit to Cuba.  It was an amazing opportunity to experience a new culture.  Hubby visited in 2010 and I while I didn't go, this video he put together made me regret missing the trip.
Now that I have been I can't wait to see more of it again some day!
Gracias Cuba! LOVE!
YDP
P.S. While I didn't know in advance that Snapchat is blocked in Cuba I discovered it pretty quickly.  It is my go to social media platform to share my travels and escapades.   When I mentioned it to a fellow film festival jury member they told me that I was dealing with it better than the Kardashians when they had their experience with Cuba's lack of Snapchat.  But then again, they didn't have my secret weapon!   My friend Katy Kay (@ktktoo on Snapchat) took over my account and let everyone know why I was MIA!  She is awesome folks and if you're not following her already get on it ASAP!  So thanks Katy for the star you are and helping out a fellow Snap Sista!