Welcome back to episode 95 of this very special day in the week. Woman Crush Wednesday is dear to me as you know. I feel blessed to dedicate this day to a deserving gorgeous gourmet gal! Love, inspiration and a fabulous recipe, just a few things to be excited about. Especially when today's honoree is the incredible Carla Hall!  A chef after my own heart, as she too thinks the secret ingredient in every dish is LOVE!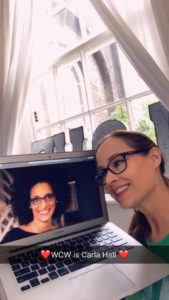 Carla Hall is like a breath of fresh air and a great inspiration for anyone looking for a positive role model.  She is a talented chef for sure, and was featured on two seasons of Top Chef. She was a co-host on the Emmy award winning  show The Chew for seven seasons.  And not only can she add restaurateur to her resume but she is also the author of some pretty amazing cookbooks. So finding a recipe to re-create for today's Snapchat tutorial (username blissbakery) was like a delicious treasure hunt. Then I saw three words, Potato Chip Cookies. Oh and they are dipped in chocolate too. Yep I am all over it!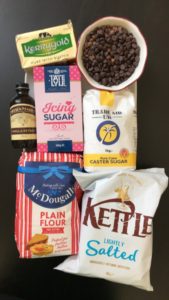 Potato Chip Cookies
Ingredients:
1 cup/227 g Butter (softened)
3/4 cup/145 g Granulated Sugar
3/4 cup/53 g Crushed Potato Chips plus an additional 1/2 Cup/37g for Garnish
1 teaspoon Vanilla
2 cups/250 g all purpose flour
Confectioners Sugar (for dusting)
1 cup/200g Chocolate Chips (melted)
Instructions:
Preheat oven to 350°F.
In the bowl of a stand mixer with the paddle attachment, cream the butter and sugar until fluffy. Add the Vanilla. Reduce speed to low and add the flour,  mix until incorporated, then add the 3/4 cup potato chips and mix until thoroughly combined.  Do not over mix the dough!
Use a spoon to scoop small 1-inch balls of dough onto a lightly greased sheet pan, spacing them at least two inches apart. Dust each of the cookies with a bit of confectioners sugar, and press flat.
Bake for 10 to 15 minutes, or until golden brown, and allow to cool. Dip each of the cookies in melted chocolate. While the chocolate is still soft, roll the cookies in crushed potato chips. Allow to set before serving.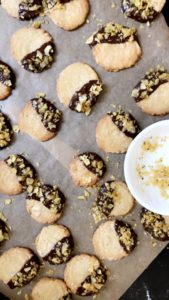 It is all I can do to NOT eat this whole tray of cookies. I LOVE this recipe. It is super easy and the perfect combination of flavors… sweet, salty, crunchy and delectable! I urge you to make these cookies asap! You will be the most popular person in your home, office, school or church.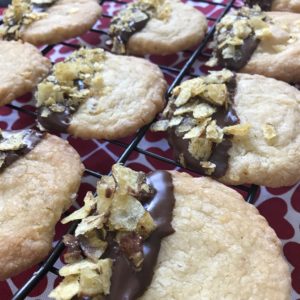 Carla is such a special lady who is adored by fans, colleagues and other chefs as well. She has re-invented herself throughout the journey of life. Originally from Nashville, Tennessee, she attended Howard University in Washington DC.  Working in accountancy obviously didn't fulfill her free spirited soul and she eventually gave it up and became a model. It was when she was traveling through Europe as a model that a love of food and cooking was sparked inside  of her . Not long after she returned stateside she studied culinary arts. With jobs at top kitchens she eventually went out on her own before she signed on to the hit reality show Top Chef.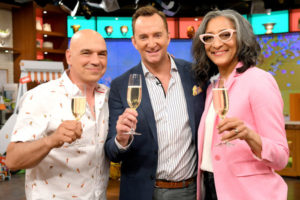 Not only did her food impress the Top Chef judges, but her fun loving personality wowed audiences. But it has really been through The Chew that America totally fell in LOVE with Carla. Her stylish wardrobe and funky glasses added a fun fashion element, but it was her report with her co-hosts and guests on the show that made her so watchable. And when she demonstrates a recipe on air she makes it fun, not daunting. Sadly The Chew wasn't renewed for an eighth season, but I have a hunch Carla already has something in the works to surprise us all.  So keep your eyes on her Instagram and Twitter for updates.  Until then, I hope she gets a little break filling up her reservoir with her Hubby and stepson.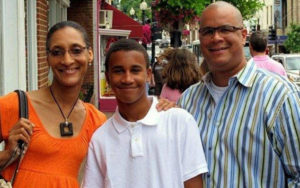 Love YA Carla,