I don't know about you, but I have noticed the days are getting shorter. It hit me this morning as I was out the door before 5:45 am to catch the train to work.  It was much darker. However, it turned out to be another warm and sunny day here in London. And even though I was cooking away in a kitchen all day, I couldn't wait to get home to my own kitchen. Why? Hello!! It is Wednesday and you know it's my favorite day of the week!  I get to shower another fabulous female foodie with LOVE and get to try one of her recipes!  My 96th Woman Crush Wednesday is the awesome Anita Lo!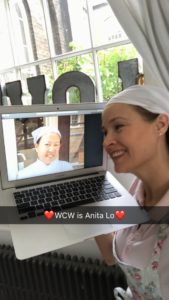 Detroit, Michigan native Anita Lo is such a respected chef. She has won numerous awards and is always featured on the "best of" lists for her culinary prowess. She is inventive, she is brave and she is unique among her peers. As a second generation Asian American, she brings her family heritage along with her classical French training as a chef to each dish. I love the flavor combinations in her recipes and that is why I chose this particular one to recreate today! I will be sharing a live cooking tutorial on Snapchat (username blissbakery). They are usually fun and filled not only with food, but also love for my WCW!  Oh and there may be some bad singing and dancing! Behold, Anita's Millefeuille of Fresh Figs and Ricotta!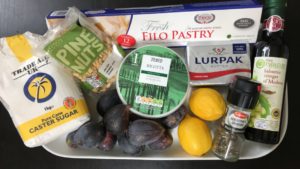 Ingredients:
Phyllo:
4 sheets phyllo (aka FILO) dough, thawed according to package directions
3 tablespoons unsalted butter, melted, divided
4 teaspoons sugar, divided
Filling:
1 1/2 cups (246 g) part-skim ricotta
1/4 cup (50 g) sugar
Zest of 2 lemons
Fresh lemon juice
Sauce:
1 cup (240 ml)  balsamic vinegar
1 tablespoon sugar
Figs:
16 black mission figs, sliced
Freshly ground black pepper
1 tablespoon pine nuts, toasted 10 minutes in a cast-iron skillet
Instructions:
Heat oven to 325°F/162 c.
For phyllo:
Brush a large, shallow baking sheet with some butter and lay 1 phyllo sheet on top. (Cover remaining phyllo with a damp cloth.) Brush phyllo with butter and sprinkle on 1 teaspoon sugar. Layer another phyllo sheet on top and press down. Repeat layering until you use all sheets, ending with 1 teaspoon sugar on top. Cut phyllo stack into 32 equal squares. Bake until squares are golden brown and crisp, 15 to 17 minutes.
For filling:
Mix ricotta, sugar, lemon zest and a pinch of salt; add lemon juice to taste. Sauce: Bring vinegar and sugar to a boil in a small saucepan; continue to boil until reduced and slightly syrupy, 5 to 7 minutes. Assembly: Place a dab of ricotta mix on a plate. Top with 1 phyllo square, 1 tbsp ricotta and fig slices. Repeat for a total of 4 layers. Sprinkle with black pepper. Drizzle plate with balsamic reduction and scatter pine nuts around. Repeat.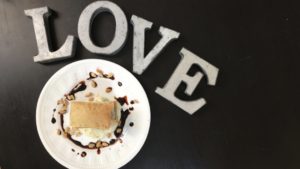 This was a highly anticipated tasting time today! I loved making this dish and while I wasn't sure how I would feel when I tasted it, I was blown away!  It is such a burst of flavors and textures inside the mouth!  Ricotta can be a very neutral ingredient, so the lemon zest and lemon juice gave it the perfect punch and the sugar was just the right amount of sweetness. I loved the pastry which was simple to recreate and also gave the dish an elegance while still being light. It was crisp and flaky, I loved it! The figs were so ripe and they are one of my fav fruits but adding them along with some toasted pine nuts and balsamic reduction was brilliant! It is a most delightful surprise! I will try to make it as often as I can while it is still summer here. A perfect treat that is simple but still makes you feel fancy like you've been cooking for hours! !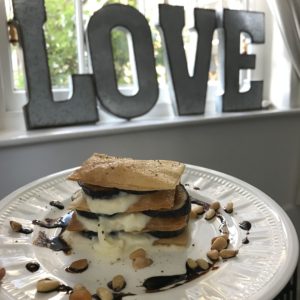 Anita Lo is the author of the successful cookery book Cooking Without Borders and the upcoming and much anticipated SOLO. Having helmed several critically acclaimed restaurants, Anita is getting a bit of a well deserved break. She has been all go since she graduated Columbia University and went to Paris to train as a chef. High profile stints at top kitchens and her own success on Iron Chef (the first female challenger to win),  Top Chef Masters, and Chopped:  Allstars made her a household name in the USA, and deservedly so!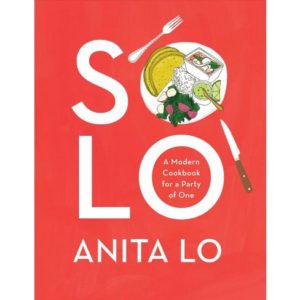 Thanks Anita for your amazing inspiration to so many. Your love and care in the kitchen has permeated many hearts, including mine! Glad to see you are included in a documentary about female chefs! It is time you and all these other fabulous chefs get worldwide recognition. I've said it from day one of this series….Now at 96 recipients (with many, many more to come) it is nice to hear others also shouting the love for our culinary queens!
love LO,
YDP