One of the best things about teaching cookery classes is seeing the students delighted with themselves when they have recreated a dish I have demoed.  Especially one that is a bit different than the norm.  Such is the case with these savory Courgette Cakes.  Or as my American friends might call them, Zucchini Fritters.  In essence they are a pancake.  However, not your typical Sunday brunch pancake which is a butter and syrup laden affair. 
These make a perfect meal for a Meatless Monday with some salad greens, or as a side dish with a fish or chicken main dish, or a simple little starter. You could even make them a bit smaller for a bite sized appetizer that would definitely pack a punch with your party friends. I use rice flour in the recipe so they are gluten free, but you can use ordinary flour if you'd prefer.
Courgette Pancakes
Serves 6
Ingredients:
500 g courgettes (also called zucchini) about 2 large ones, coarsely grated
½ tsp salt
2 free range eggs, lightly beaten
8 spring onions, finely sliced
110 g (4 oz) feta cheese, chopped or crumbled (or cheese of your choice)
1 ½ Tbsp fresh chopped mint leaves (or you can use fresh basil)
60 g (2 ½ oz) rice flour (if making gluten free) or ordinary flour
Extra-virgin olive oil for frying
Salt and ground pepper to taste
Pine nuts toasted (if desired) for garnish
Greek Yogurt or Crème Fraiche (if desired) for garnish, or you can top with pesto, tomato chutney or marinara sauce.
Instructions:
Place the grated courgettes in a colander, sprinkle with the salt and allow to degorge for at least 30 minutes. Squeeze out any excess liquid and pat dry with kitchen paper towel.
Whisk the eggs in a bowl and add the drained courgettes, spring onions, feta and mint. Stir gently until well combined. Stir in rice flour and season with salt and pepper.
Heat oil in a skillet and when hot drop a tsp of batter in pan and cook off and then taste so you can adjust seasoning if need be.
Continue to drop generous Tbps full of the batter into the hot oil in skillet and flatten the pancake with the back of a spoon. Cook in batches for about 2 minutes per side until golden brown and crispy.
Remove with a slotted spoon and drain on kitchen paper. Keep warm in a low oven (150 C) but do not cover them or they will go soggy.
Serve with a mixed leaf salad and garnish with toasted pine nuts and crème fraiche if desired.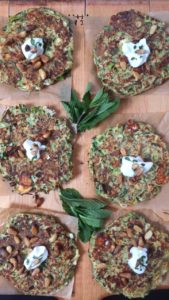 I absolutely love these and so does my Hubby. If you're not a fan of feta cheese you could use a cheese of your choice. When I make them for just the two of us we often have left overs which I love.  They are fab the next morning topped with a poached egg. When entertaining you can make them ahead and reheat them when your guests arrive.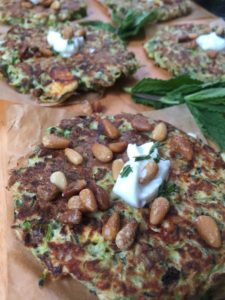 Courgettes are an affordable and adaptable fruit. That's right you read it correctly, it is a fruit. Even though from a culinary perspective they are often thought of as a vegetable.  They have loads of health benefits such as vitamin C and magnesium.  They have  a high water content which is great for our bodies.  However, you just need to be mindful that in certain recipes, like this one, you have to "degorge" to remove as much water as possible. Or else your cakes will be too wet, runny and soggy. I spoke of this on here when I made my Zoo Chee Nee Chicken recipe.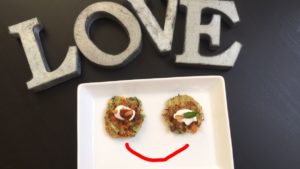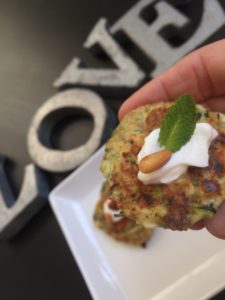 The extra water content is great when baking things such as zucchini bread as it adds moisture without adding extra fat! Which reminds me I haven't yet made my zucchini bread with you on here, so watch this space!
Until then, I hope you enjoy these delectable discs! I know that's what I'm going to do right now!
Healthy LOVE,
YDP