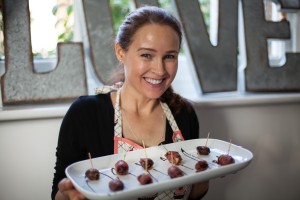 As I have shared with you already, I've been doing some cooking tutorials on Snapchat.  Though I do have fun, my lack of tech skills get in the way of succinctly demonstrating the recipes.  So yesterday my hubby kindly filmed me while I made some gorgeous Posh Nosh Nibbles!  Bacon Wrapped Dates with an amazing Balsalmic Reduction Sauce.  Watch this space, as I will soon announce that the Yankee Doodle Paddy Youtube Channel has launched.  But let's just say it was a nice change to be able to use both hands as opposed to holding my iPhone in one as I video for snapchat, while trying to stir with the other hand.  Besides the fact that many of you don't have a snapchat account so haven't been able to see the tutorials I have been posting, and the videos disappear after 24 hours.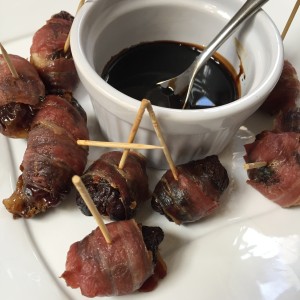 I wanted to do a very simple recipe for the first properly filmed cooking demo.  I use the word cooking liberally here.  It is really more about prepping.  But that is actually what I like about this recipe.  These super duper delicious Bacon Wrapped Dates are the perfect nibble to have for a night in watching Downton Abbey with the girls, a Saturday afternoon bite for a binge fest with Netflix, or a "kick off your Sunday Shoes" sit down and splurge on Sky sports.  It is posher than popcorn and nicer than nachos, the usual go-to for some easy make at home snacks.  Though this is a fancy looking treat to present, it is so simple to make it you're not put off from pulling it together.  And the good news is you only need six ingredients!
And six got me thinking of the Six degrees of Separation. There is a sociological theory that states any two people are only six steps away from one another by a connection through another person or sets of people.  Of course, in Ireland it is probably only two degrees of separation.  I'll never forget when I was at the Ballymaloe Cookery School and noticed how every chef by the end of the three month course had figured out how they were connected to each other.  Either their cousin dated the other one's brother, or their moms went to primary school together, or their aunt worked for the other's grandad etc, etc, etc.  It is funny about that with Ireland how everyone knows everyone.  And also why people have to look over their shoulder a bit when they are gossiping.
Once I told an Irish co-worker that I loved the fact that in Ireland men appear to be so loyal to their spouses.  Coming from LA, and specifically Hollywood, where they practically give awards to men who cheat the most, it was refreshing to live in a place where men weren't ogling women.  I didn't hear cat calls, and didn't see lecherous men craning their heads around when a woman walked past them.  My friend politely stopped me during my diatribe and said, "Oh it's not that they don't think about it, it's just that Ireland is so small, they would be found out for sure!"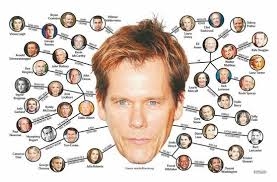 Back to the Six Degrees of Separation, and more specifically Six Degrees of Kevin Bacon.  This made up mockery of the original social scientific theory was all the rage a few years back. Though I made my living in the entertainment business I never actually took much notice of it until today.  This game basically dissects the fact that most people who work in Hollywood are somehow connected to Kevin Bacon (of Footloose fame).  Kevin Bacon himself has a score of 0 since he is the source.  While I have never worked with him personally  (therefore I am ineligible to have a score of 1) I have worked with people who have worked with him.  For instance, both Meg Ryan and Elisabeth Shue worked with me during my years filming the Burger King commercials as counter girl  (funny enough one of those I did was promoting a bacon double cheese burger).  Since they have worked with Kevin Bacon  I guessed I was only 2 degrees away from him.  But there is actually a website that can determine your ranking without you having to actually figure it out yourself.  It is called the Oracle of Bacon.  I literally just discovered it today and put my name in several times and got results that I didn't even expect.  I am indeed a 2, which I already knew, but this has so many other actors that I didn't realized connected me to Kevin Bacon.  Here are only a couple of the many results…
If you are a hard and fast rules person you only stick to feature film connections for this game.  No television shows, no tv commercials, no stage plays etc.  So that is why though I can keep my score at a 2,  I'm not supposed to connect through Meg Ryan or Elisabeth Shue.  Only through films that I have acted in can I be connected.
But I was thinking about it and I am actually connected to Kevin Bacon in so many other ways I could go on for days!  But I will just give you a few examples:  As I shared with you before, I had Tom Cruise over to my house for dinner and they were in a movie together called A Few Good Men, which also starred Jack Nicholson (whose grandsons were in my class when I taught preschool), Barry Levinson was the director of a movie I was in called Wag the Dog, and he also directed Kevin Bacon in one of his early successes called Diner.   Kevin Bacon was in the film Apollo 13, which my daughter sang on the soundtrack.  And he was in a movie with the actress Anne Archer, whose son was a childhood friend of my son and they played ice hockey together.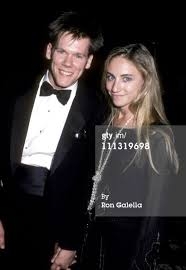 But the reason I should really get a score of 1, if not for the rules, was that I actually hung out with Kevin Bacon on the night of his Footloose film premiere.  At the time he was dating a lovely girl named Tracy Pollan (who went on to marry Michael J Fox) and we had an intimate post premiere gathering at the home of the director of the film Mr. Herbert Ross.  It was amazing to see this young actor so humbled by the fabulous response to the film, and so shy that he was happy to retreat into a quiet night of champagne and nibbles with a few folks.  I was lucky to have been there.  And I think the only thing missing from that night, were some of my posh nosh nibbles,  Kevin Bacon Wrapped Dates!   And without further adieu, I shall let the red velvet curtains, like in the movie theater, slowly draw open to reveal the recipe…
Ingredients:
Pitted Dates
Goat Cheese
Bacon Slices (streaky bacon)
Toothpicks (soaked in water)
Balsamic Vinegar
Brown Sugar
Gently cut open the pitted dates and place a small bit of cheese  inside (you can also use Blue Cheese or any other you desire).  Wrap a slice of bacon around the date and secure with a toothpick.  Place with the seam side down in a parchment lined baking tray.  Bake in a 200 C/400 F oven until the bacon is completely cooked, approx. 20 mins depending on the size of the dates. You can also substitute dried figs for the dates if you prefer.  And you can use turkey bacon if you don't eat red meat.  For non dairy folks, use a whole almond inside each date instead of the cheese before you wrap with the bacon.   While the bacon wrapped dates cook, make the balsamic reduction sauce (instructions below)
** Note: The quantities in this recipe are left blank deliberately. You make what you need. If you buy a pound of bacon it is usually 12 slices, and most packages of dates come with 12 dates. Goat cheese is a standard package of approx 6 oz (158 g) and that is what I used to make 12!  But you can adjust depending on how many you want to make which can be four or four hundred if you are having a whopping film premiere party!
To make the balsamic reduction: Combine 1 cup/8 oz of balsamic vinegar and 2 Tbsps brown sugar in a small pan over medium high heat and bring up to a bubbling boil.  Reduce heat to medium and cook until the liquid has reduced by half and is thick and syrupy, about 10 minutes. This sauce is also great drizzled on a Caprese Salad (tomatoes, mozzarella cheese and fresh basil leaves).
So give this recipe a whirl, and while you do so, pop on the song from Footloose and spin around your kitchen a bit for an 'old school' fun dance party!  And I'll end with some of its wisdom..
"Deep way down in your heart
You're burning yearning for some
Somebody to tell you
That life ain't passing you by
I'm trying to tell you
It will if you don't even try
You can fly if you'd only cut loose, footloose"
And maybe you can bop around with me while watching this little tutorial!
Lovin and cuttin you loose!
YDP