If you've been reading Yankee Doodle Paddy for any length of time you know I am madly in love with my soulmate Hubby.  But I do have a Man Crush and Hubby totally approves.  We are both massive fans of Irish radio and television star Marty Whelan. As I used to say he's the nicest man I've never met. But all that has now changed!
I not only had the pleasure of meeting Marty but I was also asked to be a guest on his famous RTE radio show "Marty in the Morning". You can listen live (between 7-10 am) or playback by clicking here.   It was almost surreal to be in the studio "having the chats" with someone I have listened to for years and long admired.  But a massive thanks goes to his production coordinator Michael O'Kane for inviting me and producer Sinead Wylde for making me feel most welcome. And of course to the man himself for not only living up to my expectations but exceeding them!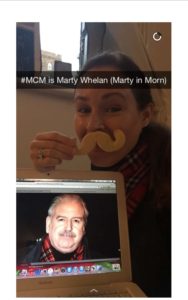 Some people believe you shouldn't meet your idols for fear of disappointment. Well, I didn't have a concern as I knew that Marty was going to be everything and more.  He is smart, funny, kind and humble.  I felt like I had met him before because our contact through email, texts, tweets etc goes way back.  But Marty has the ability to welcome his listeners with open arms and make them feel like part of the family. This is why I chose him as my one and only Man Crush Monday when I created his mustache biscuits live on Snapchat and the blog story on here.  And if you want to read the subsequent post about Marty to see if his biscuits made it to Ireland in one piece you can click here.
When I met him at RTE I didn't arrive empty handed. I made my famous Black and White Baby Bakes (baked cheesecake made with Oreo cookies). I have shared the recipe for them before (click here) and even made a You Tube video.  If you want to bop along with me while making them, the link is at the bottom of the page.  But this time I topped them with little edible mustaches just for Marty.
He loved them so much when he saw them he laughed and called me a "nut case".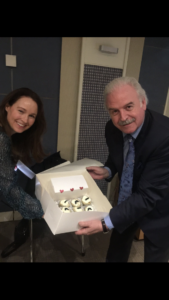 I also brought my own design Yankee Doodle Paddy candy business card, some Valentine's candy bags, and some homemade white chocolate and cranberry balls. So delish, and I know you'll want this recipe so here goes..
Ingredients: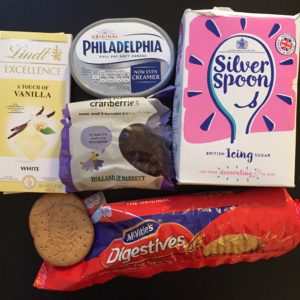 150 g (1 and 1/2 cups) Graham cracker or digestive biscuit crumbs
110 g (4oz) Cream Cheese
55 g (1/3 cup) chopped dried cranberries
60 g (1/3 cup) icing sugar (confectioner's powdered sugar)
280 g (10 oz) white chocolate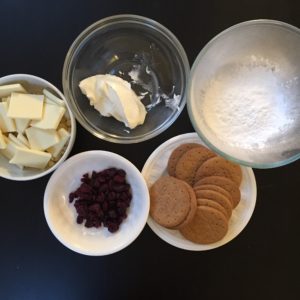 Instructions:
In a food processor blitz up the biscuit crumbs with icing sugar & cream cheese until completely combined & comes together. Mix in the dried cranberries by hand. Roll dough into small balls. Place on a parchment paper lined tray. Put in the fridge to firm up. Gently Melt the white chocolate in a double boiler or microwave. Dip the balls 1 by 1 in the chocolate. Use a fork to remove so chocolate drains off. Place choc covered balls back on parchment lined tray. Place back in fridge so chocolate can set. With left over melted white chocolate, add a drop of food colouring to make a nice Valentine color! Remove the balls from fridge and drizzle the pink choc all over using piping bag. Add sprinkles too if you'd like! ❤️?❤️?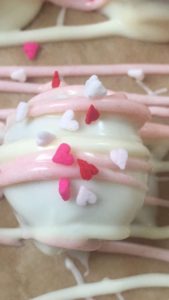 Marty being Marty, he was even more generous with me! He gave me a signed copy of his best selling book and two CDs "Marty Recommends".
I'm on cloud nine and in a way I hope the feeling lasts forever.  I think I could light up the world with the glow of happiness on my face!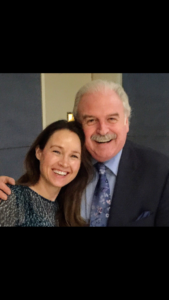 Having lived and worked in Hollywood for many years I had the pleasure of meeting more celebrities than I can count.  Many are indeed close friends and family.  But I am not one to be starstruck (apart from Tony Bennett).  However, this wasn't a start struck moment with Marty Whelan.  It was utter admiration for a man who brings joy to the world day in and day out.  He is a devoted husband and father and the most amazing role model for young and old.  Pure class!  And like his own idol, Frank Sinatra, he has done it HIS WAY!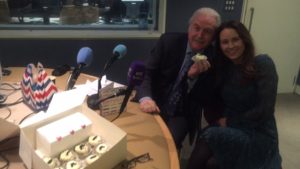 Thanks Marty for the LOVE and Happy Valentine's to one and all,
YDP