LOVE, our topic during Guest Blogger Month here on Yankee Doodle Paddy, is thought to be expressed through five different languages:  Gift giving, words of affirmation, acts of service, quality time, and physical touch. Today's author, Eleanor, shares her love story which is a great representation of the physical touch aspect.  In a warm and personal piece, we get insight into why a simple hug is so complex in its benefits.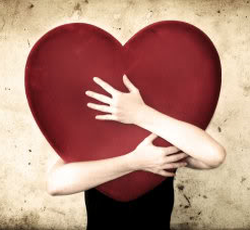 How Many Hugs Do I Give…
I fell in love with somebody who would never let me go to sleep wondering if he still cared or if I mattered. I know the minute I walk in and he's there waiting to ask me how my day was and with his arms held wide for our daily hug! That's not to say we don't hug more than once a day, but I know after a long day it's there waiting for me.
The nurturing touch of a hug builds trust and a sense of safety. It also helps with open and honest communication. I know when I get my wonderful hug he'll ask me what I did during the day and if anything has been bothering me. He gives me a small massage with his hands and washes away any hardship I had that day.
Hugs are so much like meditation and laughter. They teach us to let go and be present in the moment. They encourage us to flow with the energy of life. Hugs get you out of your circular thinking patterns and connect you with your heart and your feelings and your breath.
Hugging boosts self-esteem. From the time we're born our family's touch shows us that we're loved and special. The cuddles we received from our Mam and Dad while growing up remain imprinted at a cellular level, and hugs remind us at a somatic level of that. Hugs, therefore, connect us to our ability to self-love. So yeah hugs matter.
A hug is a very powerful thing. It can pick you up when you're feeling blue. It can make your day. It can make everything OK. I know if he could take the weight of the world off my shoulders and put them on his, he would do it in a heartbeat. That's the type of man I married. We've been together 9 years and in those 9 years we've become a team. A team who love to give many hugs.
Eleanor is a blogger and book addict from Dublin, Ireland.  She works with the South Dublin Libraries.  I had the pleasure of getting to know her sweet soul when she participated in the
#30daysofgratitude challenge
I hosted on my Snapchat channel.  Even on days that might have been tough, Eleanor found something for which to be grateful. Her kindness and positive attitude shine through on all her social media!
Blog: www.realtastypages.com
Facebook:  @realtastypages
Twitter: @realtastypages
Instagram: @realtastypages
Pinterest: realtastypages
Snapchat:  @realtastypages
Thanks so much Eleanor for teaching us the importance of a hug. Though kids seem to do it naturally, sometimes as we grow older we forget about the comfort of touch.  And a loving hug clearly has healing powers.
HUGS, kisses and LOVE,
YDP
xo
P.S. LOVE is the universal language folks, and if you'd like to join the conversation by contributing a love story to the Guest Blogger Month, please leave a comment! Or you can email me a:  [email protected]