An epic Foodie Fieldtrip Friday that I won't ever forget took place in Paris, France at Le Cordon Bleu. I shared in my last blog post (a synopsis of our trip to Paris) that I would need to spend a whole post elaborating on this gastronomic experience.  I have to thank my Hubby for treating me to this Parisian keepsake, a foodie's equivalent of an expensive designer handbag. Only this is something that I can use and reuse and share with friends, family and customers!  A course at Le Cordon Bleu on classic French sauces, the culinary backbone in fine dining.  I felt I had died and gone to heaven!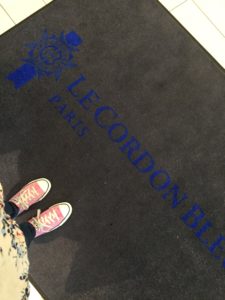 While I graduated from the well known Ballymaloe Cookery School course with honors, it has been 10 years since I have been a student. I have been teaching cookery courses myself since then along with working as a chef. Yes I have attended several cookery demonstrations over the years. But this was the first time to officially dust off the school uniform and get critiqued on my progress. I actually felt "first day of class" butterflies!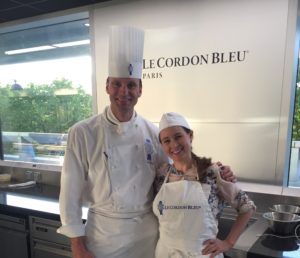 I went to the school the previous day for a tour as part of my Snapchat visit to special places of former Paris resident and famous American chef Julia Child. While this particular building was only opened in the past year, it is the same school where Julia trained. Founded in 1895 by journalist Marthe Distel, several of my Woman Crush Wednesday chefs have attended this school such as Mary Berry and Giada DeLaurentis. As well, one of my fav chefs Yotam Ottolenghi studied at Le Cordon Bleu in London. There are over 35 schools all over the world.
Welcomed to the six hour course with a glass of refreshing water and my class packet, I was totally psyched up!  Hat, apron, tea towel and recipes check!  The course was taught in French by Chef Patrick and was translated into English. There were 11 students in the class, from America, England, Brazil, Lebanon to name a few and we grouped up into pairs to share the kitchen hobs (stove tops).
We made a total of 4 sauces in the first half of the six hour course: Red Wine Reduction, Bearnaise, Beurre Blanc and Diablao.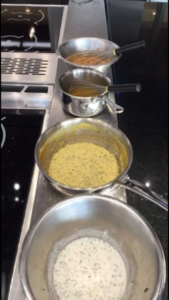 All the smells in the kitchen made me so hungry. Thank goodness the price of the class included a short break for coffee and delicious treats.
After the break we were no longer in the "practical" mode of cooking ourselves, but of demonstration only.  Chef Patrick showed us how to make a peppercorn sauce and a morel mushroom sauce, as well as a hollandaise.  I took copious notes while he did his wizardry, however, the proof of anything in a chef's world is the tasting time! Yes dinner was served. We all gathered around to taste the glorious accomplishments of the day.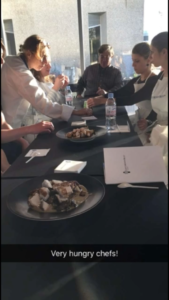 My favorite of all the sauces was the amazing morel mushroom sauce on chicken breast that Chef Patrick made. Next would be the Salmon with the Beurre Blanc sauce.  I will most certainly be doing my own cookery demo and blog post on at least one of these sauces so stay tuned!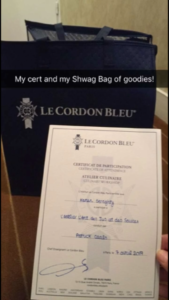 I would highly recommend to anyone to invest in a cookery course. It is always fun to learn new skills and recipes, but also to reignite the passion the kitchen.  If you are lucky enough to be able to attend a class or even a free tour at any of the Le Cordon Bleu campuses I would encourage you to do so. It really is the foundation of gastronomy as we know it.
Love & Bon Appetit!
YDP