No doubt Ireland is my soul home.  But it is safe to say that France is second on the list of places I could live. I've had the good fortune to see some amazing sights there over the years….skiing the Olympic slopes of Val d'Isere, walking the stoney beaches of Nice in the South of France, perusing the lavender regions in Provence, tastings at wineries in Bordeaux, honoring the fallen soldiers at Omaha Beach in Normandy, and yes even a pilgrimage to Lourdes. But Paris is the place that keeps calling me back. Because let's face it, it is the city of LOVE!
I went to Paris the first time in the summer of 1981 for a brief two night stay as a newly married 16 year old. I didn't actually do much sightseeing. My ex had been there before and would only drive me past the Eiffel Tower to wave at it. His purpose for going to Paris was he had a "hankerin' for the lobster bisque at the Plaza Athenee".
But when my Hubby and I took a weekend trip there in January 2009 I finally got to see Paris from the sky!  He had been up the 324 meter iron structure before too, but he was delighted to go again just to see my reaction. It was cold, and a bit foggy, but I loved it! Who wouldn't be grateful to have the chance to go up the Eiffel Tower?
We also went to Versailles and though the gardens weren't bursting with color because of winter, it was thoroughly enjoyable. But the best was going to the museums, the Louvre to see the Mona Lisa, the Musee d'Orsay to see Whistler's Mother and my fav the Musee de l'Orangerie to see the giant Monet's Waterlillies.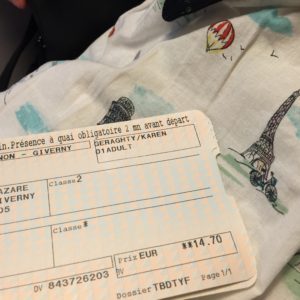 Cut to August 2015 and we were back in Paris again for a quick weekend. However, the focus of our trip was to visit Giverny, and in particular Monet's Garden and former home. Claude Monet has always been my favorite artist. It was there, overlooking the famous pond that the impetus for this blog came.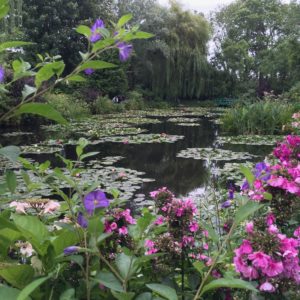 And so going back to the city of LOVE for ten nights, yes 10 whole nights seemed like a dream come true. And it was. A chance to really get the feel of the city, to see and do things again, and try some new adventures and eat like the Parisians. For someone who loves to travel as much as I do, AND as a chef (food is my life) this only solidified my connection to France!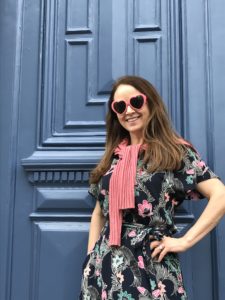 No joke there is literally so much to do Paris, whether you are a foodie like me, or drawn to art, history, architecture, fashion the list goes on!  And contrary to popular belief, not everything is expensive. For instance, I spent an entire day roaming neighborhoods finding amazing street art. This collage below is only a small representation of what I found. Another day was spent popping my head into unique boutiques with all sorts of bits and bobs such as antiques, vintage clothing etc.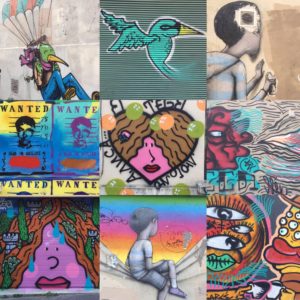 We also enjoyed "April in Paris" weather just walking along the banks of the River Seine, stopping at various spots in the city admiring the French architecture and strolling through the lush Luxembourg Palace Gardens. Everything was in bloom!
We also lucked out as the Paris Marathon was happening while we were there so we joined in the revelry cheering on the runners.  But the best and most simple enjoyment was to just sit at an outdoor cafe sipping a coffee and people watching!  My secret hobby is photographing mature people being affectionate.
I've written several "best of" lists for London, Dublin and Los Angeles. So in lieu of a very long blog post (it is long enough) I will share a synopsis of where we stayed and what we did. I always say there are tons of travel books, websites and video programs on any number of cities. But when you know someone, you do appreciate their personal touch. So here is ours!
Transportation: We took the EuroStar train from London to Paris. LOVE traveling there this way as we have done it once before. It is less stressful and more affordable. We took a taxi from the train station to our first hotel.  Other than that we walked (good for removing post croissant binging guilt) or we took the Metropolitan trains to get around the city 99.9% of the time. We tried to rent city bikes one time, but the pay machine was broken.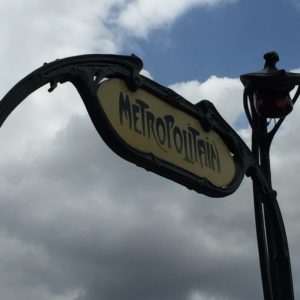 Accommodations: We didn't stay in one, nor two, but yes three different hotels. While some may think it is a pain to switch around I didn't mind.  Hey if it can save some money and allow for an adventure in a different part of town I am all for it.
Hotel number 1: Sebastopole 123 This was where we stayed when we visited Paris in 2015. It is one of our all time fav hotels. It is very new, clean, modern, convenient, and they serve a bountifully delicious breakfast which was included in our price. The service was impeccable and I love the theme of the hotel, which is cinema.  Each floor was designed by a different artist in the movie business. Our room on the 1st floor was designed by our favorite film composer Italian Ennio Morricone. We even got to see the whimsical film Amelie in the private screening room of the hotel on our last night there.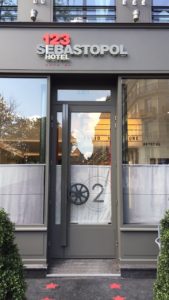 Hotel number 2: Ibis Style This is a basic hotel, very affordable and though a bit out of the center of Paris, it is near a metro station so it's easy to get anywhere. It is very new, clean and I loved the hip decor.  There are colorful street art posters on the walls and even a foosball table. The minimal but delicious breakfast is included and it seemed a popular hotel for families and business alike. It is located in and near some totally cool and artsy neighborhoods and we found several fab eateries nearby. The staff is top notch, super helpful and always smiling!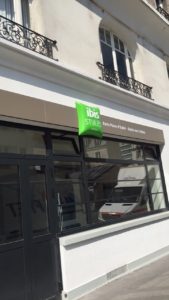 Hotel number 3: Eiffel Seine Hotel This is an older hotel which we stayed at back in 2009. It is clean, convenient and affordable and our breakfast, while nothing to boast about, was included in the price. Hubby was delighted because they have a hotel gym to help work off the baguette consumption.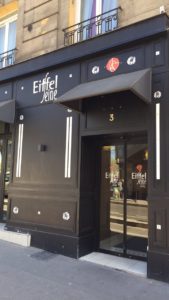 Things to do:
I have broken up this list into the NEW things we tried and things we had done before yet loved to REPEAT!
NEW activities–
Bustronome– This was such a fun activity to do for our first full day in Paris. We dined on amazing gourmet food in a posh glass top bus. We got to see all the sights and get a "lay of the land" as we drove past the Eiffel Tower and Notre Dame to name just a couple. I highly recommend this excursion. I did this as a Foodie Fieldtrip Friday activity on Snapchat and will share more about it in another post. There is just too much to talk about in one paragraph so stay tuned…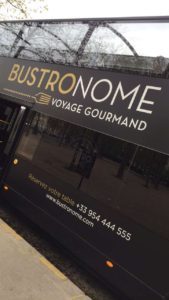 Sacre Coeur– This basilica in the Montmartre area of Paris is picturesque from any vantage point. A lovely village for cute shopping, and on a fine day you can see for miles from atop the hill on which this, the oldest church in Paris stands. But it is a visit inside (free of charge) that blows your mind and fills your soul with a bit of peace from the hustle and bustle of the city.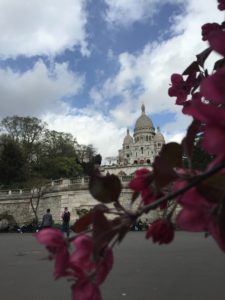 Pere Lachaise Cemetery Okay I realize it may seem bizarre to go to a cemetery on a holiday. But since my favorite Irish writer Oscar Wilde is buried here, I felt compelled to pay him a visit. My hubby was interested in seeing The Doors' lead singer Jim Morrison's grave. This cemetery with approximately one million graves is overwhelming. There is no cost to go in, but you can purchase a map highlighting the graves of famous people.  Everything was in full bloom and it was serene and beautiful.  I actually got quite emotional as I was reminded of my fav quote while we were there, penned by Mr. Wilde….
Rodin Museum One of the most famous sculptors in history has an entire museum (which used to be his home) dedicated to his art. Indoors and out this is one of the most amazing museums I have had the pleasure to visit. It is an especially good time to visit as this is the centenary year of Auguste Rodin's death and there are newer items on display in his memory. But of course the most well known works of his is The Thinker!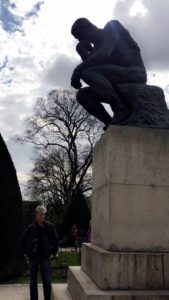 Chanel Tour– While I am not a fashion person at all, I love to learn about history, art and people. Coco Chanel is one of the most iconic French fashion designers and a true female inspiration for business and chutzpa! I used a company called Set in Paris (they have other cool outings) and I highly recommend them. I will be writing another whole post about them as they are unique among a plethora of tour group. So check this space..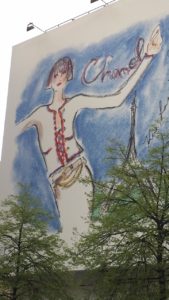 Le Cordon Bleu– By far one of the best things my hubby has ever done for me. A day cooking at the most famous culinary school in the world. A six hour class all on sauces. French cuisine's most important backbone! I did this as a Foodie Fieldtrip Friday on my Snapchat account (username blissbakery) and will definitely write more about it. But I would highly recommend a visit. Even if you don't want to take a class, they do free tours and even have a cafe where you can taste the amazing food being taught in the school.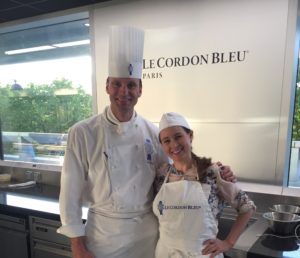 Picasso Museum– I love all kinds of art, from classic to modern.  Pablo Picasso was so prolific and changed his style so much that a visit to this museum gave me the whole gamut of artistic stimulation. The exhibition was focused on his first wife Olga and their son Paul. So all the paintings were grouped to gain more insight into their family. I loved the black and white video footage of them playing in their garden. A real step back in time. And Snappy came along and enjoyed it too!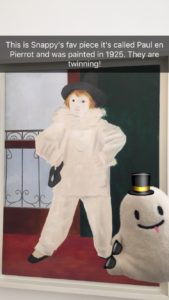 Catacombs– Probably one of the creepiest things I have ever done in my life. This 800 m labyrinth of skulls and bones of over 6 million Parisians totally freaked me out. It was dark and cold 20 m below ground. But my Hubby loved it. His inner archeologist emerged. The line to get in was literally around the block as it is one of the biggest attractions in Paris. I didn't even know they had them. I knew there were some in Rome, but this one is a must see for those who like a bit of an edgy activity!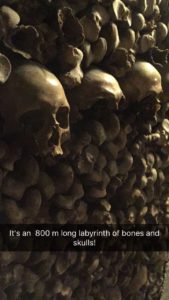 REPEAT activities:
The Eiffel Tower– Opened in 1889 it goes without saying that this is one of the most iconic landmarks in the world. And I had to go back up and take my Snapchat family with me!  As my hubby did with me, I got enjoyment from the comments of all the folks watching who were seeing it live for the first time.  Snappy (the Snapchat mascot) came along too and the weather was simply amazing you could see for miles. Due to security issues it does take longer than before to get to the top (multiple screenings)  but so worth it. You can have a meal up there or even a glass of champagne. Speaking of which, Snappy made some friends over the bubbly!
Notre Dame-Each time we've been to Paris we attend mass at this imposing and famous cathedral. With the gargoyles ominously looking down, the pipe organ in full regalia playing triumphantly and the beautiful cacophony of bells ringing you'd expect Quasimodo to step around the corner of one of the flying buttresses. The good news is that this is a free activity folks! Some churches I've been to actually charge to gain entry, but not here.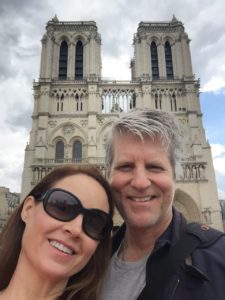 River Seine– The beautiful river cuts through the center of Paris and while we have never taken a boat cruise it is fun to watch them pass by and wave. Loads of people like to picnic along the banks on a fine day. Of course the most iconic thing to do (besides take a selfie like us)  is admire the LOVE locks strewn about the many bridges. One day we might leave our own lock!
Shakespeare and Company Bookstore– I love bookstores anyway, but this Paris icon is worth a repeat visit whenever we go. It is an historic two story place which is cramped, quirky and filled to the brim with new and old books. The resident cat always adds a bit of fun and I adore all the nooks and crannies to sit and tuck into a book. This visit there was a busker upstairs and loads were joining in singling along with his rendition of Stairway to Heaven. I think this place is literally just that!
Arc de Triomphe While we have yet climb to the top of the Arc for a panoramic view of Paris, we were up close and personal. Our gourmet bus tour departed from the street adjacent and we drove around it to see each awesome side. There is so much history attached to this monument which was inaugurated in 1836. Not the least of which is the Tour de France. The annual bike race passes the Arc as it completes the final stage on the famous shopping street of Champs-Elysees.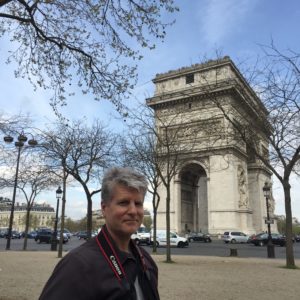 While I am mourning for the recent Paris attacks, which occurred not long after we departed,  I still wanted to share this blog post. I think terrorists try to attack Paris because it's the city of LOVE. Love is beautiful, but some people in this world only want ugliness brought about through hate. That is why I will gladly travel back to Paris whenever I get the opportunity and support the French with a connection through LOVE!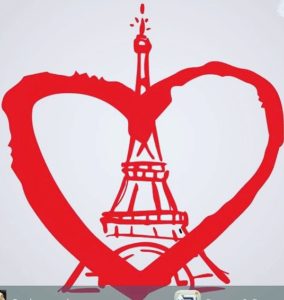 Oui to LOVE,
YDP
P.S Forthcoming is another blog post entirely on what, and where to eat in Paris. As well check back for the posts on Bustronome, Le Cordon Bleu and the Coco Chanel Tour.