I can't believe it myself, but it is the last day of Smoothie Scentral Week.  That flew by didn't it? I hope you have been inspired to up your smoothie game and try some of these or make up your own recipes. All you need is a blender and your fav bits and pieces to pop in there. It is healthy, it is fun and much more cost effective then frequenting your local smoothie juice bar. So for the final day, I had to share a banging smoothie! Since I also did a tutorial on my Snapchat account (username blissbakery) I had to have the perfect musical accompaniment. Which also inspired the name of this super delicious liquid awesomeness!
Head Banging Smoothie isn't something you might hear everyday on the menu of some posh millennial pink decorated cafe. But I couldn't just call this a kiwi and apple smoothie when I had The BulletBoys song, "Smoothie Up In Me" blasting while I whipped this up.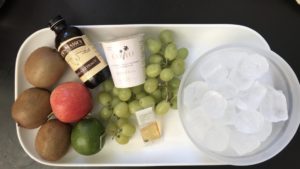 Ingredients
1 cup ice
3 ripe kiwi, peeled and diced
1 Apple, cored and diced (best to use a green or yellow apple, I only had a red one, so my smoothie not as green as usual)
Giant handful Green grapes
1 lime, juiced
1/2 cup yogurt of choice (I used dairy free natural CoYo)
1 TBSP agave syrup
Few drops of vanilla extract
Optional: few fresh mint leaves (I didn't have any but it adds a burst of freshness and flavour and color.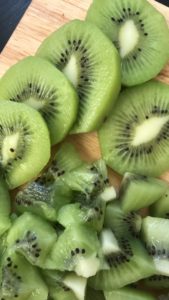 Instructions:
Whizz everything up until it's Smoothie up in ya!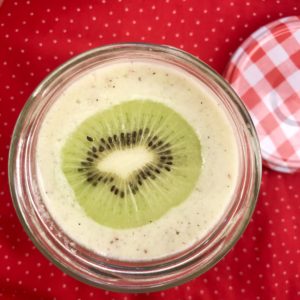 Day 6 smoothie done and dusted and my this one is so bright tasting.  While I didn't have any on hand, I often add some fresh mint leaves too so that when blended it adds more of a green color and a burst of flavor! But nevertheless, this smoothie will give you so much energy you too will be doing some rad head banging hair flips like the ones in the Bulletboys video!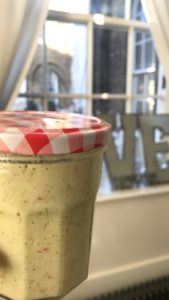 One of the things I love best about smoothies is that they are so portable. Handy when you're in a hurry.  Hence why I love to reuse jam jars as my on the go container, like the one shown above.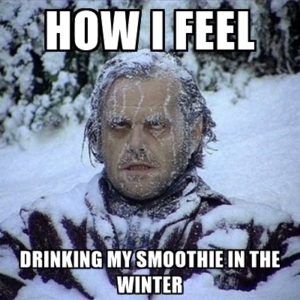 If you are like many of my friends, you are not only freezing but snowed under.  Chances are smoothies are the last thing on your mind. However, I do hope you keep these recipes in mind for when you're feeling in the mood. Which is why I am going to just recap the previous five recipes real quickly to remind you of what a delicious week it has been on Smoothie Scentral!  Photos and links to the recipes too. Oh and I'll even pop in links to the "Smooth" songs I played on each day's tutorial! The funny thing is Hubby said at the beginning of the week, "won't you run out of songs with Smooth in the title". Um NOT! I even had one more leftover, which I"ll use on Snapchat to reveal this post when it is published. Smoothie Sailin' by Queens of the Stone Age.
Day 1:  To the tune of Smoothie Criminal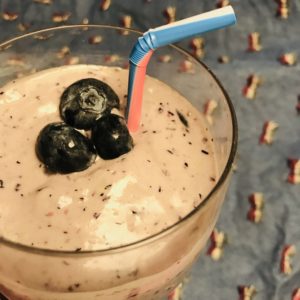 Day 2:  Several tunes for the WCW tutorial Smoothie Operator, Smoothie Sailing, Extra Smoothie, Dancing on the Smoothie Edge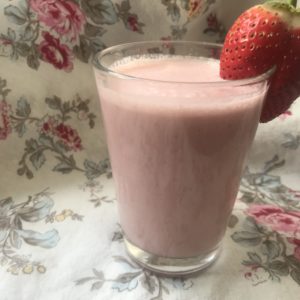 Day 3:  Smoothie, Smoothie Sailin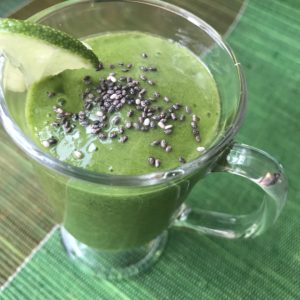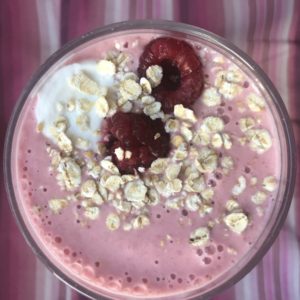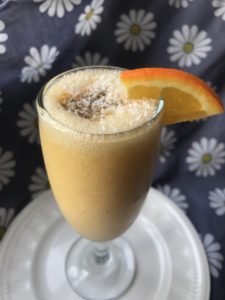 Years ago I had a very expensive juicer.  I loved it and got my use out of it.  But I think smoothies are actually healthier as they incorporate the whole fruit so the precious fiber remains.  Even though now I only have a basic blender I can make some great smoothies.  So you don't have to spend a lot of money to get a piece of equipment that could change your health for the better. Thanks again for joining me for Smoothie Scentral.  Hope you have a great New Year, New Smooth!
Juicy LOVE,
YDP
P.S. Just to note that I made all of these smoothies dairy free, but if you prefer you can add regular dairy products.  If you aren't of the smoothie kind, but are interested in the past year's week long fun food and healthy recipes, check out 2015 Salad Scentral and 2016 Soup Scentral