Today's Guest Blogger is one of my first friends on Snapchat.  I adore Abby, who is from my soul home Dublin, Ireland. However we didn't know each other when I lived there.  And we have yet to meet in real life. I say YET because I feel that indeed we will meet. We have lots in common, but tops of that list is the immense love and admiration we have for our fathers. Which is why my heart has been hurting for Abby these past couple of years as she was by her dad's side during his illness. And like my dad, Abby's dad is and always will be her hero! I am honored that Abby would share her LOVE story for her dad on Yankee Doodle Paddy's Guest Blogger Series. A real tribute to an amazing man!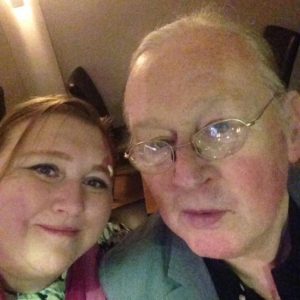 I was lucky enough along with my four siblings to have had the best Dad going. We all regularly went in his van with him when he had to deliver sound equipment to pubs and other venues. He did the P.A. equipment for Nelson Mandela, Bill Clinton, The Hothouse Flowers, Thin Lizzy to name a few.
He ran his shop in Dublin for over 40 years & I was always proud to tell people about it. So many people knew of his shop, having perhaps hired a karaoke from him for a party, or got disco gear for their wedding. People always remembered my Dad.
One of my brothers has taken over the business now, & his son helps out at the weekend.
He was one of the coolest Dads going. He had a ponytail and wore a leather jacket. He drove a van but also had 2 classic corvettes. He worked so hard all his life I was so happy that he was able to enjoy those cars.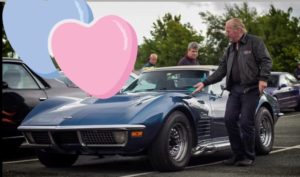 Over 3 years ago my Dad was told he had cancer. Shortly afterwards he went to Vietnam & Cambodia, a trip he'd always wanted to do, with my sister for 3 weeks. He didn't tell any of us about the cancer until he came back. He didn't want us to worry. On that occasion he beat it by going through radiotherapy and then chemotherapy. He was a fit strong man who walked with his dog over an hour every day.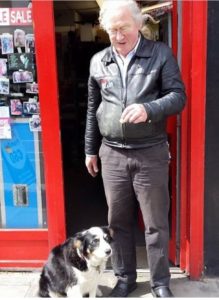 Approximately a year later he was diagnosed with another type of cancer. He beat it again after going through a lot more treatment and surgery. Then the Christmas before last it came back. It was inoperable and his body was not able to withstand any more chemotherapy. We were all in total shock. We all genuinely believed he'd live into his 90s. He had always been such a strong man with an even stronger spirit.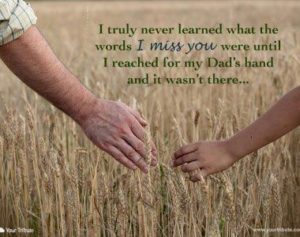 I feel privileged to have been able to spend so much time with him all through his different treatments and hospital stays. I loved having long chats with him. He was always telling jokes which he found hilarious. He'd sing at the top of his voice in his hospital room, not caring who heard him. He made them laugh in the hospital and always treated everyone with huge respect and kindness.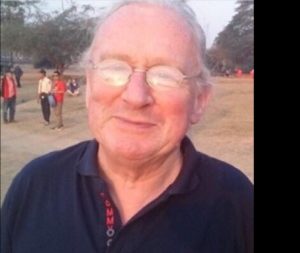 Even after he died he remained a hugely giving person by donating his body to the Royal College of Surgeons so that medical students can learn from him. It was something he felt strongly about doing. Again I feel so much pride in him for doing that.
He was without a doubt the best Dad I could've ever asked for. He was a fantastic grandad too. I'm sure that my daughter will never forget him as they had a lovely close relationship.
Every day I miss him. He was the heart of our family. He loved to have family BBQs & arranged family get togethers often. I am so lucky to have had him in my life.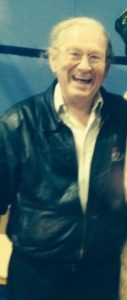 If you've still got your Dads please cherish them. I'm so glad that I did hugely appreciate him while he was still alive and I told him I loved him and gave him huge hugs all the time. I wish so much that was still here.
Abby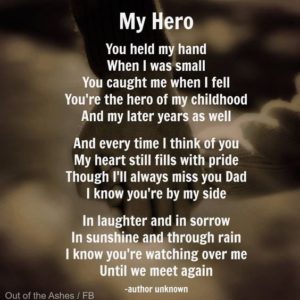 Abby thank you for sharing that touching LOVE story!  I wish I could give you a hug right now. I know the feeling of that void, when our hero isn't here to hold us, hang out with us and fill our days with laughs. But the most powerful thing we can gather in this earthly life are memories like the ones you've shared. Larry Lynch is a legend no doubt, but he raised an amazing daughter (YOU) who is now a momma to her own little girl. Let the memories keep the LOVE alive! And I am sure your dear dad Larry Lynch has the PA systems in heaven going strong for all that eternal music!
Hero LOVE,
YDP