"Today's the day" the email in my inbox said.  No, it isn't Christmas, but it feels like it!  Today is the reveal of the The Great Food Blogger Cookie Swap!  I've been counting sleeps until this day!  It is my first year participating in this global cookie exchange/ fundraising campaign and I jumped in the deep end on this one.  As many of you know, I am a total non-tech person.  A bumbling, stumbling, trying my best to sort it out person.  Hence I like to offer my ABC of YDP to disarm any critics.  It is quite a miracle actually that I have photos and text in one place.  But the kitchen is my home and I was loving baking these gorgeous Mint and Chocolate Chip Cookies to share with these three beautiful ladies, Marsha, Becca, and Laura.
Hubby loved them so much that he asked if he could make a video demonstration for me.  Even though it was frigid and dark outside the day we filmed, these cookies warmed our home and tummies!  And what really warms me is the outstanding work of Linsday and Julie to put together this massive campaign to raise money for Cookies for Kids' Cancer Charity. Please God, this band of baking bloggers' efforts will make life a bit sweeter for the children helped by this fundraiser.  It has certainly put a sweet note into our Christmas season.  I mean who wouldn't want to receive three dozen home baked cookies at your door?
I received the most stylishly wrapped and terrifically tasting Rosemary Brown Butter Dark Chocolate Cookies (sprinkled with smoked salt I might add) from the fabulous Victoria. I'm the chocoholic in the family, so you can guess who tucked into them immediately!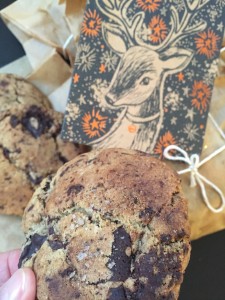 I was also treated to some delish Almond Ricotta Cookies from the amazing Iris, which my Hubby nearly devoured in one fell swoop!  They were an inspiration for me to bake one of Giada DeLaurentis' recipes for the #WomanCrushWednesday I did for her recently.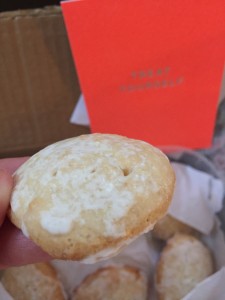 Finally I received the lovely Cinnamon Pecan Toffee Thumbprint Cookies by the gorgeous Gill which literally saved my life.  I had been fasting for a medical exam and they arrived just as I was heading out the door to the hospital.  After the procedure the nurses and I had a feast in the recovery room, with a cuppa tea and all!
Thank you so very much, all three of you fantastic bakers!  I am super excited to have met you through this wonderful medium and I look forward to keeping up with your culinary adventures.
Now on to my contribution to it all…the preciously pretty, chocolatey chewy, deliciously dangerous and perky peppermint cookies!!!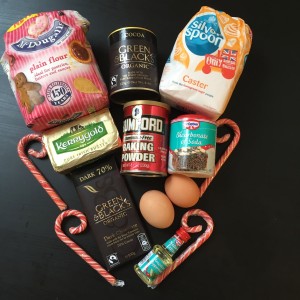 Ingredients:
1 cup (2 sticks/8 oz) or 227 g of butter at room temp, if using unsalted butter than add a good pinch of salt to the dry ingredients
1 1/2 cups sugar (315 g)
2 eggs  (free-range and organic if possible) at room temp
1/2 tsp peppermint
2 1/2 cups flour (362 g)
1 tsp baking soda
1/2 tsp baking powder
2/3 cup cocoa powder (70g)
2/3 cup roughly chopped dark chocolate (104 g)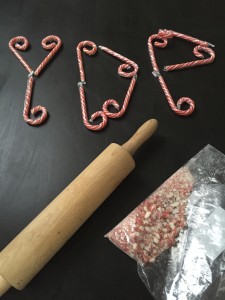 For the decoration on top:  A couple of peppermint candy cane sticks bashed up into crumbs (I did it in a ziploc bag with a rolling pin, but you could also do it in a food processor).
Instructions:
Preheat oven to 350F/180C.
In a stand mixer, beat together the butter and sugar until light and fluffy.
Add the peppermint extract and the eggs (one at a time) scrapping down the sides of the bowl in between additions.
Sift the dry ingredients together (flour, baking soda, baking powder, cocoa powder) and add to the mixer in stages, scrapping in between each addition.
Finally add the chocolate chunks.  You are only trying to get them mixed through, so you don't need to run the mixer but only for a second or two.
In large spoonfuls, put the dough onto a parchment lined baking tray leaving enough space for them to spread out.  Bake for 10 minutes on the center rack of the oven.  Remove from the oven, leave on the baking tray and place the tray on a cooling rack.
Immediately (the cookies still need to be warm) sprinkle them with the peppermint stick crumbs.  After a few more minutes, carefully transfer the cookies to a rack to finish cooling.  Make sure to completely cool before enjoying so that the candy cane pieces meld into the cookie. Then you get the nice chewiness of the cookie and the lovely crunch of the candy cane all together. Simply divine and oh so moreish!  The recipe makes about 24 cookies.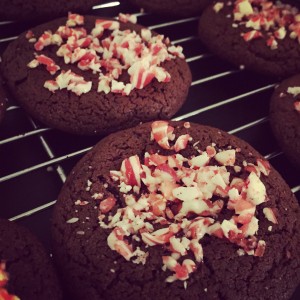 To get these babies packed up properly, I wrapped them individually in clear cellophane bags,  sealed them with a home stamped sticker, and placed them in a festive box.  I included the cards I had made when we moved from Dublin to London.  So the good Queen herself was on there guarding the lot of them! Oh and I added a candy cane too just for fun!
On the inside of each box lid I put a sticker with the ingredients, because I wanted all three recipients to know that the most important element added to any of my baking is LOVE!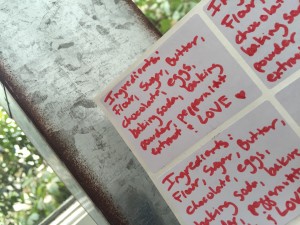 I am normally super picky about people tasting my baked goods straight from the oven fresh. So you can imagine the stress I felt that they would arrive not only in one piece but also edible!  All of the ladies let me know when they received them and in fact they were grand! Thank goodness there are enough food bloggers on this side of the Atlantic to have a cookie swap, I can't even imagine the concern I'd have about them making the journey to the U.S. from the U.K.!
I really enjoyed this process from start to nearly finish.  It isn't quite complete yet, as I am looking forward to seeing the final roundup of recipes from all the bloggers which will be posted by this weekend.  It is these types of things that urge me on to overcome my ineptness with social media and technology.  I'm still learning, but hope that when I participate next year, I'll have all the bells and whistles on my site.  Until then, thanks again to everyone involved.  And lots of love to my amazing daughter-in law Koko for telling me about this event.  She's been doing it for a few years and now I see why she gets so excited about it!
Here's wishing you all a very Merry Christmas.  I hope it isn't too cold where you are, but if it is, fire up the oven and make these cookies!
Candy Cane Love and Kisses,
YDP