Today is normally the beloved Woman Crush Wednesday series.  However I am currently traveling and don't have access to a kitchen.  Besides, it is my son's birthday and in honor of that I decided I would share a recipe that I think you will LOVE.   My son is quite the chef himself and a total BBQ master, however, baking not so much.  Yet, when he was a kid he loved to help!  He was a champion at licking the mixer beaters.  This recipe is so easy he might want to bust out his apron and brush up his pastry skills.
Though cake is the common birthday treat, today for my son's birthday I am sharing a cookie recipe.  But not just any cookie recipe. These cookie are made with pistachios and saffron.   Saffron has long been considered the most exquisite and expensive ingredient in a chef's pantry.  Each tiny thread is so delicate in flavor and strength. This ancient spice is also known as the stigma of the crocus sativas of the flower. The stigma (like a small thread) is plucked from the flower and dried to use not only in cooking, but also as a dye for fabrics and textiles and medicinal purposes.
On a recent trip to Istanbul Hubby and I went to the famous Spice Bazaar for a Foodie Fieldtrip Friday.   I purchased a tiny jar of Iranian Saffron (said to be the best in the world).  Though I have used saffron in my cooking many times, I have mostly used it in savory dishes.  But I wanted to see what it would be like in a little biscuit that might be able to travel to parts unknown. Here is a close up of one of the saffron threads next to a blueberry just for perspective.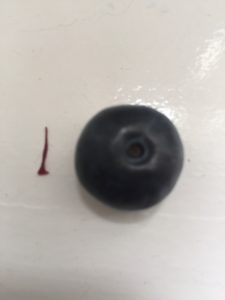 I wanted to do a most special baking recipe because my son and I won't talk on his birthday. He is in the military as I have shared on here before.  He is deployed at the moment and he won't have access to a phone.  But I am thinking of him, as I did when my daughter's birthday passed and I wrote about it on here. Though she lives in Washington State and we couldn't be together either, at least we were able to Face Time.  I am grateful we live in the modern age so that we can connect even if we are apart geographically.
These little cookies are so delish.  They are ever so delicate and hopefully they will make their way to my son who is ever so special to me!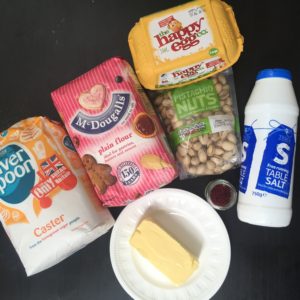 Scant 1/2 teaspoon saffron threads
1 tablespoon hot water
4 ounces/ 114 g (1 stick) unsalted butter, softened
1/2 cup/ 110 g caster sugar
1 large egg yolk
1/4 teaspoon salt
1 cup/ 155 g all-purpose flour
1/2 cup/ 55 g shelled unsalted pistachios, toasted and coarsely chopped
Crumble saffron threads into a small bowl and pour hot water over them. Let stand for a few minutes.
Beat butter with an electric mixer until creamy. Gradually beat in sugar until it is fully incorporated and the mixture is fluffy.  Beat in egg yolk and salt, then saffron-water mixture, until evenly combined.  Add flour and beat on low speed until the flour is fully incorporated and a dough forms. Stir in pistachios by hand with a wooden spoon or a spatula.
Lay a 12-inch-long piece of waxed or parchment paper on a work surface. Spoon the dough onto the paper and shape into a log about 6 inches long and 1 1/2 inches wide, rolling the paper around it to assist. Press each side against the work surface to square it off.  Twist the ends of the paper closed and place the log in the freezer until firm, about 1 hour. (To store the dough for up to 2 weeks, place the log in a freezer bag before freezing.)
Preheat oven to 180c/350ºF. Remove the dough from the freezer and let it sit at room temperature until it is sliceable but still firm, 15 minutes to half an hour. Using a thin-bladed, sharp knife, cut the dough in 1/4-inch slices. Roll the edges of each cookie in a bit of vanilla sugar before places on a parchment-lined baking sheet.  Bake until firm to the touch and barely golden at the edges, about 10 minutes. Remove cookies to a cooling rack and cool completely.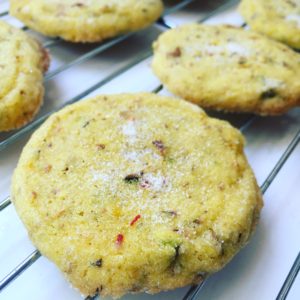 You can really see the bright orange saffron threads peeking through and it just screams JOY!  The yummy green pistachio nuts add that pop of color as well.  I sprinkled a little bit of vanilla sugar on top just to add a bit more sweetness and to make it look pretty and sparkly too.
As hard as it is for a mom to not be with her adult kids on their birthday, I think it is important to focus on the LOVE and happiness and times we have been able to celebrate birthdays together.  And I like to ponder how they have grown and matured into wonderful people.  Since I shared about my daughter in her birthday post, I'd just like to say how grateful I am for my son.  He such a good decent person.  He is creative, smart, hard working and industrious.  He reminds me so much of my dad, willing to do a job to help others, risking his own life in the process.  He has a great sense of humor, very high standards and morals.  He's adventurous and loves to travel and explore, yet a total home body too!  He has a very tender side as well which was present even as a little boy.  He loves his wonderful wife and their sweet doggie Carl Winslow.  And he really is a superhero!  Even as a child he wanted to make the world a better place.  I admire that so much!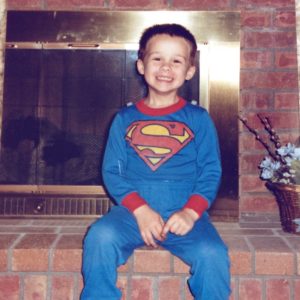 It is natural as a parent to want to protect your kids no matter their age.  But that isn't always possible.  But both my kids know I would do anything in the world for them.  I was listening to an Adele song "Make You Feel My Love" and these lyrics hit home.
"I'd go hungry; I'd go black and blue,
I'd go crawling down the avenue.
No, there's nothing that I wouldn't do
To make you feel my love."
I LOVE you, I miss you and Happy Birthday Son! And I hope you like your  Precious Birthday Cookies because you are so precious to me!
Mom (YDP)