It's the penultimate day of the Guest Blogger Month on Yankee Doodle Paddy. So far we have read love stories about love of a father, love of books and of music, love of a partner and of daughters, self love…and today we have a love story from a mother about her son. Our author Jules Keeley Hughes is a pretty amazing lady. And with her awesome husband, they have one cool kid. 
As the host of this month of LOVE I have had the utmost honor of reading each submission, proofreading and editing, adding my own intro and closing, and choosing images and a song for the snapchat presentation. Each story has resonated with me in one way or another. And today's story hit home as well, pretty powerfully in fact!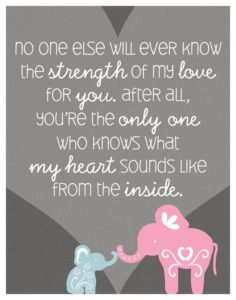 A Little Love Story
When Karen asked if I'd like to contribute to her blog during the month of LOVE I jumped at the chance – "what an honour", I thought. With the theme being 'love' I immediately knew I'd write about "the boychild".
Let's go back to the beginning of this little love story. I suppose it's all rather apt that I'm writing about this now as it was exactly this time three years ago that we announced that I was pregnant and due our little lovebug in September 2014. The outpouring of love from family and friends was quite something.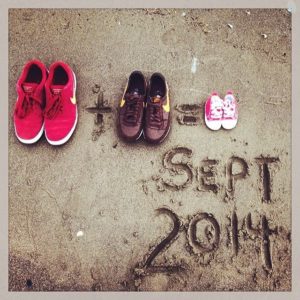 From the very early moments of finding out I was pregnant I loved that little pea-sized bug more than I thought was ever possible. As he grew inside of me for 38 weeks that love grew stronger with every moment that passed, with every bad song I sang to him & with every tearful break-down I had telling him I'd love, protect & adore him forever. I was an emotional wreck throughout my pregnancy – I cried at everything and anything. Just call me Tiny Tears. If I'm being wholly truthful about the entire experience I should add that it wasn't exactly the easiest pregnancy; being 39yrs old didn't help matters much, but every ache & pain I suffered was vanquished by the overwhelming love I had for the mini-human growing inside of me. And much like his impatient mama he decided to make an early appearance – nearly two weeks early, in fact. Following a long old labour I finally got to meet our boy – I was fully convinced for the entire term that I was growing a little girl. How shocked was I when a boychild appeared?!? So shocked that Christian (my husband) had to tell me three times that it was most definitely not a girl I had just birthed.
Nothing, or nobody, could prepare me for the all-encompassing love & adoration I felt for our 9lb 2oz bundle of gorgeousness the first moment I met him. It's quite the sucker punch to the feels. And now at 2.5yrs old I'm still pretty much knocked for six, daily, by the bone-crushing fervour of the love I have for our little wildling; how that love fills my heart with so much joy; and how it never ever wanes – even on those most sleep-deprived nights followed by days of sheer exhaustion where I'm a walking mombie.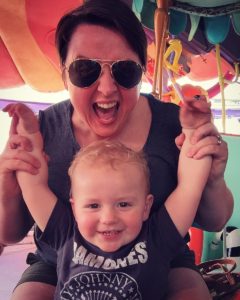 The love you have for your child is incomparable to any other. It fills your heart until it's close to bursting. Not a day passes where I'm not thankful for the love I (we) have for Beckett; or how much of that good stuff he has brought to our lives. I consider myself extremely blessed/lucky/fortunate to have this lovable little wildling with us. I LOVE him with every ounce of my being & then some more.
Jules x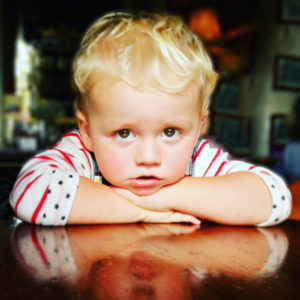 Yep, like I said, a pretty cool kid. I mean look at that face! Aw Beckett if I could do an old fashioned match making scenario with my own little granddaughter Hope, well I would. Mostly cuz I think your mommy is so awesome! I think all moms can relate to that beautiful love story. Especially unique the love between a mother and a son.  However, as I like to say, any woman blessed to be able to bring life into this world has more than stretch marks on their tummies. They have stretch marks on their hearts!
Thanks Jules for participating as a guest blogger during this special month.  Mostly I want to thank you for all the kindness and support you've shown me and so many others along the way on Snapchat and indeed other social media. You are a real "Influencer" because you lift others up and set a positive role model of kindness!
If you'd like to connect with Jules, a super duper Irish lass, who is a fab married working mommy (and a Sunday Spotlight Snap Sista of mine) check out her social media channels:
Snapchat- username is: julersoo
Instagram- Juleser
Twitter: Juleser
Facebook: Jules Keeley-Hughes
Make sure to check back tomorrow.  It's gonna be a jammers day with some final love stories you won't want to miss!  Until then, sending you all lots of LOVE!
YDP