I had the pleasure of meeting Guest Blogger Amber last summer in Lincoln, Nebraska, my Hubby's home town. We had met through Snapchat the year prior and planned our meet up for months before the big day.  We had a blast on our Foodie Fieldtrip Friday afternoon together. In all the years I have traveled to Lincoln, I actually never had a tour as thorough as that one! From the top of the Capital building for the awesome views to the Haymarket for Ice cream it was non stop chats.   And while I didn't get to meet Amber's daughter Chloe, I felt I had. You see, Amber loves her daughter so dearly that even when they aren't in the same physical space, Chloe still holds a place in her mom's heart. When you read this LOVE story, you'll understand why…
This is a love story about a girl & her pup.
On January 19, 2019 my only child, Chloe, turned 20 years old. A couple of days before her birthday, I told her that I had to "run an errand" in the snowy weather and wanted her to come along. What I didn't tell her was that we were going to look at two little puppies. When we were about 3 blocks away from our surprise destination, she said "I really want a pitbull." I grinned from ear to ear and told her that it was interesting she would say that. We pulled up to the house and walked to the front door, where we were greeted by the sweet little Olde PitBulldog pups. Chloe squealed with delight when she saw them and her eyes widened when I announced that she would get to pick one to be her birthday gift.
The puppies' dad, Rambo, was a big black Old English Bulldog who came out to meet us. Then the mama, a Blue Pocket Pitbull named Princess pranced out to say hello. Chloe gently picked up each puppy and played with all of the dogs. The smallest one was an allover blue gray boy with a face full of wrinkles. He licked and licked Chloe's face. This was her dog! We had to say our goodbyes and come back to get him the next week.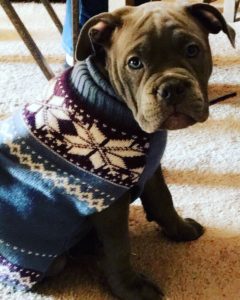 You see, the day after Chloe's 20th Birthday we would be leaving for The Mayo Clinic in Rochester, Minnesota. We would be making the 400 mile trip to follow up with her ongoing treatments for a rare condition called Cerebral Arteriovenuous Malformation (AVM). There was no way to bring home a new puppy when we would be gone the entire week, so we made arrangements to come the day after we got back from her trip. This little pup was destined to be more than her best buddy….he was also to be her Service Animal!
A tangle of veins the size of a Cutie orange are wrapped around an artery adjacent to Chloe's central brain stem. Arteriovenous Malformation (AVM) is a rare and abnormal connection between the arteries and veins in her brain. In medical images, its appearance is similar to a ball of yarn, except that the strands (thin-walled veins) grow and bulge under the constant high pressure of blood flow. The risk of a devastating or deadly rupture is perpetual. Also dangerous is the uncontrolled growth of this vein-tangled tumor — the more space it takes up in the brain, the more neurons and nerves are squished — leading to dizziness, headaches, seizures and loss of muscle control.
The AVM is to blame for the loss of dexterity in Chloe's right hand, the stiffness on the right side of her mouth, and the persistent spasms from her chin down to her collar bone. AVM's are found in about 1 percent of the population, according to Mayo Clinic. Often, it is in the brain or the spinal cord.
Chloe's case is unique. The AVM is very large and deep in her brain — in the left thalamus, beneath the cerebral cortex and right at the top of the brain stem. The thalamus controls motor functions, receives and sends visual, auditory and other sensory signals to the cerebral cortex and controls sleep and wakefulness.
The AVM's size and location made it too big to remove surgically and too risky to treat with the most recommended course of treatment: embolization (in which a gluelike substance is inserted into the artery at the vein, which cuts off its blood supply and causes the tumor to die).
Instead, at ages 13 and 14 years old Chloe underwent two rounds of stereotactic radiation surgery — in which radiation was beamed into specific points in the AVM. The treatment is designed to help the tumor will stop growing and ultimately shrink — perhaps even enough to be removed someday.
Chloe has always loved animals. She has grown up with cats, fish, hermit crabs and even a bunny. She went to a Montessori preschool on a farm with a donkey, pony, cats, chickens and a dog. She dreamed of one day having a dog of her own. It was time for her dream to come true.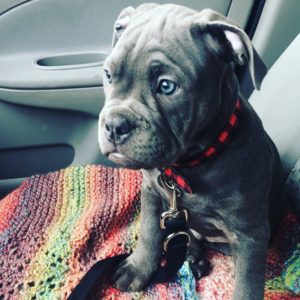 The very next day after returning from her fourth trip to the Mayo Clinic, we stopped at a pet store to buy a dog collar, leash, and bowls. When we finally picked up the little guy, it was evident that one of her name choices, Otis, would be the winner. And so she put the little red and black collar around Otis' neck and I snapped a photo. It was an instant bond between Chloe and Otis and they have been practically inseparable since.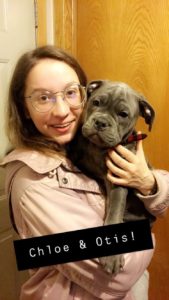 Otis is going to eventually be trained to detect changes in Chloe that would mean stroke or seizure. Right now, he is going through puppy obedience classes. After six months, he will take a Good Citizen year. When he passes that, he can officially be a therapy dog and begin his medical training.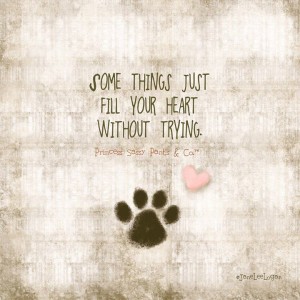 Otis has known from the beginning what an important job he was chosen for. It's been almost five weeks since he came home with Chloe and he has been by her side to comfort and protect her. He has learned to sit, turn around and lie down. He has accompanied her to all her appointments, (sometimes as often as four times a week).  Otis has captured the heart of everyone who sees him. He is so friendly and lets everyone pet him. He has a collection of two sweaters and a red hooded sweatshirt, as well as a giant basket full of toys. He is a part of the family now. A protector and friend who could one day save Chloe's life.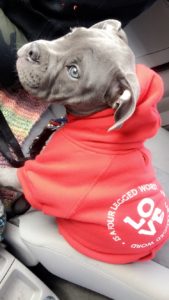 Chloe reports: "I love him, Mom. I love him with all of my heart."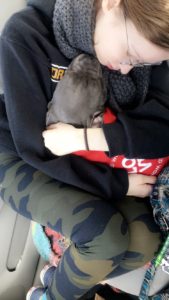 ****************************************************************************
Thanks for sharing this LOVE story Amber! You're a great mom and now Chloe is a great mom too, to little Otis. What an adorable puppy! I appreciate you coming on Yankee Doodle Paddy's Month of LOVE Guest Blogger Series. It is the final day and it wouldn't be complete without getting to see how love is manifesting in your life. You've been a super supportive friend to many in the SnapFAM, especially entertaining us with you Tea & Tomes weekly book reviews. Now, maybe you might write your own series of books starring Chloe and Otis!
Puppy LOVE,
YDP