"April showers bring May flowers" is a phrase I've heard often in my life. But today this phrase popped into my head for different reasons. It is Guest Blogger Post #26 and April is back again this year for the Month of LOVE. I'm so happy to have her sharing another LOVE story. If you'd like to read the powerful story she posted last year please click here. She is one of my amazing Snapchat friends who is so kind and supportive of others. And she and I  have discussed how important it is to have the support of others when we need it too. That is highlighted in today's  emotional story….
For The Love of Neo
There he was, Neo. Sitting atop a scratch pole in a busy pet store. He was black all over except for 6 stubborn, grey, tiger-like stripes on the top of his head and 3 on his belly.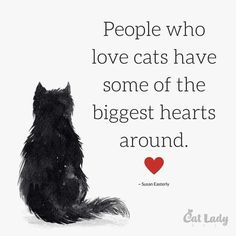 He looked at me with curious and cheeky eyes. We stared at each other for a full 20 seconds before the shop owner arrived to ask if they could assist. I told her – I would like to take him home. She gave me his birth certificate, some food and vaccination records. He was born on the 31stAugust 2002.
I cuddled him to my chest and walked through the busy shopping centre with him against my heart. He fit perfectly in that spot and I could feel his own heart beating under my tight grasp. As I looked down at his little face he purred, and his eyes were shut tight. As we walked to our car, he couldn't open his eyes in the sunshine, and I sheltered them with the palm of my hand – his little wet nose rubbing against my little finger.
We had everything ready for his arrival at home and had done so for months. He had a scratch pole, a bed, towels, medication, cat food. Neo had arrived and we were a family.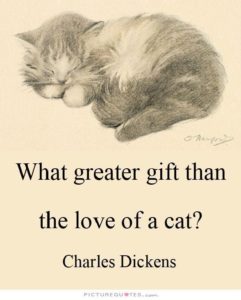 Neo's quirky personality soon became evident. He wouldn't sleep in the bed we had bought him, he preferred our washing basket and he would stealthily climb across the laundry taps to look out the window. He loved water but he wouldn't drink from his bowl, he preferred it fresh from the tap.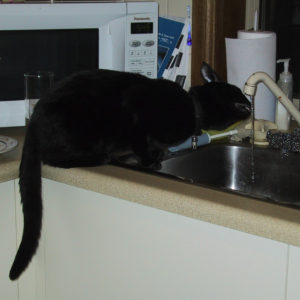 A couple of years later my relationship broke down and little Neo came to live with me. He became everything that made my new house a home. He stuck by me every day and was my very best friend.
Neo would make his way up the stairs to my bedroom and make himself comfortable on my pillow or in the window sill and watch the world go by. He would buzz around my ankles when I got home from work and meow in the kitchen for a bowl of milk when I made a coffee.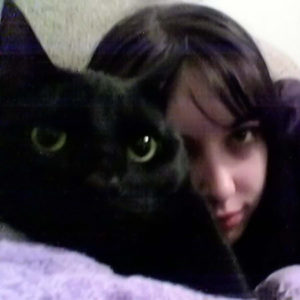 Neo loved to go for walks outside. I always took him on a leash after a few close calls with native birds. Whenever he could Neo would eat a belly full of grass and then lie down in the sun and soak up the warmth until his shiny black coat was almost too hot to touch.
When I got married and then had children Neo was protective and loving towards all of us. He would sit at the door to the nursery guarding our first born, Jack. He would lie in the bassinet (even though he was told not to) waiting for Jack to come for a nap.
When we moved to a new town and into a new house, it was clear that Neo was stressed. We gave him lots of extra love and attention and soon he came to settle in. However, there was something in him that I think wanted to adventure. He wasn't 100% happy in his new surroundings and wanted to investigate. On a windy, rainy night in 2016 I neglected to latch the front door. It flung open in the small hours of the morning and Neo ran out.
For over a week we searched for Neo. We put up posters all over town. We knocked on doors and we walked the streets calling his name through tears every night. I was distraught and guilty. My best friend was missing, and it was my fault. I posted on lost pet websites and Facebook. Even Snapchat and Instagram. Even though Neo was missing I experienced something incredible. Many people in the town, where we had only lived for a short time, contacted me and took it upon themselves to search. They walked the streets too, checked under cars, in drains and in backyards. Our community showed such care towards our family for the apparent loss of our dear Neo that I was overwhelmed.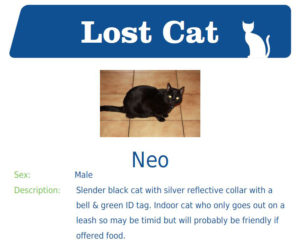 When 8 days had almost passed, I began to lose hope. Every day I had been inconsolable with tears, but life had started to resume. I had almost given up.
I was outside with my son when I heard my phone make a noise. I checked to see what it was, and it was a message from someone in the next street saying their dog had found a cat in their back yard and could I check a photo to see if it were Neo.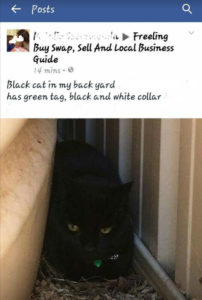 My heart felt as if it would burst. I tried to type back but I was trembling and couldn't type. I called the phone number and I told them it was Neo. The lady on the end of the phone said she was happy for me to come and get him. She said he wouldn't let her near him, but she had given him some water.
I bundled one-year-old Jack in the car as fast as I could. I was shaking and sweating, I was in disbelief.
Neo was stuck between a rain water tank and a fence just one street over. About 12 houses between us.
I ran from the car with Jack under my arm and I rang the doorbell. No one answered so I went around the back of the house. I began to worry that it had been a hoax.
The lady came around the side of the house saying she was putting the dog away and I could go and grab Neo. I raced down to the back of the yard and there he was. He looked up at me and his eyes, sunken in, begged me to hold him. I reached in and dragged him out. He was skin and bones. Now Neo had always been a bit of a small, but healthy cat with a little bit of a pudge around the belly. I sobbed. He tried to meow at me, but his voice wouldn't work.
I got him home as fast as I could. I gave him some water and a little bit of food. I didn't want to give too much as he might be ill. I took him to our wonderful vet, Hester, to see if he was okay and was told he was just generally dehydrated but in good condition.
I was so thankful to all the people of my town who had helped search for him, it was incredible community spirit.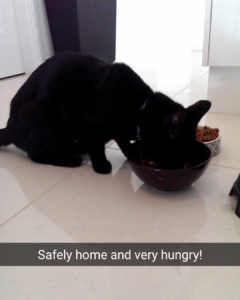 A few weeks later Neo became ill. I took him back to see Hester and she gave me Neo some antibiotics stating that perhaps he picked up a virus when he went on his adventure.
Some months went by and Neo returned to good health. However, something in his personality had changed. He became distant. I wasn't sure why or what had happened. He seemed, a little wild somehow but I kept showing him love and kept up our walks outside. He played with the kids and he slept next to my husband and I every night.
A year later it was clear that Neo was unwell again. We went back to see Hester monthly and although she never really pinpointed what was the matter (& given his age I did not ask her to), it was clear that Neo, now 15 years old, was coming to the end of his 9 lives.
Our gentle vet, Hester, was incredible. She medicated him so that he was comfortable and maintained his weight. We got to spend an extra year with Neo, accepting and sharing love every day.
On New Year's Eve, 2018, Neo made it clear to me that he was ready to die. He had refused his food for 2 days and although he was still lapping his water, he couldn't keep it down. He lied by the front window in the sunlight and as I patted his head, he looked me in the eye. I heard him loud and clear. He was ready.
We called Hester and informed her it was time; she said to come in when we were ready.
I took Neo out on the lawn and we lied down together. I put my head next to his and we talked about the clouds and birds. I recounted to him the day we had met and how he had improved my life and how much he had made me feel loved every day. I told him that I would end his pain, I told him it was okay and that it was time for him to be at rest. His heart beat slowly and his breathing was heavy. His eyes glistened at me.
We sat together on the lawn with my Husband and our children. We all said goodbye. We patted Neo and we told him how much he was loved.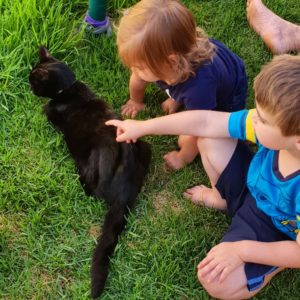 At the vet my Husband and I patted and reassured Neo. We stayed with him as he lay down, his paws outstretched, his eyes out of focus but still matching my gaze. As Hester injected him his heart slowly stopped, and his eyes glazed over. I held his paw and I wept; uncontrollable tears, shaking, filled with love and sadness. Hester looked at me and said, "he is at rest". And he was.
In the days that passed it became evident just how much we missed Neo. The house felt – feels different. His presence is felt, if only by familiarity. When we go to bed it is difficult to sleep without him lying on my feet. It is hard to remember we can leave doors open, there is no Neo to escape. I still catch shadows out the corner of my eye and I must think twice to remember he is gone.
Not long after Neo passed, I was chatting to a friend about the emptiness I felt at his absence. How the kids constantly asked me where he was and how Violet had cried as I explained he had died and was at rest.
How I felt no one took the pain at the loss of my dear friend seriously. We lamented.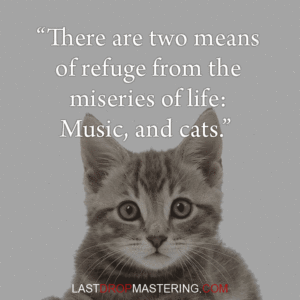 Early one morning as I sat on my front porch watching the kids play my friend, Sally, a talented and introspective artist sent me a photo out of the blue. She had been inspired to paint her feelings (and mine) on a canvas. The thought of Violet's tears at the loss of Neo had filled her with love and inspiration. I was in awe and filled with such a sense of gratitude and felt that she had truly understood the loss to our family.
Sally shipped me the painting and, with it, a poem which I share with you here. I can not express how much love I feel for her and her art. She puts so much of herself and her experience into the images she creates.
The painting hangs above Violet's bed above the words "we love you". Its name is 'Violet'. I know, that as Violet grows, she will see it and she will know she is loved as was Neo.
Sometimes love comes to you from sources you might not expect, and it comes in all forms. Neo brought these forms of love into my life. Not just his own love, but mine and my family's love for him. The love of a community and of friends sharing in our loss and showing us grace, generosity and giving us peace.
******************************************************************************
Thank you April for your amazing LOVE story. I know how hard it is to say goodbye to our fur babies. It has almost been a year since we said our goodbyes to Stella. But I hope you feel that putting your feelings into words has helped a bit more in your healing. And I am sure many others can relate to this type of grief, which can only be born out of a pure unconditional LOVE!
NEO love,
YDP