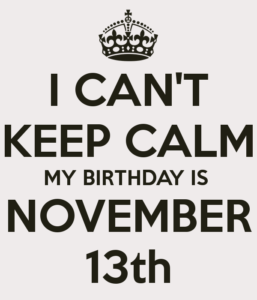 Last year was the first year I was blogging during my birthday.  Here is the post I wrote to celebrate:  "Triskaidekaphobia + 51 is the new 21".  Now I realize that being 51 and 21 are totally different, so that part was a joke.  But there really is a phobia about Friday the 13th, and that was the day on which my birthday happened to be last year. And indeed I was also born on a Friday the 13th. So for me it is a lucky day!  Speaking of lucky, I had the fortune of being painted by the Artistic Chicks! Yes, Paul Broughall (the talented painter behind the chicks) was one of my Sunday Spotlight Snap Sistas.   I am so grateful that he and the Chicks created this portrait!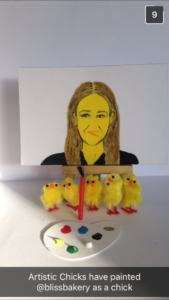 This year I will be celebrating in London again, and friends are traveling all the way here to spend it with me.  I will be with my doggie Stella and of course my best friend and soulmate, my Hubby.  I will miss being with my grown children and their spouses and my grandbabies and other family.  But each year is different and I am grateful for every birthday.  As it is a miracle to even be alive as I shared before in a post called Outlived.
Therefore to honor this day, I want to share some quotes, 52 in fact!  One for each week of the year.  I have always loved quotes and I collect quote books.  These are only a few that have inspired me, made me laugh and ponder the gravity of it all! .  My 52nd birthday celebrated with 52 weeks of quotes
Love is the force that transforms and improves the face of the world-Paulo Coelho
We are all in the gutter, but some of us are looking up at the stars- Oscar Wilde
When I die, Dublin will be written on my heart-James Joyce
Food is symbolic of love when words are inadequate. – Alan D. Wolfelt
A recipe has no soul. You as the cook must bring soul to the recipe.
There is no sincerer love than the love of food. -George Bernard Shaw
Food, like a loving touch or a glimpse of divine power, has the ability to comfort. –Norman Kolpas
Cooking is at once child's play and adult joy. And cooking done with care is an act of love.–Craig Clairborne
 Cooking is like love. It should be entered into without abandon or not at all.–Harriet van Horne
Food is the most primitive form of comfort.-Sheila Graham
A good cupcake and a good life have many of the same ingredients; good timing, sugar and spice. –Evelyn Beilenson
One cannot think well, love well, sleep well, if one has not dined well. – Virginia Woolf
So long as there is food in the mouth, so long will the words be sweet. –Hindu proverb
Food to a large extent is what holds a society together and eating is closely linked to deep spiritual experiences.–Peter Farb and George Armelagos
Sharing food with another human being is an intimate act that should not be indulged in lightly. –M.F.K. Fisher
Nothing would be more tiresome than eating and drinking if God had not made them a pleasure as well as a necessity. –Voltaire
A mother holds her child's hand for a little while, and holds their hearts forever- Irish Proverb
That which is meant for you will not pass you by-Irish proverb
A mind once expanded cannot go back
Real heros don't wear capes, they where dog tags
Ask not what your country can do for you, ask what you can do for your country- JFK
The true beauty of a woman is reflected in her soul- Audrey Hepburn
Some people think holding on makes us strong, but sometimes strength is letting go-Herman Hesse
Our highest purpose in life often comes from our deepest pain.
This too shall pass
Be careful how you treat a stranger they might be an angel unaware
Some people are so poor all they have is money
Be the sunshine in someone's stormy day
Imagination is more important than knowledge- Albert Einstein
When the power of love over takes the love of power, then the world will know peace- Jimi Hendrix
I"ve learned that people will forget what you said, they will forget what you did, but people will never forget how you made them feel- Maya Angelou
The new year lies before you like freshly fallen snow, be careful where you tread for every footprint will show
Cooking is love made edible
The real measure of your worth is how much you'd be worth if you lost all your money
The greatest success we will know is helping others to succeed and grow
The best way to cheer yourself up is to try to cheer someone else up
Whatever good or bad forture may come our way, we can always give it meaning and transform it into something of value- Herman Hesse
Life is a constant process of dying- Schopenhauer
LOVE is not as much about saying "I love you" but how much you can prove it is true
Be careful how you live your life you might be the only Bible some people read
B.I.B.L.E. stands for Basic Instructions Before Leaving Earth
"How do you spell LOVE?"-piglet "You don't spell LOVE you feel it" -Pooh
A friend who is far away, is  sometimes much nearer than one who is close at hand- Kahil Gibran
Because of your smile, you make life more beautiful- Thich Nhat Hahn
Spread Love wherever you go, let no one ever come to you without leaving happier-Mother Teresa
I have decided to stick with LOVE, hate is too great a burden to bear- Dr Martin Luther King Jr
Laughter is the sound of the soul dancing-Jerod Kintz
When everything seems it is going against you, remember that the airplane takes off against the wind not with it- Henry Ford
Be the kind of woman that when your feet hit the floor each morning the devil says, "oh crap she's up"
There is no greater gift you can give or receive than to honor your calling, that is why you were born- Oprah Winfrey
The biggest tragedy in life isn't dying, it is dying and meeting the self you could have been
Be the change that you wish to see in the world- Mahatma Ghandi
Thank you for sharing my journey with me this past year!  What a year it has been.  Hubby and I traveled to Copenhagen, Kenya, Istanbul, and Iceland.  I went to America several times to see family.  We were back and forth to Ireland my soul home.  And we were able to explore the U.K even more.  I enjoyed cooking professionally and for pleasure.  I was able to teach cookery classes and share some foodie fun through Snapchat.  I attended blogging and social media events.  I met amazing people and made new friends.  I was honored to speak at the National Women's Enterprise Day in Galway.  And I won a couple of competitions.
To sum it up, I am in awe of this incredible life and respect both the ups and the downs.  And I am excited about what the future holds. So here's to another 52, please God!
LOVE and gratitude,
YDP